Stephen Blackman and new AradessOLED table lamp to appear at Intl. Contemporary Furniture Fair
May 13th, 2013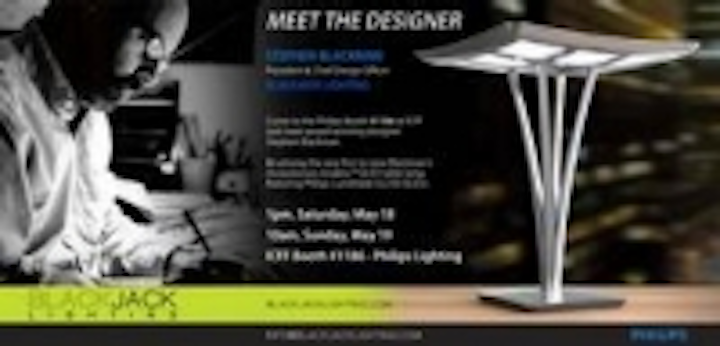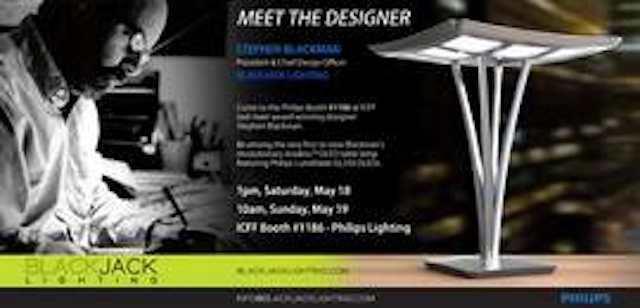 Date Announced: 13 May 2013
Award-winning designer Stephen Blackman and a prototype of his new ARADESS™ OLED table lamp featuring Lumiblade OLED panels by Philips will be appearing at the 2013 International Contemporary Furniture Fair (ICFF). Blackman and the new revolutionary design will be at the Philips Booth, #1186, on Saturday, May 18 at 1 pm, and Sunday, May 19 at 10 am.
Blackman has been designing decorative light fixtures and portable lamps for more than 30 years. Produced by some of the country's largest lighting manufacturers, these designs have won numerous Lighting For Tomorrow awards, including awards for LED light fixtures entered in the Solid State Lighting (SSL) competition. Now Blackman is launching his own manufacturing company, Blackjack Lighting. Aradess™ is one of the Blackjack Lighting's first releases, and will be distributed by Illuminating Experiences when it goes into production this fall. The world's first glimpse at this ground-breaking design will be at ICFF.
Blackjack is one of just a handful of firms, and the only American company, initially working with Philips to design decorative lighting using its revolutionary Lumiblade OLED light source. A successful early adapter of the latest lighting technology, Blackman is moving into a new phase, destined to become a global industry leader in the decorative lighting arena.
Blackman's interest and expertise in LED technology date back to client projects from the 1990s. Today he is working with OLEDs, a revolutionary surface light source that is about as thick as a US five-cent piece. OLED light sources emit illumination across their entire surface. Blackman immediately saw the design possibilities for decorative lamps and fixtures. In 2012, he designed the Vela chandelier for WAC LIGHTING, which uses 24 OLED panels. Vela won a Production Innovation Award from Architecture SSL magazine last December.
For additional information email: press@blackjack.com or visit:
"Meet the Designer - Stephen Blackman at ICFF" - https://www.facebook.com/events/528442600552347/
Contact
ABOUT BLACKJACK LIGHTING Set to launch in fall 2013, Blackjack Lighting is a design- and technology-driven US-based lighting manufacturer headquartered in suburban Chicago. Blackjack Lighting is headed by award-winning lighting designer Stephen Blackman, President and Chief Design Officer. The Blackjack product line will be sold and distributed by Illuminating Experiences (www.illuminatingexperiences.com). Architects, interior designers, lighting specifiers and sophisticated homeowners comprise the audience for Blackjack's high-quality, leading-edge designs. Blackjack Lighting designs are not only beautiful and original, they are among the first of a new generation of decorative lighting fixtures specifically designed with LED and OLED light sources for general, ambient and task illumination. The entire Blackjack product line is designed exclusively by Stephen Blackman, a lighting industry design veteran and thought leader. The company's high-end signature series, Stephen Blackman For Blackjack Lighting, launches this fall with Aradess™, one of the world's first OLED table lamps. During his 30-year career, Blackman's designs have evolved as technology shifted from incandescent and halogen lighting, fluorescent and compact fluorescent light sources to LEDs and, most recently, OLEDS. Going forward, Stephen Blackman will continue to lead the industry; Blackjack Lighting will be among the first to incorporate emerging lighting technology into new designs.
E-mail:press@blackjacklighting.com
Web Site:www.blackjacklighting.com