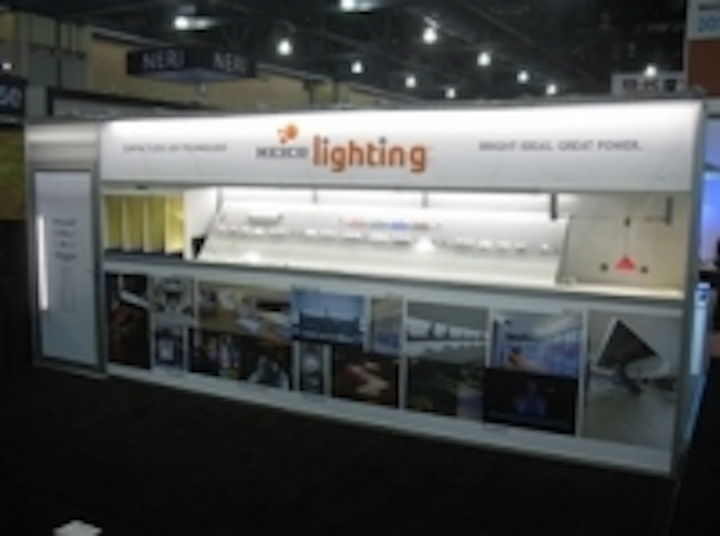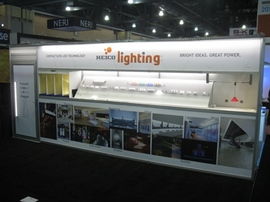 Date Announced: 10 May 2013
St-Eustache – On April 23rd to 25th at Lightfair International 2013 in Pennsylvania, HEICO lightingTM exhibited its unique Contactless LED portfolio and presented its brand new PolyoptikTM and its research and development efforts for new products that will be available on the market in 2014.
Visitors could also see and touch our already well-established products, improved over the years. Our booth allowed the visitors to witness the products' luminosity as well as to play with their surprising Contactless feature. HEICO lightingTM was glad to meet all the visitors and wants to thank them for their interest in our one and only technology.
The Contactless Technology
HEICO lightingTM's Contactless LED technology is absolutely unique in its supply principle which powers LED modules by induction. Indeed, this technology is perfect to solve energy efficiency challenges with its conversion factor of more than 92% of the energy into light. The ease of installation and reliability of HEICO Lighting™ systems captured the interest of many attendees who recognized the benefits of less maintenance and operating costs by using this system.
The Contactless technology also allows a perfect customization to all projects and applications through wide range of possibilities with the option of mixing color, beam angle and intensity on the same single stranded wire.
PolyoptikTM
HEICO lightingTM's PolyoptikTM made its first appearance at Lightfair this year. Indeed, PolyoptikTM shows many interesting characteristics allowing a precise beam control.
PolyoptikTM is a unique North American LED module using the patented Contactless technology and compatible with various lenses and meant for the architectural lighting industry. It allows an accurate light beam control, from a 20° to a 180° angle. This Class 2 type module powered by electromagnetic induction provides a uniform illumination with more than 92% energy efficiency and a high CRI. Offered in multiple shades of white and colors and entirely encapsulated, multiple PolyoptikTM perfectly selected for your needs create a HEICO lightingTM Contactless LED system entirely customizable to fit many applications.
Our product line also includes power supplies including the electrolytic capacitor free LMPS-750, dimmers, and Contactless slidable modules and D-LEDbars of various lengths, colors and intensities.
About HEICO lightingTM
HEICO lightingTM, located in Saint-Eustache, designs, manufactures and markets LED lighting products for the architectural industry. Since its inception in 1985, HEICO lightingTM has introduced several unique and patented advanced technologies. In 2008, HEICO lightingTM introduces the world's first LED lighting system with no connexion between the luminaire and its driver. The team is now proud to be manufacturing Quebec products that rely on the expertise of their own.
Come back next year to see what amazing innovation HEICO lightingTM will have to offer in 2014!
Contact
Audree Duclos Pare Marketing & Accounts Manager HEICO lightingTM 400 du Parc, St-Eustache Québec, Canada, J7R 0A1 +1.800.665.1166
E-mail:sales@heicolighting.com
Web Site:www.heicolighting.com/