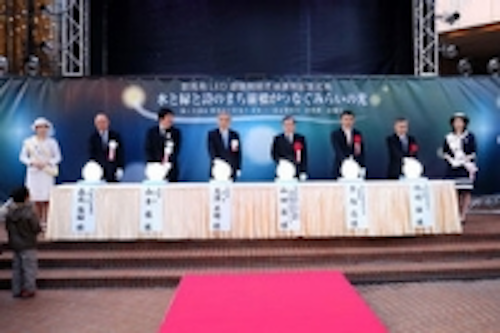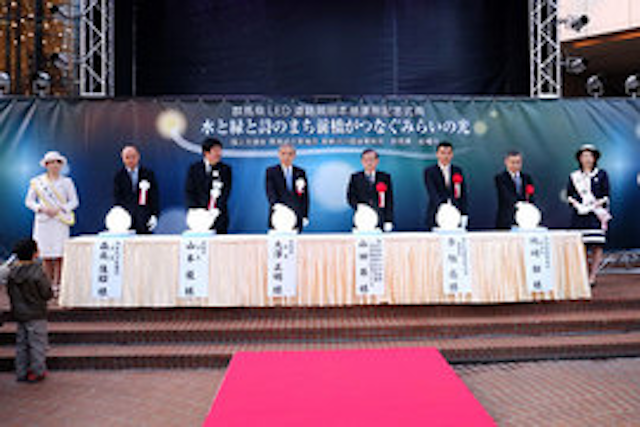 Date Announced: 15 May 2013
Recently, LED road lighting project completed by Kingsun and Yamada Denki lit up officially in Gunma Prefecture, Japan. The project includes seven roads'LED street lights retrofit and is the first time to apply LED street lighting - in wide range in Japan.
It's learned that the demonstration project has strictly demand in lights quality, technology, and stability. It adopts Kingsun star products—Apollo series LED street lights with advantages such as accurate light distribution, modular heat radiation structure, flexible drive configuration. The project proves high-power LED lights can be applied in road lighting, which also gets great support of Transport Ministry, Gunma Prefecture and Maebashi.
After site visit of Gunma LED road lighting project, participants gave full appreciation to retrofitted road lighting effect. Governor expressed that LED road lighting improves driving safety and reduces electricity consumption and maintenance cost. With demand for LED lights increasing, LED lighting market will expand rapidly to promote LED lighting application in Japan.
Li xuliang, chairman of Kingsun said, "Kingsun will establish a long-term, mutual trust and win-win strategic partnership with Yamada Denki, meanwhile, pushing forward "Factory Incubation Plan" in Japan to promote LED lighting application and energy saving and emission reduction."
Contact
Kingsun Optoelectronic Co., Ltd Address: Hengjiangxia Administration Zone, Changping, Dongguan, Guangdong, China Tel: +86-769-83395678 ext 8067
E-mail:sales@kslights.com
Web Site:www.kslights.com