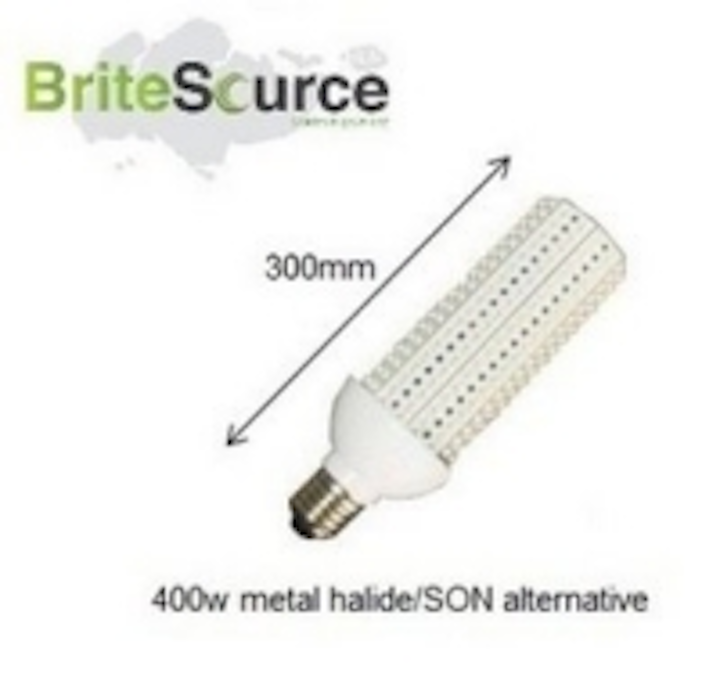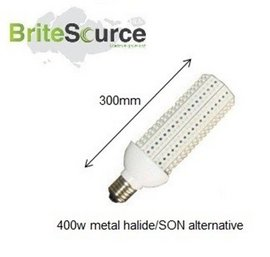 Date Announced: 03 May 2013
Lamp Shop Online, one of the few suppliers of LED corn lamps in the UK, have experienced huge demand as industrial factories and warehouses convert old SON lamps and metal halide lamps to more energy-efficient alternatives to comply with EU directives.
LampShopOnline stock bulbs and lamps from leading manufacturers GE, Osram, Sylvani, Cromptom and Venture, as well as supplying Control Gear and emergency lighting products from major brands like Tridonic, Helvar, Thorn, Liteplan and ELP.
LampShop have added BriteSource LED Corn Light MH/Son replacements to their inventory in 20w, 30w, 40w, 60w, 80w and 100w. Each watt lamp is available with either an ES/E27 cap or a GES/E40 cap. The 100w lamp is the equivalent of a 400w SON/MH, has a colour temperature of 6000K, 9200lm, 66% wattage reduction and an average life of 50,000 hours.
EU directives indicate that High Pressure Mercury lamps must be phased out by 2015 and 90% of SON lamps must have a minimum life of more than 16,000. Metal halide lamps are also being put under new requirements, and now need a minimum life of 12,000 for 80% (frosted) and 90% (clear). Since LED is far more cost effective, customers are now looking for equivalent lumens and lifespan in LED ranges.
LED Corn lamps (so called because they resemble an ear of corn) are LED lamps developed to specifically replace metal halide lamps and high pressure sodium lamps frequently in industrial applications. They have been proven to reduce energy use by up to 75%, allowing customers to save up to £1485 on just one lamp; a small warehouse with ten lamps can save up to £900 per year.
Payback on one lamp is 13 months on all different wattages and the lamps themselves last 5 times longer than traditional alternatives; up to 50,000 hours, the equivalent of 16 and a half years. A 100w lamp has 9200lm; works at a temperature of 20-50°C; has 66% wattage reduction and 360° beam angle, avoiding the weakness of LEDs with limited beam angles.
The increased lifespan saves on the cost of changing light bulbs in large industrial spaces, which can cost hundreds of pounds in cherry picker hire and premium rate electrician costs as lamps are changed during evenings or on weekends. Corn lamps are also zero maintenance as the ballast inside the fitting is made redundant, so customers do not need to maintain or replace their industrial lighting for at least 16 years.
All these benefits have contributed to record sales in LED corn lamps for Lamp Shop Online.
About Lamp Shop Online
Lamp Shop Online is a leading online lighting supplier who has a wide range of lamps available at much lower prices than competitors. Lamp Shop Online take their environmental responsibility seriously and have previously blogged with The Energy Saving Trust about LED lighting and the environment. To learn more visit www.lampshoponline.com or to find Corn Lamps visit http://www.lampshoponline.com/led-corn-lights/.
Contact
0808 165 0800
E-mail:sales@lampshoponline.com