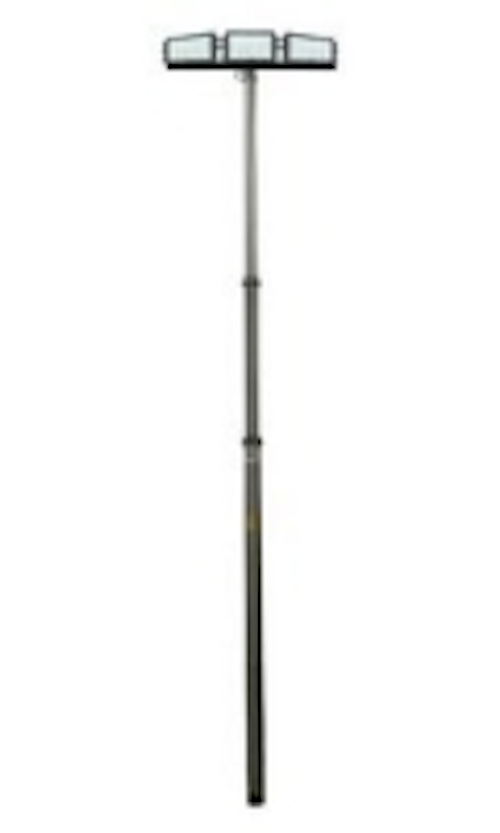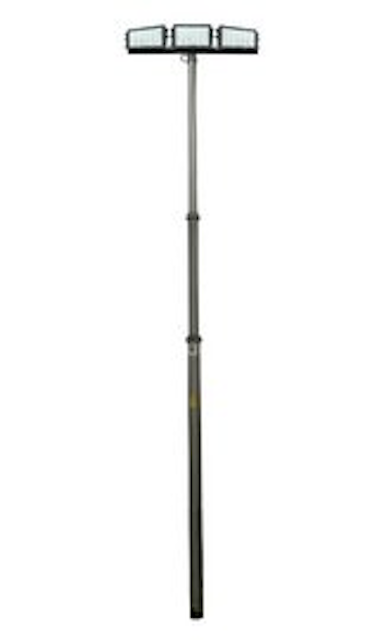 Date Announced: 04 May 2013
Larson Electronics has announced the release of a high power pneumatic light tower designed to provide ease of operation combined with the power and durability of LED lighting technology. Featuring a heavy duty pneumatic tower powered by a 1/3 horsepower compressor and three 150 watt LED lamps, the PLM-18-3X150W-LED Pneumatic Light Tower provides brilliant and powerful illumination in a durable yet easy to deploy lighting system.
Kemp, Texas (PRWEB) May 03, 2013 The PLM-18-3X150W-LED Pneumatic LED Light Tower from Larson Electronics is a powerful and rugged lighting system that combines pneumatic tower operation with high power LED lighting technology to produce an effective yet easy to operate source of high output illumination. This light tower is designed to illuminate large scale worksites and outdoor events with a pneumatic tower that extends up to 18 feet in height, and three 150 watt LED light heads producing a combined total of 44,370 lumens of intense light output.
The tower can be extended from 8 feet to 18 feet in height for maximum coverage using an included compressor, rather than the typical hand crank that is standard equipment with many light towers. The tower is lowered by simply activating a release valve located at the bottom of the tower, and once lowered to its base 8 foot height, the entire lamp assembly can be removed for easier and safer transport.
The lamp assembly consists of a heavy duty removable mounting bracket fitted with three high output 150 watt LED lamps. These LED lights feature extruded aluminum housings, polycarbonate lenses, CREE LEDs for maximum performance, and are rated IP68 waterproof to 3 meters of submersion, making them impervious to the effects of heavy driving rain and dusty conditions. The LEDs on this system provide a wide range of benefits over other lighting types in the form of an extreme lamp life rating of 50,000+ hours, clean white light color, cool operation, and greatly improved energy efficiency. The entire light tower is mounted using an included 12 inch square by ½ inch thick mounting plate that has been predrilled to allow operators to easily bolt the system to trailers or flat platforms. When bolted to a towable trailer, this light system is a highly effective mobile platform that can be deployed in seconds and illuminate very large areas effectively.
This light tower operates with standard 120-277 VAC current, making it easily compatible with most local power sources or portable generators, and Larson Electronics offers a variety of custom options such as metal halide lamps and different voltage configurations for added versatility. This light tower takes the work out of setup and deployment with pneumatic operation and provides operators with a powerful yet rugged lighting system that is ideal for any application that requires effective illumination of large sites.
"The PLM-18-3X150W-LED pneumatic LED light tower is an alternative to conventional crank up metal halide light towers," said Rob Bresnahan with LarsonElectronics.com. "While the initial cost of acquisition in higher, the total cost of ownership for these is much lower, since the light heads don't require replacement. Metal halide lights produce a lot of illumination, but are more delicate during transportation and usage that LED light heads that produce similar light output. So if you factor in the cost of maintenance, operators and rental companies alike will see value in using LED light towers."
Larson Electronics produces a wide range of LED lights, LED light towers, portable LED lights, explosion proof lights and hazardous location LED work lights. The entire Larson Electronics line of industrial grade lighting can be viewed by visiting them on the web at Larsonelectronics.com. You can also call 1-800-369-6671 to learn more about all of their lighting products or call 1-214-616-6180 for international inquires.
Contact
800-369-6671 214-616-6180
Web Site:Larsonelectronics.com