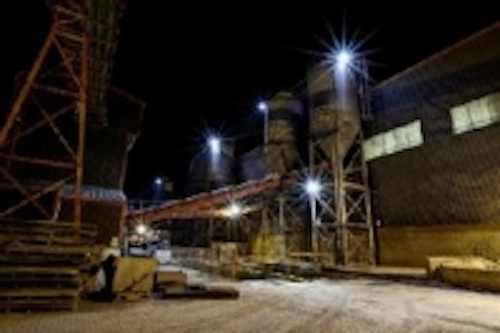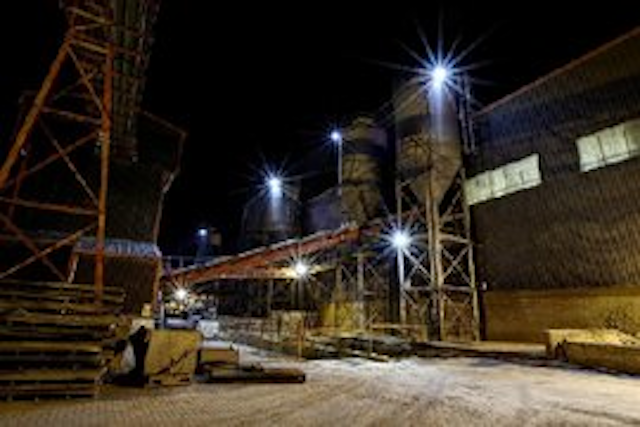 Date Announced: 21 May 2013
Leading UK manufacturer achieves 75% reduction in floodlight power consumption
Ulverston, UK, 21 May 2013. Marshalls plc, the UK's leading hard landscaping transformation company, has fitted Marl International Bay Range LED floodlighting to stockyards at five of its manufacturing sites to replace high pressure sodium and metal halide floodlights – reducing the energy consumption per floodlight by up to 75%.
Pete Stevens, Group Energy and Carbon Manager at Marshalls plc, who was responsible for managing this project, said, "Marl LED floodlights not only offer a clear environmental benefit but contribute to the group bottom line too. Replacing high level floodlights is an expensive exercise, but despite the relatively high installation costs on this part of the project, the payback in projects using the Marl lights is just 18 months. This figure includes the reduction in maintenance costs due to the much longer life of the Marl floodlights."
Marshalls has an exceptionally strong sustainability culture, with clear company objectives to reduce carbon emissions on a year-by-year basis. The Marl floodlighting is one element of a lighting project being rolled out across the Marshalls Group that has reduced the companies' carbon footprint by a total of 1,200 tonnes per year.
Marl and Marshalls worked closely in partnership to determine the type and design of yard lighting to meet the operational needs of Marshalls.
Pete Stevens added, "The Marl floodlights are a major step forward in helping us to reduce carbon emissions, and reduce on-going maintenance replacement of bulbs. It was great to work in partnership with Marl to bring about a successful project."
Pete went on to say that the light provided by Marl 60W and 94W Bay Range 748 and 774 Series floodlights was at least as good as that provided by the existing high pressure sodium lamps which draw at least 400W. As a result, he authorised the replacement of over 500 lighting fixtures. These included high lights over the loading bays themselves, low level lighting around the buildings and high level lights on the roadways at the site.
Pete concluded, "The project as a whole shows just how much carbon is generated around the business by lighting, and proves that energy efficient lighting isn't just about increased sustainability but also provides an attractive financial return. We are looking at using LED lighting in other areas, including our offices."
The Marl 774 Series floodlights installed by Marshalls are 94W triple bay lights producing clear, cool white light output. The triple lighting module provides great versatility – all three modules can be pointed downwards to provide a powerful concentrated beam, or the outer modules can be angled to disperse light over a wide area by using the adjustment settings. It is ideal for the illumination of large areas including car parks, industrial estates, quarries and railway stabling yards. The 748 Series delivers considerable maintenance cost savings, with its long rated life of 60,000 hours, equivalent to over 13 years at 12 hours per day. In this time, a halogen floodlight would need to be replaced 30 times, based on a standard life of 2,000 hours. Marl is offering an up to five-year guarantee on the light.
- Ends -
About Marshalls
Established in the late 1880s, Marshalls is the UK's leading manufacturer of superior natural stone and innovative concrete hard landscaping products, supplying the construction, home improvement and landscape markets. Marshalls provides the product ranges, design services, technical expertise, innovative ideas and inspiration to transform gardens, drives and public and commercial landscapes.
Marshalls operates its own quarries and manufacturing sites throughout the UK, including a national network of manufacturing and distribution sites. As a major plc, Marshalls is committed to quality in everything it does, including the achievement of high environmental and ethical standards and continual improvement in health and safety performance.
About Marl International:
Marl International has specialised in the design and manufacture of visible LED indication and illumination components and systems for nearly 40 years. As UK distributor for Citizen, Lighting Science, Bivar and a hub of a pro-actively managed international supply chains, Marl has unique access to some of the best Solid State Lighting and Electronics technology in the world. It integrates these technologies into energy efficient lighting and indication solutions. Marl International has world class design and manufacturing facilities, staffed by over 100 highly trained and experienced specialists operating from a single site on a dedicated technology park in Ulverston, England. As a unified team, they offer agility, speed, flexibility, and willingness to respond to both needs and expectations as projects evolve and mature through the entire product life cycle. Marl partners with leaders in Defence, Aerospace, Entertainment, Transportation, and Lighting industries in the UK, Europe, North America, and Asia.
Marl is a quality company. It is registered to BS EN ISO 9001:2008 standard and fully RoHS and WEEE compliant.
For more information, please contact:
Marl International Limited, Marl Business Park, Ulverston, Cumbria, LA12 9BN, UK.Tel: +44 (0)1229 582430; Fax: +44 (0)1229 585155
Email: marketing@marl.co.uk; Website: www.leds.co.uk
Contact
Press Contact: Peter van der Sluijs Neesham Public Relations Tel: +44 (0) 1296 628180
E-mail:Email: peterv@neesham.co.uk
Web Site:www.neesham.co.uk