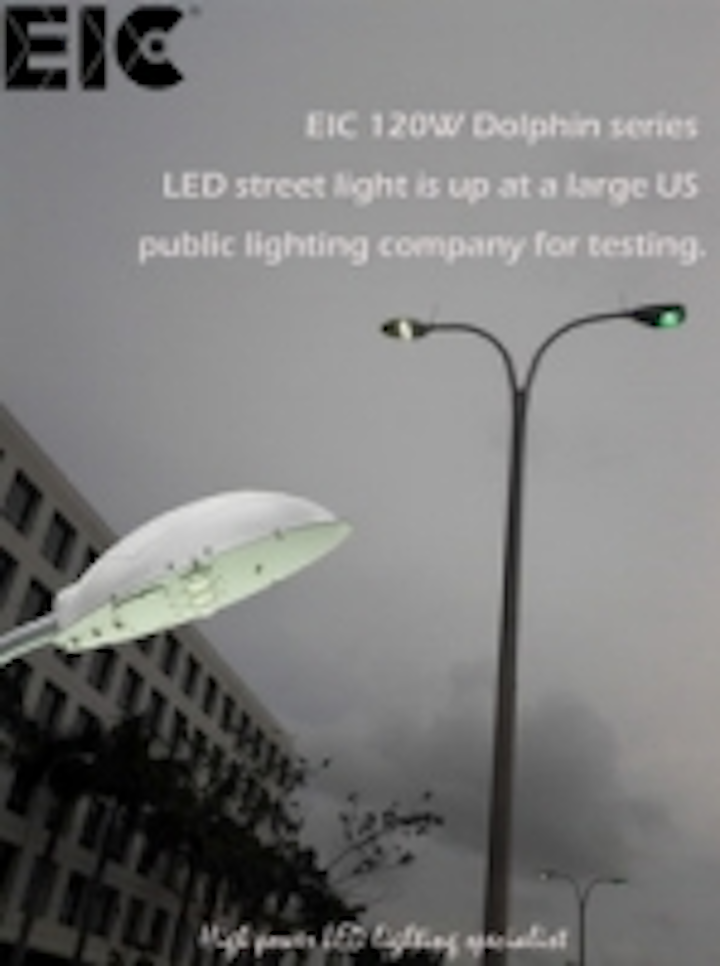 Date Announced: 06 May 2013
About EIC HEAT ENGINE Dolphin LED street lights
EIC High Power LED Street Light is a new solution for traditional street illumination. Direct connection to 85~265VAC AC Power, the LED Street Light embodying state-of-the-art high power LED technology is a green "environmental friendly" product.
Street light optics
CITIZEN COB LED chips
High Transmission glass lens with rectangular Beam
Reduced excessive lighting and light pollution
Higher efficacy, up to 90 lm/W, more energy and money saving
Unique HEAT ENGINE technology, Tc≤45℃
Durability, IP67 driver, IP66 full sealed housing
Aero superior aluminum alloy body, super conductive Nano powder coating
Longer lifespan≥50,000hrs, low maintenance
RoHS compliant
For road and area lighting: e.g. roads, streets, industrial parks/plant, packing lots, path, driveways and other outdoor public lighting
Advantages
EIC HEAT ENGINE technology is applied to solve the heat problem on LED applications, you know it is very important to solve heat dissipation for LED lights, especially COB chipped street lights. It will directly related to the life span. Inside of our housing, pipe network is embedded. And the pipe is vacuum and linked to chip board in which is filled with our patent special liquid which can phase change to vapor after absorbed the heat from chips, and the hot vapor will rise up into the housing to spread the heat around the housing. The housing exchange heat with cool air and make the vapor cooled down and the vapor will become liquid again and flow back to the chip board to stand by for next cycles. That is the principle of our HEAT ENGINE. It is most advanced passive heat dissipation in the world and we are the first to apply this technology. And our heat sink efficiency will be improved 30% than traditional method. Second, we use Japanese CITIZEN COB chip, brighter, more stable and less heat and they are packed with Nichia's LEDs. The luminous efficacy is up to 120lm/W. and our fixture efficacy is 95-100lm/W, higher output and more energy saving. Third, we use self-designed glass lenses, bat wing light pattern, reduce light pollution and high uniformity. Right now we provide five years warranty for our street lights. We can guarantee lowest maintenance and trouble saving.
Why not visit our web for more info: www.eicsun.com/product_show_01.php?id=196
Contact
Roger Lee Mob: +86-18913251062 Sales Engineer︱LED Lighting A Member of EIC GROUP Mob: +86-18913251062 Email: sa02@eicsun.com Web: www.eicsun.com Add.: No. 688 Taji Rd. Bacheng Town Kunshan 215300 China
E-mail:sa02@eicsun.com
Web Site:www.eicsun.com