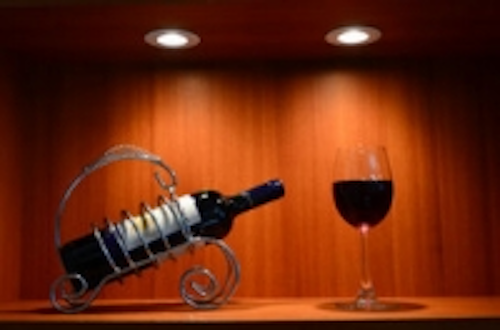 Date Announced: 03 May 2013
The perfect solution for cabinets and displays.
Feelux Lighting is proud to introduce the Diva 2™ Spot -- an energy efficient, recessed spot light ideal for under cabinets, retail displays and furniture installations. Delivering an impressive 80 lumens per watt, this powerful LED spotlight features a single 4W diode that casts a single beam of light eliminating multiple shadows as seen with fixtures that are constructed with more than one diode.
The Diva 2™ Spot was designed to coordinate and link with the popular Diva 2™ linear LED Series providing a cohesive lighting solution of linear LEDs and spot lighting for retail, residential and commercial spaces. The super slim dimensions of the spot light measure only 16.1mm high with a diameter of 76.2mm. It is powered with a constant voltage DC 24V driver, emits virtually no heat and no UV radiation, and is available in three Kelvin temperatures: 3000K, 4000K, and 6000K. The visible light source delivers soft even illumination effects with an estimated life of 40,000 hours.
The super slim luminaire easily mounts recessed into cabinets, furniture and more with a friction fit slim pocket that is available with a mounting spring option. The Diva 2™ Spot comes with a variety of accessories such as connecting cables, dimming accessories and a choice of finish colors in silver, gold, white or black.
Diva 2™ Spot Product Features:
• Single 4W diode eliminates multiple shadows
• Energy efficiency: 80lm/W
• Super slim profile
• Linkable together and links with Feelux Diva 2™ linear LED Series
• Virtually no heat emission and no UV radiation
• Friction fits mounting in slim pocket with mounting spring option available
• Dimming available with accessories
• Operating temperature: 0-45℃
• Voltage: DC 24V
• Lamp Life: 40,000 hrs / 70%
• Available in 3000K, 4000K and 6000K color temperatures
• Color rendering: Ra>80
• Degree of protection IP20
• cUL and CE listed
For additional information on the Diva2™ Spot and other Feelux Lighting products, visit: www.feeluxlighting.com.
# # #
Contact
ABOUT FEELUX We consider even the smallest design element significant. Renowned for worldwide patents, Feelux products are some of the most advanced, viable and energy-efficient electronic ballast and lighting systems for both fluorescent and LED on the market. The standards at our globally-located, state-of-the-art facilities in the Korea and other Asian locations ensure that anything we research, design, engineer or manufacture reaches new heights in the international lighting design community. We're More Than a Lighting Fixture Company It is uncommon today to find a company that actually makes what it sells... a company that stands behind every detail. At Feelux, we manufacture all of our components to function uniformly and seamlessly. This expertise is our guarantee that whichever fixture you specify, our lighting products will work perfectly in conjunction and have consistent lighting effects. At Feelux, we deliver products of the highest quality, and with continuously innovative product development, we continue to be a leading provider of new and inventive high quality fixtures for your commercial applications.
E-mail:press@cfwevents.com
Web Site:www.feeluxlighting.com