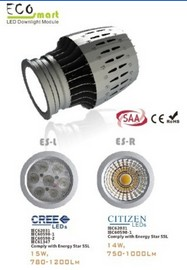 Date Announced: 29 May 2013
The MR16 is one of the most ubiquitous, accounting for perhaps one billion sockets around the world. The multifaceted reflector (MR) lamp, very compact in size, is used in retail and hospitality environments, museums and homes, providing everything from narrow spotlights to floodlighting. But halogen MR16s are inefficient.
Long Reliability
For this reason, Ecoway lighting release its high efficient 15W LED module Ecosmart to the led lighting market. Utilizing reliable CREE and CITIZEN LED chips, the efficiency of the total system is up to 90Lm/W, and average lifespan 50,000 hours . This is largely saving energy consumption and maintenance cost compared to traditional 50 and 75W MR16 Halogen, with its low efficacy of 15Lm/W and short lifetime of approximately 3,000 hours.
Distinctive Design
LED chips has more high requirement for temperature, higher temperatures of the LED light sources can result in reduced lumen maintenance and shorten useful life. Therefore, it is important to consider the effects of temperature when designing for specific light output or efficacy levels, and to maximize the thermal management of the system. Ecosmart module distinctive lamellar housing design is more helpful for air convection, this will largely take the heat away and keep the junction temperature at a low level.
Consistent System
Ecosmart module has the same diameter as MR16 Halogen, could be applied in most MR16 illumination environment. 15, 30 and 60°beam angle for option, providing lighting designers, architects and facility managers with a complete LED lighting solution.
About Ecoway Lighting
Ecoway lighting is specialized in designing and manufacturing LED commercial illumination products. The requirement from our clients are the core of everything we do. As a leading innovator in high performance LED lighting technology, the company has extensive technical expertise in optical design, thermal management, materials compatibility and automated manufacturing processes.
Further information is available at www.ecowaylighting.com
Contact
Ecoway lighting Co.,Ltd Contact: Sally Tel:86-755 3669 7918
E-mail:sally@ecowaylighting.com
Web Site:www.ecowaylighting.com