Daktronics supplies LED video display for Northern Illinois University Huskie Stadium
May 3rd, 2013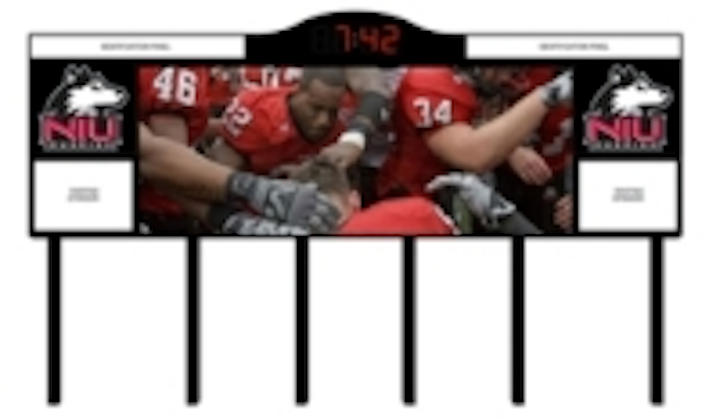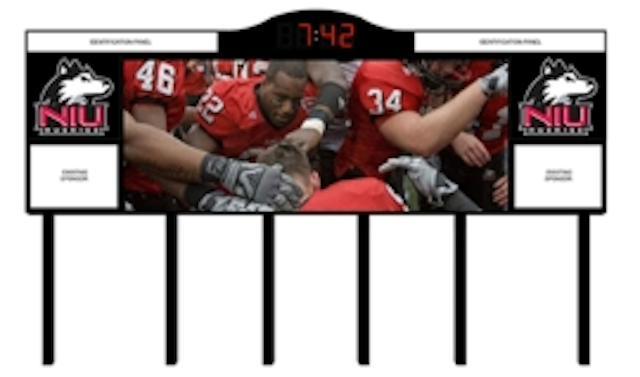 Date Announced: 03 May 2013
BROOKINGS, S.D. – May 3, 2013 – When the Huskies of Northern Illinois University (NIU) take the field at Huskie Stadium for the 2013 football season, they will be welcomed by a new integrated video and audio system designed, manufactured and installed by Daktronics (Nasdaq – DAKT) of Brookings, S.D.
"We are really excited about the scoreboards and audio system at Huskie Stadium," said NIU Head Coach Rod Carey. "We already have one of the best home crowds in the Mid-American Conference (MAC) and a 21-game winning streak on Brigham Field, so I'm happy we're able to make these improvements to make game day even better for our fans."
Effectively doubling the width of the previous display, the new LED video display will measure 15.5 feet high and 39.5 feet wide and feature a 15HD pixel layout. It will enhance the fan experience by combining better image clarity and contrast with multiple display programming options. Examples include showing one large image to highlight live video and replays or sectioning the display into multiple windows to show a variety of animations and graphics, up-to-the-minute statistics, scoring information, sponsor messages, and other announcements.
"Daktronics has been really supportive to NIU over the past ten seasons as well as assisting us with the new video displays and sound system," said Patrick Gorman, director/producer at Northern Illinois University media services. "The new video display system will significantly upgrade the fan experience at NIU Football games providing more vibrant, detailed video and graphics on the displays."
A new ribbon display featuring 20 millimeter line spacing will stretch 100 feet wide along the east and west sides of the grandstands between the 35-yard-lines. These displays will provide the opportunity to showcase sponsors throughout events and display other game-day information, statistics and graphics.
"The most visible change will be the LED ribbon boards on the east and west fascia. They will have an immediate impact providing more avenues to advertise, improving statistics and game information, as well as a great way to engage with our fans with prompts adding to the aura of college football," added Gorman.
Daktronics will also install a custom audio system, which will be integrated with the video and scoring system to further enhance the game-day atmosphere. The system will provide full-range sound reproduction and deliver clear and intelligible speech, offering upgraded quality to the east and west grandstands and a powerful audio experience for all fans inside Huskie Stadium.
Included in the installation, Daktronics Creative Services will be providing creative content tailored to the university. Animations, crowd prompts and sponsor messages will be delivered prior to the start of the season to help the Huskies pump up their fans with the newly installed displays.
"We have been really pleased with the services and attention that Daktronics has provided NIU in the past and really look forward to continuing this relationship in the future," Gorman said.
"We're proud to be able to continue our strong relationship with NIU, and we look forward to seeing these upgrades in action on game day," said Joey Hulsebus, Daktronics sales representative.
Daktronics LED video and messaging display technology offers a long lifetime with minimal maintenance and low power consumption, providing value and excitement for years to come.
About Northern Illinois University Huskies
The Huskies of Northern Illinois University hold the nation's longest home game winning streak. They are back-to-back Mid-American Conference Champions in 2011-12 and became the first MAC team to play in the Bowl Championship Series – the 2013 Discover Orange Bowl versus Florida State. They have also made five straight Bowl game appearances with eight winning seasons since 2003.
About Daktronics
Daktronics is recognized as the world's leading provider of full-color LED video displays. Daktronics began manufacturing large screen, full-color, LED video displays in 1997. Since then, thousands of large screen video displays have been sold and installed around the world. Since 2001, independent market research conducted by iSuppli Corp. lists Daktronics as the world's leading provider of large screen LED video displays.
Daktronics has strong leadership positions in, and is the world's largest supplier of, large screen video displays, electronic scoreboards, computer-programmable displays, digital billboards, and control systems. The company excels in the control of large display systems, including those that require integration of multiple complex displays showing real-time information, graphics, animation and video. Daktronics designs, manufactures, markets and services display systems for customers around the world, in sport, business and transportation applications. For more information, visit the company's World Wide Web site at: http://www.daktronics.com, e-mail the company at sales@daktronics.com, call (605) 692-0200 or toll-free (800) 325-8766 in the United States or write to the company at 331 32nd Ave. PO Box 5128 Brookings, S.D. 57006-5128.
Cautionary Notice: In addition to statements of historical fact, this news release contains forward-looking statements within the meaning of the Private Securities Litigation Reform Act of 1995 and are intended to enjoy the protection of that Act. These forward-looking statements reflect the Company's expectations or beliefs concerning future events. The Company cautions that these and similar statements involve risk and uncertainties which could cause actual results to differ materially from our expectation, including, but not limited to, changes in economic and market conditions, management of growth, timing and magnitude of future contracts, and other risks noted in the company's SEC filings, including its Annual Report on Form 10-K for its 2011 fiscal year. Forward-looking statements are made in the context of information available as of the date stated. The Company undertakes no obligation to update or revise such statements to reflect new circumstances or unanticipated events as they occur.
- END -
Contact
MEDIA RELATIONS: Justin Ochsner Marketing tel (605) 692-0200
E-mail:justin.ochsner@daktronics.com
Web Site:www.daktronics.com