LSI Industries introduces innovative LED area light with optional wireless control
Apr 11th, 2013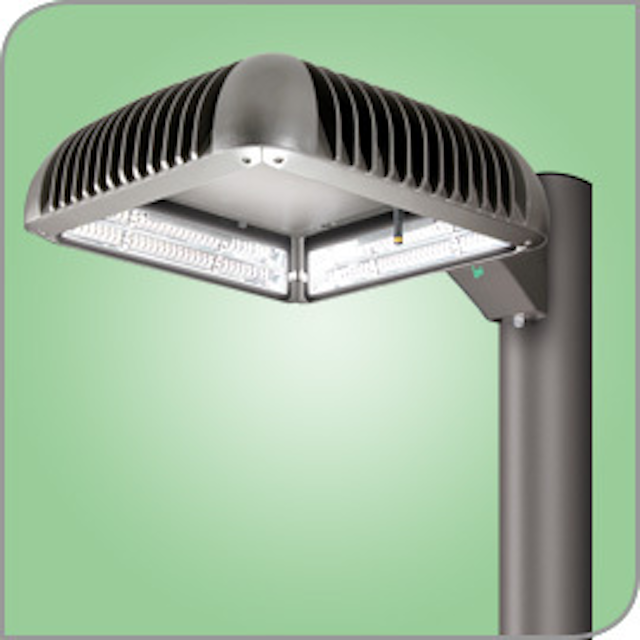 Date Announced: 11 Apr 2013
Cincinnati, OH – LSI Industries has taken LED performance to a whole new level with its newest LED area light solution called the Sterling (XSB). Featuring LSI's proprietary
Zonal Optics in its attractive one-piece die-cast housing, the Sterling's LED optical assemblies and 5 distributions give you tremendous flexibility in how you light your space. These patented, angled LED optical assemblies are purposely positioned to deliver light with precision control for greater uniformity and increased distance between pole assemblies. As a result, fewer light assemblies are required, translating to lower installation costs with a quick payback.
Further, the Sterling is available with optional LSI Virticus integrated wireless control and information systems. The luminaire, complete with controls, is designed and manufactured in LSI's US facilities to help you best manage your light and energy consumption. It is the Sterling's proper balance of efficacy, distribution efficiency and high lumen output that delivers superior lighting.
LSI is a technology company in the lighting and graphics industries. We are a vertically integrated manufacturer who combines assimilated technology, design and manufacturing to produce the most efficient, high quality lighting and graphics products possible. In addition, we can provide sophisticated lighting and energy management control solutions to help customers manage their energy performance. Further, we offer design support, engineering, installation and project management for custom graphics rollout programs for today's retail environment. LSI is a U.S. manufacturer with marketing/sales efforts throughout the world with concentration currently on North American, South American, Australian, and New Zealand, Asian and European markets. LSI's major markets are the commercial/industrial lighting, petroleum/convenience store, multi-site retail (including automobile dealerships, restaurants and national retail accounts), sports and entertainment markets. The Company's common shares are traded on the NASDAQ Global Select Market under the symbol LYTS.
Contact
Minda Matthews-Smith Director of Marketing
E-mail:info@lsi-industries.com
Web Site:www.lsi-industries.com