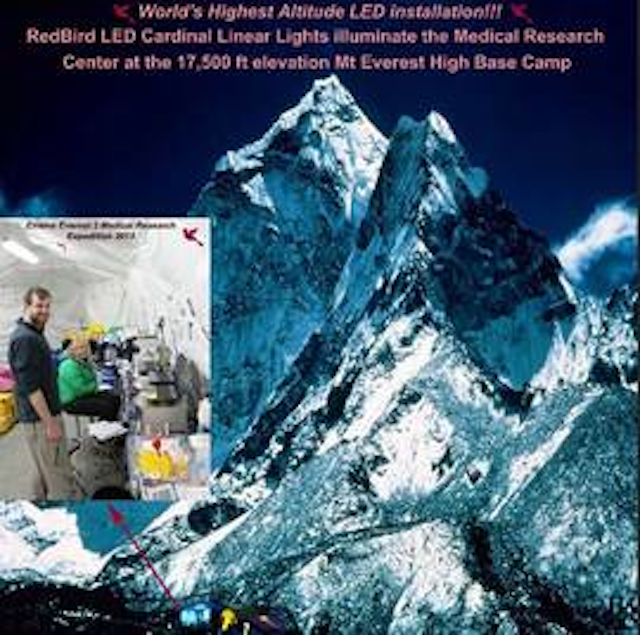 Date Announced: 19 Apr 2013
RedBird LED Cardinal Led Tubes guide Xtreme Everest 2 research team studying health problems in hospital intensive care units
ATLANTA, April 18, 2013 /PRNewswire/ -- Hospitals have discovered that lighting is an important aspect of improving patient safety and a significant expense item. Imagine trying to cost-effectively replicate the conditions of an intensive care unit at 17,500 feet elevation on the world's largest mountain. This is exactly what the team of Xtreme Everest 2 recently accomplished. On March 10th, their laboratory, operating room and patient areas installed Cardinal LED lighting from RedBird LED, a leading manufacturer of LED Linear Replacement Lamps. Xtreme Everest 2 is a dedicated team of intensive care doctors, nurses and scientists that are studying health problems in hospital intensive care units. http://www.xtreme-everest.co.uk/
The Xtreme Everest 2 location at Mt. Everest High Base Camp required rugged, energy efficient lighting that could perform well in extremely cold temperatures. The solution: RedBird Cardinal Vapor tight LED Luminaires, PG3-66W-50K-132. They provide one of the highest lumens/dollar and lumens/watt of any LED lighting fixture. The Cardinal LED tubes are a direct mechanical fit into standard fixtures, operating on any voltage ranging from 110 to 277 VAC, and do not require the fluorescent ballast. Cardinal LED Tube lights deliver 7,000 lumens of light, yet only draw 66 watts.
Jonathan Eppstein, RedBird's President says, "We're pleased to have been selected to light this important facility. The research being done by this dedicated team will have a huge impact on treating a wide array of medical conditions. Our LED lights, with their high CRI and low energy use fit the bill perfectly for this application. While we in the US may think our energy rates are high, just imagine what the cost of electricity is at Everest High Base Camp, where generators running on gasoline flown in by helicopter provide all the power. "
Cardinal LED Linear products are UL listed as both a Luminair-Conversion-Retrofit-Product and as a Recognized Component Product ensuring that when installed as directed all UL compliance for the fixture is preserved. Installed efficacy (the ratio of light-output to power consumed when installed in real world fixtures) has been measured at 110 lumens/watt, one of the most energy efficient LED lighting products available today.
Cardinal Linear Lights have been qualified by the DesignLights Consortium (DLC) making them eligible for many utility rebate program in the US and Canada. RedBird Cardinal LED Tube Light was awarded The 2012 Progress Report Selection by the Illuminating Engineering Society. For more information, please visit http://www.redbirdled.com.
Contact
RedBird LED, Inc., Atlanta, Georgia Phone: (678) RED-BIRD [678-733-2473] Fax: 814-286-5928
E-mail:info@redbirdled.com
Web Site:www.redbirdled.com