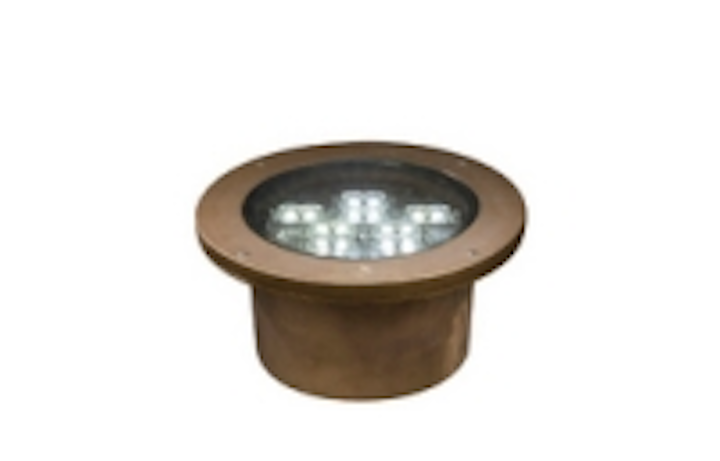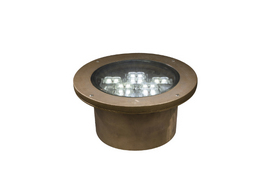 Date Announced: 22 Apr 2013
Greenville, SC – Hubbell Lighting, a world leader in lighting innovation, will display at LIGHTFAIR International 2013 the first outdoor LED luminaire that is controlled using Bluetooth technology—Kim Lighting's LightVault 8. The solid brass fixture, which features leading-edge LED optics, uses high-speed Bluetooth technology to enable field aiming and dimming.
"Hubbell Lighting has always been a leader in professional grade wireless control, and our innovative use of Bluetooth technology in Kim Lighting's LightVault 8 is nothing short of brilliant," said Scott Muse, President of Hubbell Lighting.
Nearly 80 years of Kim Lighting's landscape lighting expertise, the latest developments in energy-efficient LED technology, and advanced wireless communications have combined to produce the most durable, versatile, advanced in-grade luminaire available anywhere—the LightVault 8. Available in May 2013, the luminaire will be available in spot, wall-wash and narrow flood in-grade applications; multiple color temperatures; up to 2,500 lumens output; and flat-lens, half-shield, eyeball, rock guard and directional marker-style housings. In addition to custom dimming and aiming using a Bluetooth-enabled iOS or Android device using Kim Lighting's LightVault 8 app, the light distribution can be customized using optional hex louvre, prism lens and spread lens filters.
The Bluetooth-enabled LightVault 8 expands Hubbell Lighting's robust collection of wireless lighting control solutions that also include Hubbell Building Automation's wiHUBB for indoor and outdoor applications and their newest offering wiSTAR for interior occupancy and daylighting control. To learn more, visit Hubbell Lighting's booth (#1745) at LIGHTFAIR International 2013.
About Hubbell Lighting
Hubbell Lighting is one of the largest lighting fixture manufacturers in North America. The company provides a full range of indoor and outdoor lighting products serving the commercial, industrial, institutional, and residential markets. Hubbell Lighting brands include Alera Lighting, Architectural Area Lighting, Beacon Products, Columbia Lighting, Compass Products, Devine Lighting, Dual-Lite, HomeStyle Lighting, Hubbell Building Automation, Hubbell Industrial Lighting, Hubbell Outdoor Lighting, Kim Lighting, Kurt Versen, Prescolite, Progress Lighting, Security Lighting, Spaulding Lighting, Sportsliter Solutions, Sterner Lighting Systems, Thomasville Lighting, and Whiteway. Hubbell Lighting: one name, distinctive brands, limitless lighting possibilities.
Contact
Andy Beck Makovsky
E-mail:abeck@makovsky.com
Web Site:www.hubbelllighting.com