Tempo Industries releases two linear LED luminaires based on CLIP architecture
Apr 22nd, 2013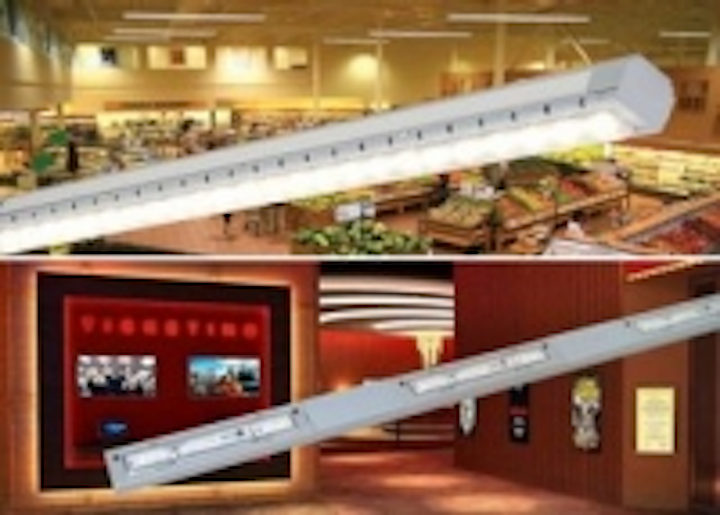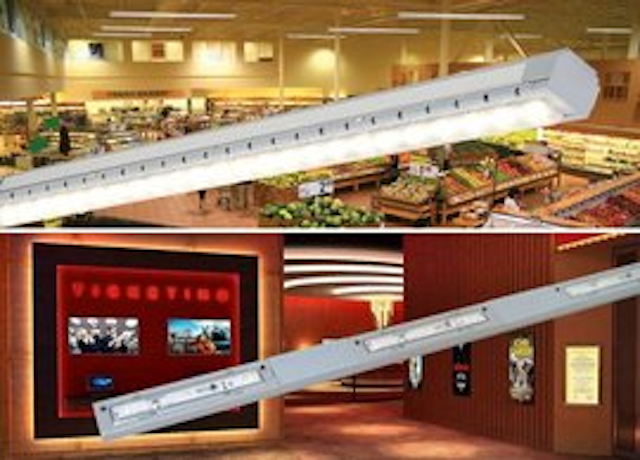 Date Announced: 22 Apr 2013
Irvine, California - Tempo Industries, LLC, which is resetting the bar for scalable, modular and linear LED lighting solutions by leveraging its 27-year lighting industry success record, today announced commercial availability of the first in a number of CLIP product lines, the new C7100 high-performance linear and C4100 compact linear luminaires.
Enabled by Tempo's Configurable Lighting Integrated Platform (CLIP), the two newest linear products represent the initial beachhead of multi-year, multi-function, broad product families that provide highly complementary systems of layered lighting. Both products extend upon Tempo's No Factory in the Field design promise of overall quality, simplicity and reliability, while virtually re-mapping the cost of ownership model for commercial LED lighting systems.
The CLIP C7100 has been specifically designed to address higher-lumen commercial & industrial applications typically addressed by surface- or pendant-mounted linear fluorescent solutions and high-power HIDs and effectively revises building-level ease- and cost-of-installation. Presently delivering nearly 1000 lumens per foot, the C7100 can operate from a single power feed with run lengths up to 120-feet at 110V or 250-feet at 277V. With the CLIP system's rigid design and adjustable mounting points, the C7100 can be installed in high-ceiling applications without requiring the addition of costly truss mounting structures. Exceptional thermal management provides 85+% lumen maintenance over 86,000 operating hours and is complemented by a full 5-year warranty that includes parts and replacement labor.
"Earlier this month, we announced that our revolutionary CLIP platform would directly address longstanding lighting industry challenges by enabling a continuously expanding series of luminaire systems that would not be outdated, either in look or function, well past the useful life of any of today's legacy product solutions," commented Tempo President & CEO, Terrence Walsh. "The C7100 and C4100 families set new standards in highly aesthetic architectural lighting solutions, with a minimalist design perfect for facilities such as grocery stores and other large retail spaces, theaters or convention centers, while being cost effective and robust enough for less elegant high-bay installations, such as manufacturing facilities, warehouses, and parking structures."
The C7100 is based on Tempo's CLIP-7 system with an efficient 3" wide x 3.2" high profile that provides multiple adjustable installation options including direct-to-ceiling mounts, suspension point eyelets or standard-threaded stem mounts. 12-foot spans can be supported on as few as two suspension points. Output options for the fully dimmable luminaires range from 491 to 947 lumens per foot, at minimum spacing, with efficacies up to 94 lumens per watt. The modular design consists of the raceway housing, and individual light engines with optional diffusers and a 0.25" microbaffle which shields the emitters from high-angle viewing. The configurable spacing of the C7100 light engines allows a wide degree of optimization in lighting levels throughout sections of a facility without requiring changes to mounting systems or power feeds.
The CLIP C4100 is based on Tempo's CLIP-4 system platform, with a lower profile form factor and a mid-lumen output scalable from 84-282 lumens per foot at up to 97 lumens per watt. Designed for both standalone installations or as a complement to the C7100, the C4100 enables layered scaling of the lit environment in both task and accent-type applications. Boasting a compact 1.25" wide x .8" high form factor, the C4100 carries over all the robust features and construction that extend across all CLIP system platforms. The C4100 is available with high efficiency remote AC and DC low voltage power supplies which further simplify installation and maintenance. Light engines for the C4100 are standardized in 6-inch segments, and can be configured for a variety of output ranges and spacing choices with run lengths up to 45 feet from a single power supply.
Both product families are available in an array of white color temperatures from 2200K to 4500K, while the C4100 additionally includes red, green, and blue single-color configuration options. All CLIP family external hardware is stainless steel and the anodized aluminum raceway housings are finished in either a black or satin oxide coating that supports the architectural minimalist design. All CLIP system products can be pre-configured for jobsite delivery, in ready-to-install lengths up to 8 feet, with all necessary hardware included.
The initial portfolio of Tempo's CLIP-enabled products will be on display April 23-25 at LIGHTFAIR International in Philadelphia, booth #961.
About Tempo Industries, LLC
Tempo Industries, located in Irvine, California, was established in 1986 and is the premier manufacturer supplying LED illumination and safety systems to the North American theater market. Building upon its over 17 years of manufacturing experience in LED lighting products, Tempo expanded into the high end commercial-industrial lighting market in 2008 with the launch of its Series 6000 high performance modular, scalable linear LED lighting system. The company has seen rapid expansion in 2012-2013 with the introduction of its Series 3000, 4000, 5000, 7000 and Creszendo LED-based product families. Tempo products have been recognized with numerous design awards including the US DOE's Next Generation Lighting competition, a Gold Award at Neocon Canada, and several awards of distinction from the IES and LIGHTFAIR International, including the 2010 Innovation and Best in Category awards. Tempo is an Energy Star and Lighting Facts partner and member of the US Green Building Council. All of Tempo's linear, modular and theater lighting solutions come with a 5-year warranty and the No Factory in the Field promise.
Contact
Kirk Seabold
E-mail:kirks@tempoindustries.com
Web Site:www.tempoindustries.com