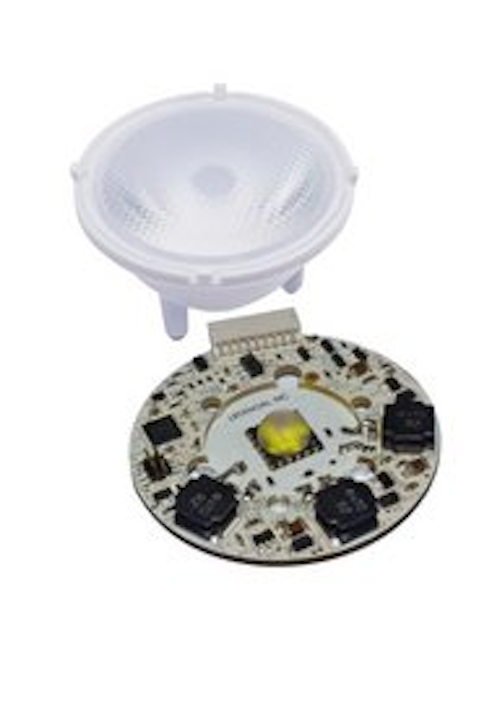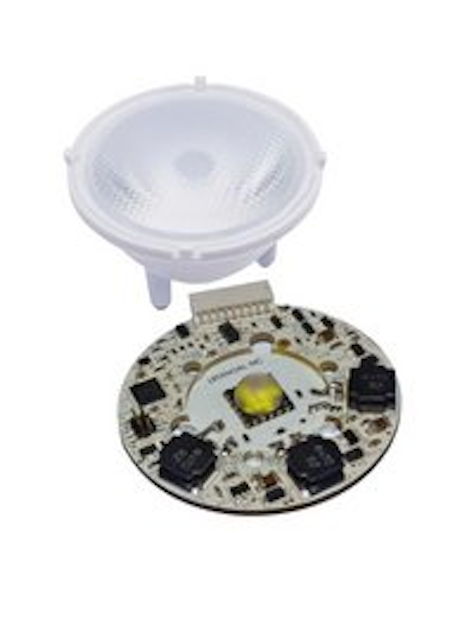 Date Announced: 19 Apr 2013
LuxiTune light engine is first to deliver warm color dimming in a compact single emitter, maintaining color quality and 3 SDCM consistency over dimming range and service life
San Jose, CA, USA: April 18, 2013: LED Engin, Inc., a leader in high lumen density LED products, announces immediate availability of LuxiTune, the first intelligent, compact, single emitter light engine that delivers directional light with halogen-style dimming, hugging the black body curve from 3000K down to1800K. Luminous flux is 1100 lumens, equivalent to a 60W halogen lamp. Luminous efficacy is 63 lumens per Watt hot and including the secondary optic, far higher than that of rival products that utilize multiple emitters and reflectors. At full intensity, color rendering index (CRI) is 90 and LuxiTune maintains a CRI average of 85 and R9 red content of 70 as it dims. With a diameter of 50mm, LuxiTune makes it quick and easy to create a compact lighting fixture that works with standard 0-10V dimmers or via a DMX interface.
The LuxiTune light engine is comprised of a 12-die, compact single emitter with intelligent control circuit and complementary TIR optic.
The die are matched to within 3 MacAdam ellipses (SDCM) and dimming tracks the black body curve to within three SDCM, producing consistent, natural light across the full dimming and CCT range. The unique, multi-layer ceramic substrate minimizes the package thermal resistance and provides an almost stress-free environment for the chips providing effective heat dissipation and maximum light emission. These features ensure that color point stability is maintained throughout the product's long service life. Optics are available in 24°, 32° and 45° beam angles. The lenses facilitate uniformity over angle, maximize lumens in the beam while minimizing glare and produce a gentle roll-off profile at the beam edges.
President and CEO of LED Engin, David Tahmassebi, comments, "Our customers in the hospitality and high-end residential sectors have been eager for an LED-based lighting solution that tunes along the black body as it dims while leveraging our strengths in lumen density and lux-on-target performance. We are excited to release LuxiTune, a professional-grade replacement for halogen downlights where dimming is required. Lighting designers who love the benefits of LED but also desire the warmer, softer tones of dimmed halogen light no longer have to compromise."
LuxiTune light engines are available for immediate shipment. For more information about LuxiTune, please visit www.ledengin.com/products/luxitune.
About LED Engin, Inc.
LED Engin, based in California's Silicon Valley, specializes in ultra-bright, ultra-compact solid state lighting solutions that allow designers and engineers the freedom to create uncompromised yet energy efficient lighting experiences. The company's LuxiGen™ Platform - an emitter and lens combination or integrated module, delivers superior flexibility in light output, ranging from 3W to 90W, a wide spectrum of available colors, including whites, multi-color and UV, and the ability to deliver upwards of 5,000 high quality lumens to a target. The small size combined with powerful output allows for a previously unobtainable freedom of design wherever high flux density, directional light is required. Our LuxiTune tunable white light engines leverage our LuxiGen emitters and lenses to deliver quality, control and high density white light solutions for a broad range of true black body dimmable downlighting applications.
LED Engin products are sold directly through LED Engin sales channels and its distributors. They are available for immediate sampling.
Contact
Tel: 1.408.922.7200 Fax: 1.408.922.0158
E-mail:sales@ledengin.com
Web Site:www.LEDEngin.com