Tempo Industries Unveils Revolutionary Core Lighting Architecture
Apr 9th, 2013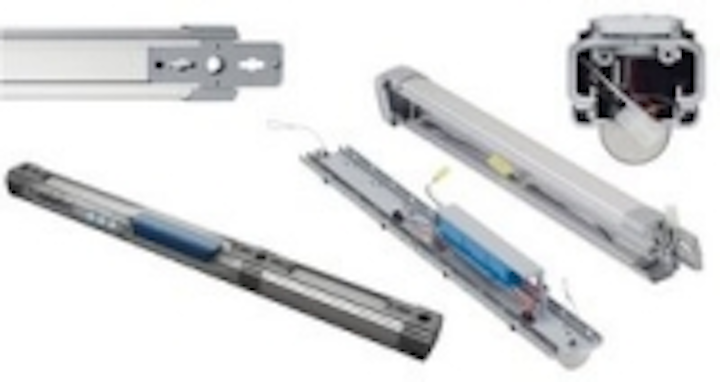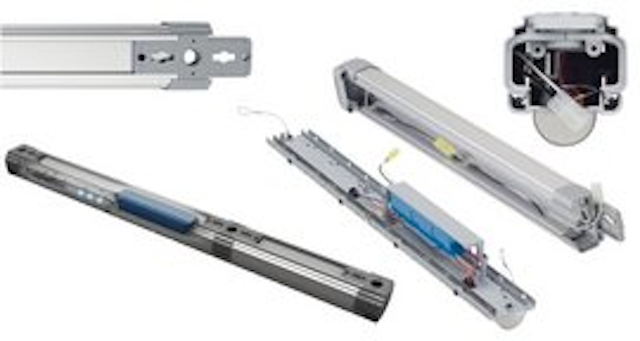 Date Announced: 09 Apr 2013
CLIP system dramatically reduces LED lighting cost of ownership
April 9, 2013 -- Irvine, California -- Tempo Industries, LLC a leading manufacturer of superior-quality scalable, modular and linear LED lighting solutions with a 27-year lighting industry success record, today unveiled its revolutionary CLIP commercial/industrial lighting platform architecture. The new Configurable Lighting Integrated Platform (CLIP) extends on Tempo's No Factory in the Field® design philosophy of overall quality, simplicity and reliability. The revolutionary platform resets the bar on long-standing lighting-industry challenges that have centered on building-level ease- and cost-of-installation, revising the cost of ownership model for LED lighting systems.
As a basis for Tempo's expanding commercial-industrial LED lighting product line, the CLIP begins with the extruded raceway housing that serves as the industrial-strength backbone for mounting and thermal management. Fully integrated light engines, consisting of drivers, emitters and optics, are then mated to this multifunction raceway housing. With its rigid design and adjustable mounting points, the CLIP can be installed in high ceiling applications without requiring the addition of a costly truss mounting system, while greatly reducing the number of necessary power feeds. CLIP-based systems are targeted towards the breadth of commercial & industrial applications typically addressed by surface- or pendant-mounted fluorescent linear solutions and high-power HIDs. Examples include grocery stores, manufacturing and warehouses, convention centers, parking structures or large retail spaces.
Tempo Founder, Chairman and CTO, Dennis Pearson, principal architect of Tempo's vision for LED lighting product and systems development, commented, "We conceived of CLIP as an encompassing architecture to address well-established challenges in LED lighting, including thermal management, and user-accessible modularity with a design that provides maximum flexibility and longevity, regardless of the application. We quickly realized that CLIP solves challenges that were rather more fundamental to all commercial and industrial lighting as it massively reduces the overall costs of building electrical design, installation, commissioning and maintenance. The design of the housing and integral drivers, mounting methods, maintenance access and adaptability to the changing use of space were all key factors."
Terrence Walsh, President & CEO of Tempo commented, "It was Frank Lloyd Wright's prescription that 'form follows function' and CLIP embodies that precept, allowing designs in which the lighting platform serves as an extension of the overall architectural intent. CLIP was designed with both attention to current technical requirements as well as to the rapidly changing landscape of the SSL/LED market where future technical breakthroughs must be incorporated smoothly."
Available with a complete range of installation configurations, the CLIP system can support 'one to one' fixture replacement or integrated 'grid' type layouts with X, T or L connectors, and is specifically designed to allow safe, easy access and maintenance from standard lifts. The multi-function raceway housing is designed to support multiple circuits and a complete array of current controls and functions, including DALI, 0-10V dimming, sensor integration, surveillance capability, or emergency battery backup. The CLIP's adaptable architecture provides virtually unlimited capability to support future technological innovation.
"CLIP incorporates an aesthetic minimalist design to achieve an improved architectural lighting solution that enables scale and space definition to be accomplished without sacrificing quality of light or the practicality of the installation," added Mr. Walsh. "CLIP-enabled systems will provide a consistently superior lighting platform that will not be outdated, either in look or function, well past the useful life of many of today's piecemeal product solutions."
The initial portfolio of CLIP-enabled products will be formally launched April 23-25 at Light Fair International in Philadelphia, booth #961.
About Tempo Industries, LLC
Tempo Industries, located in Irvine, California, was established in 1986 and is the premier manufacturer supplying LED illumination and safety systems to the North American theater market. Building upon its over 17 years of manufacturing experience in LED lighting products, Tempo expanded into the high end commercial-industrial lighting market in 2008 with the launch of its Series 6000 high performance modular, scalable linear LED lighting system. The company has seen rapid expansion in 2012-2013 with the introduction of its Series 3000, 4000, 5000, 7000 and Creszendo LED-based product families. Tempo products have been recognized with numerous design awards including the US DOE's Next Generation Lighting competition, a Gold Award at Neocon Canada, and several awards of distinction from the IES and Light Fair, including the 2010 Innovation and Best in Category awards. Tempo is an Energy Star® and Lighting Facts® partner and member of the US Green Building Council. All of Tempo's linear, modular and theater lighting solutions come with a 5-year warranty and the No Factory in the Field® promise. For more information, visit Tempo online at www.tempoindustries.com
Photo downloads:
Thumbnail -- http://www.veriphos.com/client/tempo-clip-all-views-320w.jpg
Web Resolution -- http://www.veriphos.com/client/tempo-clip-all-views-800w-with-descriptives.jpg
High Resolution -- http://www.veriphos.com/client/tempo-clip-all-views-with-descriptives-1368x760.jpg
Contact
Kirk Seabold 949.442.1601 x237
E-mail:kirks@tempoindustries.com
Web Site:www.tempoindustries.com