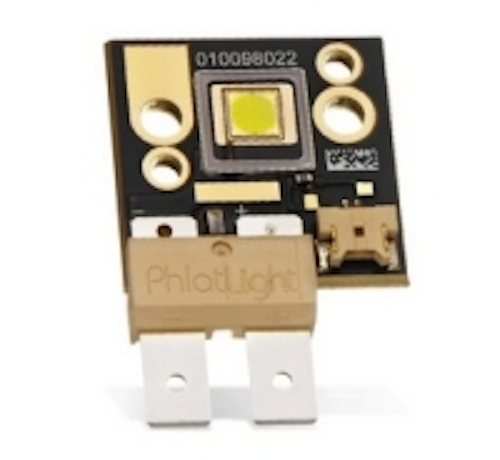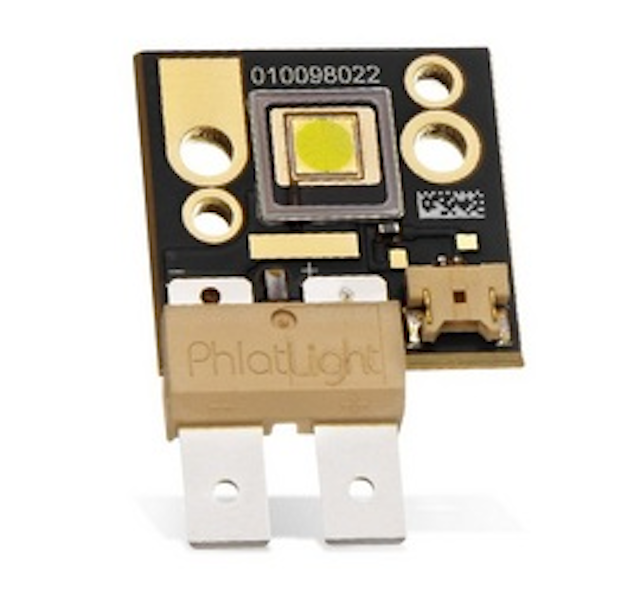 Date Announced: 08 Apr 2013
Mouser Leads with World's First Round LED from Luminus Devices
World's First Round LED Provides Most Efficient Match to Circular Optical Systems
April 8, 2013 – Mouser Electronics, Inc. today announced it is stocking the world's first round LED, the CBT-140 Big Chip Round LEDs from Luminus Devices. This new round emitting aperture provides the most efficient match for circular optical systems and narrow beam projectors.
Luminus Devices CBT-140 Big Chip Round LEDs & Modules are the perfect solution for applications defined by a circular aperture. Such optical architectures, previously mismatched with a traditional square LED, can now be updated with round LEDs which better match the application. These Big Chip Round LEDs & Modules increase system-level efficiency by as much as 30%, enabling customers to use a single LED to replace a 250W HID lamp. They will accelerate the adoption of solid-state technology by displacing conventional light sources in high brightness lighting applications.
Markets and applications that will benefit from Luminus' round LED technology include medical, machine vision, portable, and retail spot lighting. For example, in fiber coupled lighting systems the fiber is round, the optic is round, but the LED has always been square. This has now been resolved with the round LED breakthrough that will enable users to replace the 300W Xenon lamp in an application like endoscopy. To learn more, visit http://www.mouser.com/luminus-CBT140/.
With its broad product line and unsurpassed customer service, Mouser caters to design engineers and buyers by delivering What's Next in advanced technologies. Mouser offers customers 19 global support locations and stocks the world's widest selection of the latest semiconductors and electronic components for the newest design projects. Mouser Electronics' website is updated daily and searches more than 10 million products to locate over 3 million orderable part numbers available for easy online purchase. Mouser.com also houses an industry-first interactive catalog, data sheets, supplier-specific reference designs, application notes, technical design information, and engineering tools.
About Mouser Electronics
Mouser Electronics, a subsidiary of TTI, Inc., is part of Warren Buffett's Berkshire Hathaway family of companies. Mouser is an award-winning, authorized semiconductor and electronic component distributor, focused on the rapid introduction of new products and technologies to electronic design engineers and buyers. Mouser.com features more than 3 million products online from more than 500 manufacturers. Mouser publishes multiple catalogs per year providing designers with up-to-date data on the components now available for the next generation of electronic devices. Mouser ships globally to over 375,000 customers in 170 countries from its 492,000 sq. ft. state-of-the-art facility south of Dallas, Texas. For more information, visit http://www.mouser.com.
About Luminus Devices
Luminus Devices develops and manufactures Big Chip LEDs™ designed for general lighting, projection display, entertainment, ultraviolet curing, medical, portable, obstruction, transportation, and digital signage lighting. Delivering the most lumens from a single source, Luminus LEDs are the most versatile solid state light sources available.
Trademarks
Mouser and Mouser Electronics are registered trademarks of Mouser Electronics, Inc. All other products, logos, and company names mentioned herein may be trademarks of their respective owners.
Contact
Further information, contact: Kevin Hess, Mouser Electronics Vice President Technical Marketing (817) 804-3833 kevin.hess@mouser.com For press inquiries, contact: Kelly DeGarmo, Mouser Electronics Media Communications Manager (817) 804-7764 kelly.degarmo@mouser.com
E-mail:kelly.degarmo@mouser.com
Web Site:www.mouser.com/luminus-CBT140/