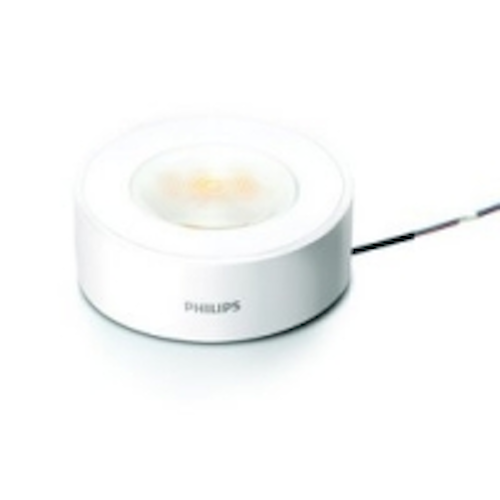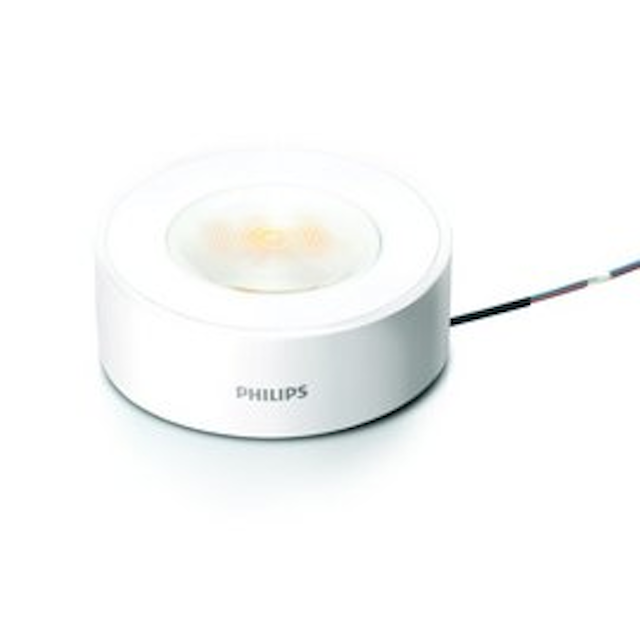 Date Announced: 08 Apr 2013
Eindhoven, the Netherlands - Philips introduces the smart choice for compact down lighting with the Fortimo LED Disk 800 lm Gen 3 dimmable.
The Philips Fortimo LED Disk 800 lm Gen 3 dimmable is an ideal solution for compact down lighting that requires high quality of light. The module offers the latest energy efficient LED technology and is very easy to design in, thanks to the integrated driver and primary optics (85D beam angle) and can be connected directly to the mains.
Since the Fortimo LED Disk is an all-in-one integrated solution, just a small heat sink will be required to design a very nice compact downlight starting from only 7,5cm in height. Customers can also make use of the newly added dimming feature (leading edge) to always set the right ambience. This makes it a great solution for commercial applications such as restaurants, hotels, retail and small offices.
Marius Schlatmann, Regional Product Marketing Manager Low Lumen said: "The traditional halogen and CFL downlight market is evolving quickly towards LED solutions, due to their attractive payback times, and starts to enter a wider variety of applications. The new 800lm Fortimo LED Disk Gen 3 allows luminaire manufacturers to create very simple compact downlights, either by making use of its primary optics or by adding a small reflector for further beam shaping.
The integrated system means that no external driver is required. No extra costs, no additional installation time and space needed, and no compatibility issues. This makes life easy and allows a fast time-to-market."
The new generation furthermore offers an effiency upgrade of 25% and an increased lifetime of 50K hrs is possible (with a Tcase 60°C). This will meet the demands of most customers seeking for lower energy consumption and maintenance cost. The Fortimo LED Disk 800lm now offers a complete range of color temperatures (2700K, 3000K and 4000K).
The Fortimo LED Disk 800lm Gen 3 is commercially available and to experience the Fortimo LED Disk visit http://youtu.be/GHAyz3SURNs. Additional information for the complete Philips Fortimo LED downlighting portfolio can be found at www.philips.com/fortimo. Small numbers of samples for testing and design-in purposes can be ordered via the Philips Technology web shop: http://oemwebshop.philips.com
Contact

Web Site:www.philips.com/fortimo