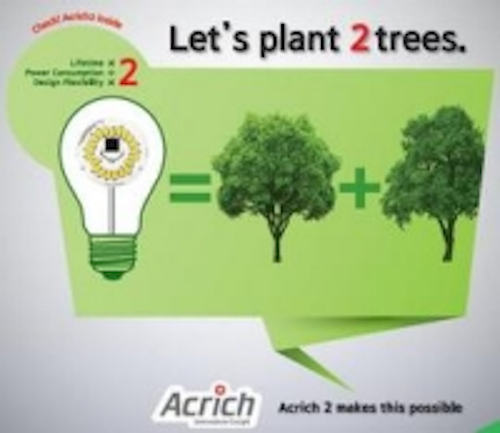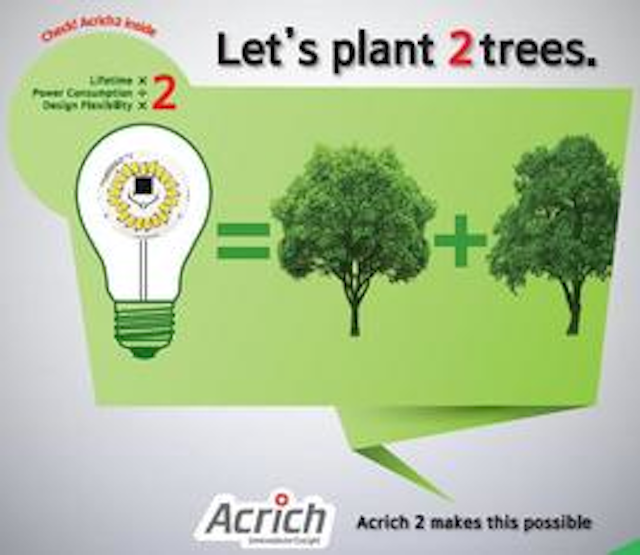 Date Announced: 11 Apr 2013
The Acrich LED bulb without a converter saves two more trees than conventional DC LED solutions. Seoul Semiconductor will be selecting 1,000 participants to receive Acrich LED bulbs or desk lamps.
Seoul Semiconductor (President Chung-Hoon Lee, http://www.seoulsemicon.com), a global LED manufacturer, announced today it will launch the global campaign named 'Acrich for Trees' to actively encourage the use of eco-friendly AC LED bulbs with Acrich LEDs from April 11 to April 30, 2013 via their official website, http://www.seoulsemicon.com. Among participants who access the website and subscribe to the Seoul Semiconductor Newsletter, 1,000 subscribers will be chosen to receive a LED bulb or a LED desk lamp.
By using an Acrich LED light bulb six hours per day, annual carbon dioxide emissions decrease by roughly 48kg compared to using a normal 60 watt incandescent light bulb. Additionally, the absence of an AC/DC converter (typically used in DC LED bulbs) reduces energy loss even further and saves two more trees when compared with a DC LED light bulb. Results based upon Seoul Semiconductor's internal study and investigation comparing conventional and DC LED bulb solutions with an 8W Acrich bulb.
Marten Willemsen, global marketing VP, said "Seoul Semiconductor is the world's first company to succeed in developing and producing eco-friendly Acrich LEDs. This solution is more environmental friendly because it does not require an AC/DC converter. By eliminating the drawback of an analog converter's short durability, the life expectancy of LED light bulbs has dramatically increased." He also highlighted that "This global campaign encourages people to use eco-friendly LED bulbs with Acrich LEDs to save more trees than conventional DC LED bulbs."
To join the campaign, simply access Seoul Semiconductor's official website at http://www.seoulsemicon.com/ and complete the newsletter subscription form. The balloted winners will be announced on May 1st via the website and Email.
Contact
# Contacts Seoul Semiconductor Public Relations Wankee Park : +82 10 6355 8239
E-mail:pr@seoulsemicon.com
Web Site:www.seoulsemicon.com