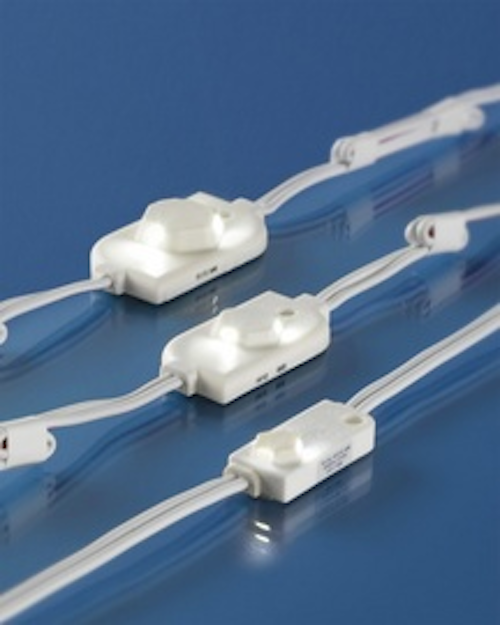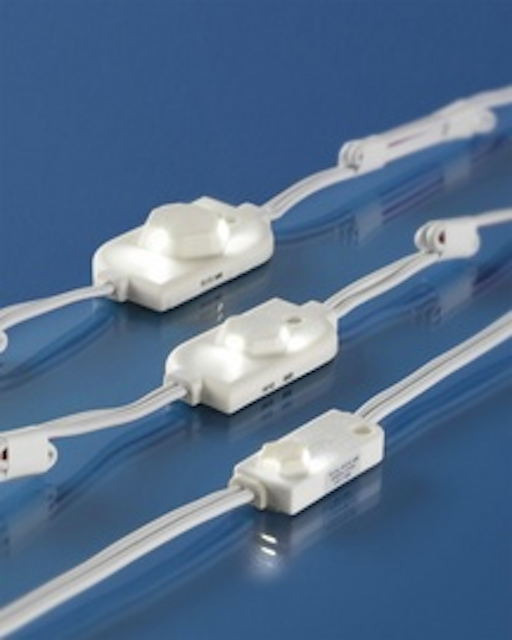 Date Announced: 05 Apr 2013
SloanLED to feature V180 products at Booth 3525
at the ISA International Sign Expo, April 4-6, in Las Vegas
VENTURA, Calif. – (April 5, 2013) – SloanLED (www.sloanled.com) is adding two new sizes to its popular V180 low profile LED lighting system for shallow channel letters and cabinets, delivering innovative, efficient and even illumination, while using up to 50 percent fewer modules. V180 lighting products will be featured at the ISA International Sign Expo, SloanLED Booth 3525, April 4-6, in Las Vegas.
V180 includes a patent pending LED array of three diodes placed at an optimal angle to provide a 180-degree viewing angle. The wider viewing angle allows for wider spacing between rows for can depths between 3 to 10 inches and row coverage between 4 to 12 inches, respectively. The V180 Standard and Large also come with stretched spacing options to make installations fast and smooth.
"The innovative pyramid shape of the V180 diodes allows sign makers to use less product but achieve even illumination, saving time and energy," said Steve Shotwell, general manager of SloanLED. "This is another way that SloanLED is making installations easier and more cost effective for sign makers."
V180 products use SloanLED's Constant Current Technology, which eliminates current changes from forward voltage variation and prevents damage from over-driving LEDs. The new standard and large sizes include a wire stretch feature. This allows for additional wire between modules, making it easier to go around obstacles or corners in a letter.
"V180 is a wonderful advancement in lighting," said Jim Rackel, technical engineer at SloanLED with over 40 years of sign industry experience. "It is very exciting to see how the expanded viewing angle allows sign makers to do so much with so few modules."
All V180 products are IP68 (Ingress Protection) rated, UL and cUL recognized, CE and CSA certified, and RoHS and WEEE compliant.
About SloanLED
The SloanLED Company was founded in 1957 to design and develop high-reliability lighting products. The company is a leader in the development and application of Light Emitting Diode (LED) technology, serving customers in many commercial, architectural and industrial industries. SloanLED is dedicated to providing the best LEDs and support, including some of the industry's strongest warranties, superior technical assistance and unparalleled customer service. The company is headquartered in Ventura, Calif., and serves its European customers from an office in The Netherlands. More information can be found at www.sloanled.com.
###
Contact
Linda Muskin Clarus Communications 847.432.7300
E-mail:lmuskin@teamclarus.com
Web Site:sloanled.com/