Lumex TitanBrite 2W UV LED offers 70% energy and 90% space savings
Apr 9th, 2013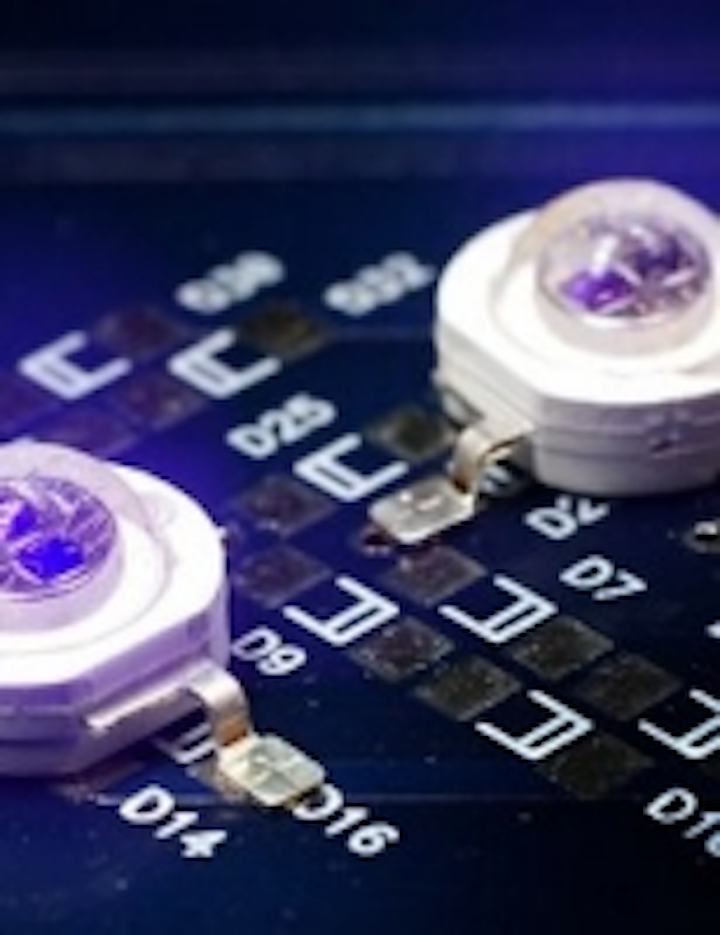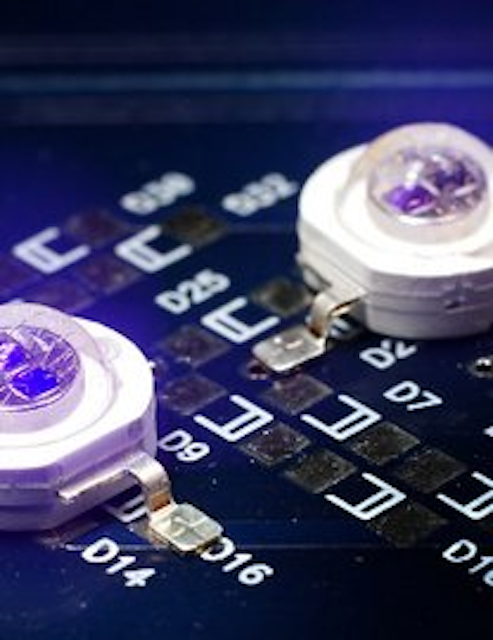 Date Announced: 09 Apr 2013
CAROL STREAM, IL – Lumex announces the global launch of its new TitanBrite 2W UV LED which offers energy savings of 70% and space savings of up to 90% compared to alternative technologies, making it the best value high power UV LED on the market. Available in a standard 405nm wavelength (purple), it provides 2x the power output of standard high power LEDs for a wide range of applications.
The TitanBrite 2W UV LED (SML-LXL8047UVC series) has several key benefits over alternative technologies such as compact fluorescent lamps (CCFLs), UV filament lamps and traditional high power UV LEDs. The 2W UV LED consumes 50% and 70% less energy than CCFLs and UV filament lamps, respectively. The surface mounted design allows the 2W UV LED to provide up to 90%, 50% or 30% space savings compared to CCFLs, UV filament lamps and through-hole UV LEDs.
High power UV LEDs are typically available in 1W packages. The TitanBrite 2W UV LED offers twice the power with the same footprint as a standard 1W package. While some suppliers do offer a higher-power 3W UV LED, the available technology takes up 2.5x more space than the TitanBrite 2W UV LED and costs three times as much, making the TitanBrite UV LED the best value high power UV LED on the market today.
The TitanBrite 2W UV LED, now available in standard 405nm wavelength, provides high intensity light of 18 lumens. The new TitanBrite 2W UV LED is ideal for a wide range of applications that require bright, intense light with low energy consumption and have space limitations. High power UV LEDs can be used across a number of industries including:
· Medical: tissue improvement, thermal abrasion (dermatological), bacteriological research, fluid protection and identification, epoxy curing (dental)
· Security: forensics, currency verification
· Water: water treatment facilities, aquariums, killing bacteria
· Food processing: equipment sterilization, surface preparation cleaning, nucleic acid destruction
The RoHs compliant TitanBrite 2W UV LED is available in an 8mm round top dome SMT package and features a 100° viewing angle. The technology is priced at $7.00 per unit in production volumes, with lead times of 12 to 14 weeks, direct, or available immediately at Digi-Key, Future Electronics, Mouser Electronics and Newark/Element-14.
The TitanBrite 2W UV LED compliments Lumex´s full line of UV and high power LED technologies. The QuasarBrite line of UV LED technologies includes six standard UV wavelengths - 355, 365, 377, 385, 405 and 415nm as well as a limitless number of custom options. Lumex offers over 10 types of high power products LEDs including 1W, 2W, 3W, 5W and 10W sizes, through-hole and SMT offerings as well as standard and RGB formats.
###
Lumex Contact Information
For additional information or engineering assistance:
In North America and Europe, contact Lumex's Sales Department, 425 N. Gary Avenue, Carol Stream, IL 60188 USA. Phone: 1-800-278-5666. E-mail: lmxsales@lumex.com Web: www.lumex.com.
In Asia, contact Lumex's Asian Pacific Headquarters at 3F, No. 972, Sec. 4, Chung Hsing Rd., Chu Dung, Hsin Chu County, Taiwan, ROC. Phone: +886-3-582-1124. FAX: +886-3-582-1154. Web (in Chinese): www.lumex.com.tw
About Lumex
For over 30 years, Lumex, a member of the ITW Photonics Group, has been a global leader in the optoelectronics industry. With the broadest range of high efficiency, high performance LEDs and LCDs in the industry, Lumex provides thousands of standard products and specializes in semi-custom and custom designs. Lumex's optical range encompasses a wide spectrum including UV, visible and infrared wavelengths. Lumex's team of Technical Design Specialists are experts in collaboratively developing effective, smart solutions from the most complex design dilemmas.
Lumex has a global footprint with the worldwide headquarters outside Chicago and the Asian headquarters in Taiwan. With manufacturing capabilities in the United States, China, Taiwan and Thailand, Lumex is able to support over 23 end markets with more than 80,000 customers both directly and through our distribution channel partners. Lumex received its initial ISO 9001 registration in 1996.
About the ITW Photonics Group
The ITW Photonics Group was created to bring together and build on the technical expertise of individual companies that specialize in photonics technology and span the full spectrum of wavelengths. The group consists of:
• Lumex - LED and LCD technology
• Cal Sensors - IR Detector and Emitter technology
• Opto Diode Corp - LED, Silicon Photodiodes and Electro-Optical Assembly technology
• ITW Linx – Surge protection technology
The synergy of these industry front-runners provides an unsurpassed range of photonic capabilities within a broad spectrum of markets, including medical, military and industrial controls. The ITW Photonics Group provides integrated solutions that encompass the technology and experience from all three business units, offering design engineers higher performance with greater feature enhancements. For more information on the ITW Photonics Group, go to www.itwphotonicsgroup.com
###
Contact
brook.hefner@colligancommunications.com
E-mail:lmxsales@lumex.com
Web Site:www.lumex.com