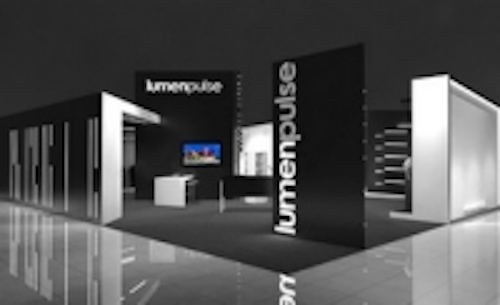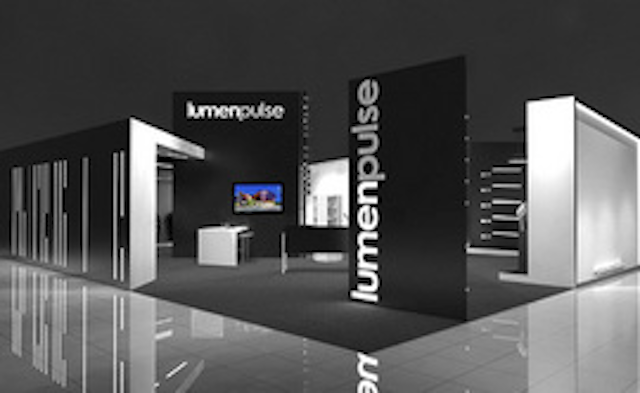 Date Announced: 17 Apr 2013
Philadelphia, PA & Montreal, QC – At the upcoming Lightfair trade show beginning on April 23, exhibitor Lumenpulse will provide attendees with a rich experience at booth #3501, a 2,000-square-foot space nicknamed "Lumengallery." A leading innovator and manufacturer of high-performance, architectural LED-based lighting solutions for commercial, institutional, and urban environments, Lumenpulse will reveal new products while also featuring some interactive installations that attendees will be able to play with and test.
"We saw this year's Lightfair as an opportunity to demonstrate how Lumenpulse's LED products and technology interact with each other, proving the strength of our product family approach," says François-Xavier Souvay, Lumenpulse's President and CEO. "The broad scope of our lighting systems shows that LED can take on all types of architectural illumination projects, whether they require general lighting or accents, in high-quality white or color."
Lumenbeam Grande and Lumenbeam Grande Pendant are among the new products Lumenpulse will unveil at Lightfair. The Grande are high-performance luminaires for indoor and outdoor lighting applications, while the Pendant is ideal for high-ceiling applications. This powerful projector delivers 326,433 candelas at nadir using just 100 watts. Available in a choice of color temperatures, RGB, RGBW and Dynamic White, Lumenbeam Grande's optics range from a very narrow 6° to a wide 80° flood. It is a highly controllable luminaire that is compatible with DMX, DALI and 0-10V, as well as Lumentalk—Lumenpulse's innovative power line communication technology—and Lutron® EcoSystem.
As well, Lumenpulse will be introducing a flat lens option to its Lumendome family. Lumendome is a direct-view pixel that can be used both for interior or exterior lighting projects. The flat lens option has an even slimmer profile, allowing closer integration with architecture. The pixel can form low-resolution video displays, be arranged in patterns, or trace the contours of buildings and structures. Available in white or color-changing light, Lumendome luminaires are controllable via DMX.
The Lumengallery will also feature Lumenpulse luminaires embedded with Lutron® EcoSystem®, as well as a Lumentalk display. Lutron® and Lumenpulse recently signed an agreement to integrate EcoSystem® across Lumenpulse's portfolio of both indoor and outdoor luminaires, a first for the industry. Lumenpulse's EcoSystem-enabled luminaires seamlessly fit into the EcoSystem® environment without the need for additional interfaces. Lutron® EcoSystem® can save clients up to 60% of lighting electricity usage with a combination of control settings that enable daylight harvesting, occupancy sensing, personal control and/or scheduling.
Lumentalk is Lumenpulse's patented power line communication technology, a ground-breaking system that uses existing power lines to create a robust, digital signal that allows clients to adopt digital lighting control for their network of luminaires. Because it eliminates the need for costly rewiring and construction, Lumentalk can save approximately 30% of total installation costs.
Also making their debut at Lightfair will be the Lumenpulse App, called "LumenApp," and the New Product Guide for 2013-2014. Downloadable for free from the Apple Store, LumenApp allows users to view products and case studies, and to download brochures or technical documents without an Internet connection. The New Product Guide for 2013-2014 is a catalog providing details on Lumenpulse's newest product as well as useful information on all of its product families. The New Product Guide will also be available for download from the Lumenpulse website or the LumenApp.
"We are committed to advancing LED technology and making our products easy for our partners to specify," Souvay reports. "We designed the Lumengallery to illustrate just that."
About Lumenpulse Inc.
Founded in 2006, Lumenpulse develops and manufactures high performance, sustainable architectural LED-based fixtures and solutions for commercial, institutional and urban environments. Lumenpulse is a leader in the LED lighting market and has earned many awards for its indoor and outdoor applications. It was also recognized as one of Profit Hot 50's Top New Growth Companies. Lumenpulse has offices worldwide with corporate headquarters in Montreal, Canada, US headquarters and Global Technology Development Center in Boston, Massachusetts, and EMEA headquarters in London, UK.
Contact
Contact: Olivia Collette, Lumenpulse Phone: 1-877-937-3003
E-mail:ocollette@lumenpulse.com
Web Site:www.lumenpulse.com/en/