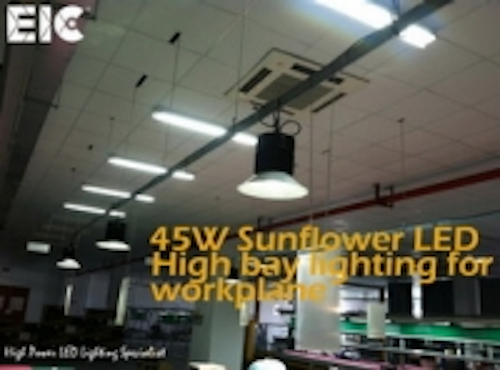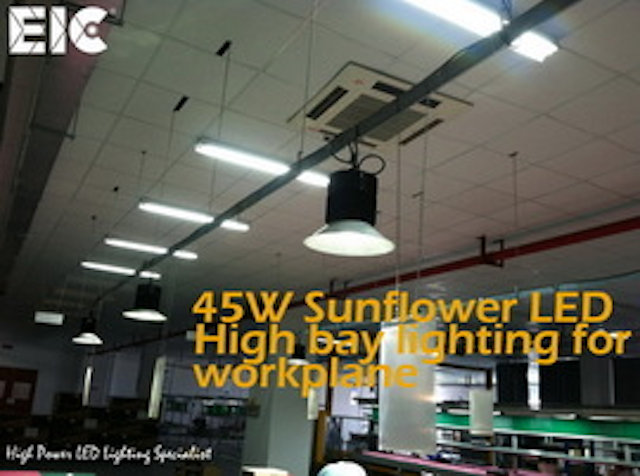 Date Announced: 25 Jul 2013
It is a pleasure to announce that EIC has finished its new LED high bay lighting project for the Laibao plant in China. EIC got the final win due to the high performance of its LED high bay light. The project will be a trial project to replace all 100W HPS lamps with EIC 45W Sunflower LED high bay lights to provide lighting for the workplace.
The plant required neutral white light; EIC recommended the 5000K Citizen with patented optic glass lens (80). After lighting design, EIC finalized its lighting solutions with Heat Engine Sunflower LED high bay lights with the following features:
- Model: SC-GK04501
- Light engine: Citizen 5000K COB, 80deg optic glass lens and Moso driver
- Luminous efficacy: 90LMW 4050lm (fixture)
- Heat engine: Liquid phase change loop cooling system. The first company to build housing embedded with pipe network for heat dissipation.
- Five year warranty
It is estimated that the retrofit will save 55% energy and reduce 17.3 tons of CO
2
emission. Most important is that it brings better lighting conditions for clear viewing and light uniformity for workers.
About EIC
EIC Electronic is a member of EIC Group, specialist in high power LED lighting, mainly LED street lights and LED high bay lights. As a Sino-Canadian joint venture, EIC can ensure high quality based on advanced technologies from Canada and competitive price for assembly in China. EIC builds reputation on patent optic design, unique Heat Engine thermal management and light engine solutions. If you are looking for a quality LED light supplier, why not contact us today? Your high requirements can be met here.
Contact
Roger Lee, sales engineer - LED lighting Mob: +86-18913251062 EIC Electronic China︱A member of EIC Group +86-512-50311135
E-mail:sa02@eicsun.com
Web Site:www.eicsun.com