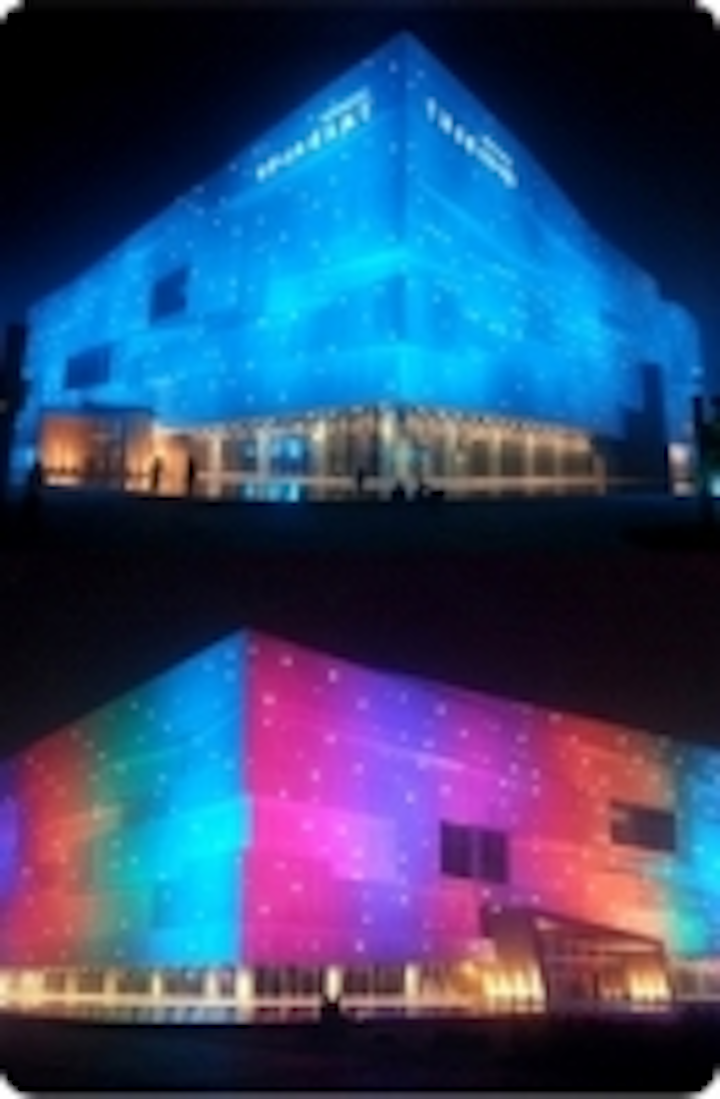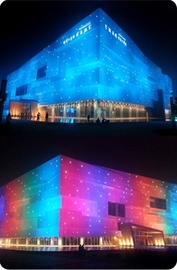 Date Announced: 01 Jul 2013
SHANGHAI, CHINA – Future Lighting Solutions and Yajiang Lighting are pleased to announce the completion of another successful collaborative project, retrofitting outdoor façade lighting for the Byuquan Poly Theater, at the core of the cultural square in Yingkou.
The goal was to incorporate the energy-saving benefits of LED fixtures into the building's lighting control system, highlighting the aesthetics of the landmark's modern architecture, while achieving a sense of time travel through space, with a design mirroring a twinkling starry sky.
With an area of approximately 24,000 square meters, it was important to consider environmental conditions, and also to determine the appropriate level of luminance, lighting distribution and uniformity. Delicate color temperature and beam control ensure even, glare-free lighting. In addition, the hues can be changed according to season and time of day, and allow for a variety of light shows to be presented during special holidays, further adding to the festive atmosphere.
Yajiang Lighting relied upon the exclusive online simulation tools available through Future Lighting Solutions, in choosing the most suitable and reliable emitters for this grand scale project, which includes more than 100 high power LED spotlights. Technical expertise and binning support were additional pivotal factors in the company's decision to work with Future Lighting Solutions on this and several other projects.
Andy Roddam, vice president of marketing center at Yajiang, said, "As a major project in Yingkou, Liaoning Province, Byuquan Poly Grand Theatre has high design requirements for the lighting works of external facade. We are appreciative of Future Lighting Solutions' long term support to provide high quality LUXEON® LEDs, which meet the high requirements of our fixture design."
About Future Lighting Solutions
Future Lighting Solutions is the leading provider of solid-state lighting technologies, engineering expertise and online simulation and design tools to facilitate application development and accelerate customers' time to market. Our comprehensive portfolio includes a broad selection of LED system components, as well as integrated or customized solutions to enable cost effective, energy efficient lighting applications.
From retrofitting bulbs to building LED systems from the ground up, we offer industry leading LEDs, optical solutions, power modules and ICs, passive and active thermal solutions, light engines, modular systems and remote phosphor technologies.
Our world-class team of lighting experts, along with our global lighting resource centers, supply chain solutions and network of specialized partners, ensures the highest quality solid-state lighting solutions for customers.
The company is a division of Future Electronics. For more information visit:
www.FutureLightingSolutions.com.
Contact
Flora Li, Future Electronics
E-mail:flora.li@futureelectronics.com
Web Site:www.futurelightingsolutions.com