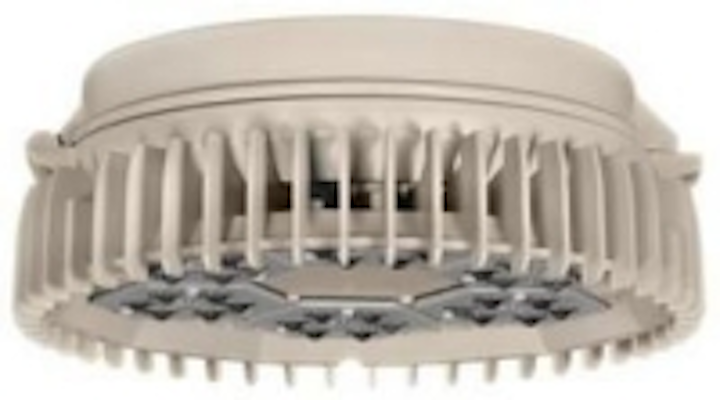 Date Announced: 08 Jul 2013
GREENVILLE, S.C. -- Hubbell Lighting, a world leader in lighting innovation, launched today one of the market's most durable industrial LED fixtures -- Hubbell Industrial Lighting's Kemlux III LED Series. The energy efficient answer for lighting the most demanding industrial environments, the LED fixture is rated for installation in severe locations and is available for new installation or as a retrofit to existing Kemlux III fixtures.
"The toughest industrial locations require the toughest light fixtures -- Hubbell is the only name you need to know when it comes to lighting the most challenging environments, while maximizing energy savings," said Scott Muse, president of Hubbell Lighting. "Our Kemlux III LED Series delivers the performance and durability you need to efficiently light corrosive and harsh areas in chemical, petrochemical, marine, power generation, pharmaceutical, or food processing plants."
Designed to light the most complex environments, the Kemlux III LED Series fixture delivers up to 105 lumens per watt of 5000K light and its modular design provides 6 mounting options. The unique radial design with fins of durable copper-free, cast aluminum allow it to operate in -40 degrees C to 40 degrees C ambient environments and keeps the LEDs cool, resulting in an estimated 100,000 hours of life at L70. Plus, the tan Lektrocote® powder polyester paint finish provides excellent corrosion resistance from most chemicals.
The Kemlux III LED Series has high output LED counts of 18, 24 and 36 on up to six individual light engines, providing fail-safe redundancy. The total wattage ranges from 43-86 watts with a lumen output ranging from 4405 to 9004 lumens. Custom engineered LED optics provides optimally controlled and evenly distributed light with three distinct distributions: Type V square, Type V rectangle and Narrow. The Kemlux III LED Series comes standard with surge protection and universal voltage LED drivers with input from 120V to 277V at 50 Hz or 60 Hz, The fixture is IP56 and has a 5 year warranty.
Fore more information on Hubbell Industrial Lighting's Kemlux III LED Series, visit http://www.hubbellindustrial.com/products/ks_iii_led.
About Hubbell Lighting
Hubbell Lighting is one of the largest lighting fixture manufacturers in North America. The company provides a full range of indoor and outdoor lighting products serving the commercial, industrial, institutional, and residential markets. Hubbell Lighting brands include Alera Lighting, Architectural Area Lighting, Beacon Products, Columbia Lighting, Compass Products, Devine Lighting, Dual-Lite, HomeStyle Lighting, Hubbell Building Automation, Hubbell Industrial Lighting, Hubbell Outdoor Lighting, Kim Lighting, Kurt Versen, Prescolite, Progress Lighting, Security Lighting, Spaulding Lighting, Sportsliter Solutions, Sterner Lighting Systems, Thomasville Lighting, and Whiteway. Hubbell Lighting: one name, distinctive brands, limitless lighting possibilities. For additional information, please visit www.hubbelllighting.com and follow Hubbell Lighting on Twitter and Facebook.
Contact
Andy Beck, Makovsky 202-288-6862
E-mail:abeck@makovsky.com
Web Site:www.hubbelllighting.com