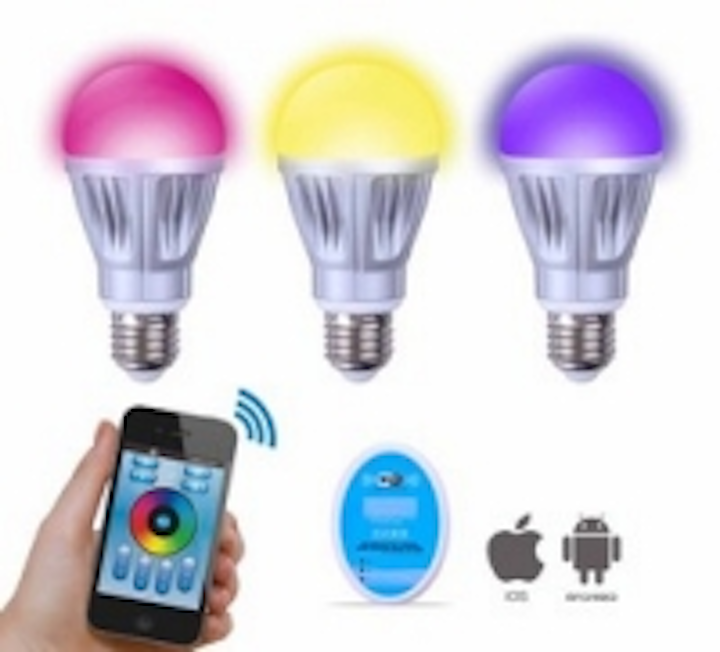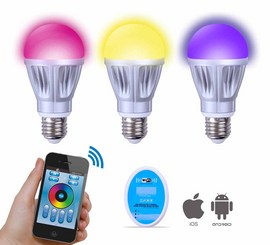 Date Announced: 03 Jul 2013
Recently, LEDE released its latest RGBW WiFi controlled LED bulb, which is qualified to both residential and commercial ENERGY STAR standards.
The power is 7.5W, the max luminous flux is 600lm, and input voltage is AC85-265V. It adopts a high quality dimmable LED driver, which enables it to possess a stable performance to a large extent. Its dimension is 60x120mm. The bulb uses the high lumen Samsung SMD5630 chip; beam angle is 180 degree, color temperature, brightness, and color are adjustable via the remote controller or iphone and android phones. Moreover, it can give out white light and RGB light in the same bulb; you can shift the white light and RGB light freely.
There are three operation interfaces for the app. The first one is for white light mode, the second one is for RGB light mode, and the third one is for the function application. If you need white light, then select the white light mode; for RGB light, select the RGB light mode. You can shift the light from white to RGB via the middle circle button, which is marked "RGB" and "W". Both the white and RGB modes have four groups. The remote control function is available after dividing groups and matching codes between LED bulbs and the remote controller. The controller is designed according to IEEE 802.15.4, with 2.4GHZ RF signal which is about 30 meters control distance. You also can use your own wireless network; under such condition, you can control bulbs from any barrier direction. The biggest advantage is excellent reliability and synchronicity.
The most important feature is that it offers 8 functions, such as night mode, meeting mode, reading mode, mood mode, timer mode, alarm mode, sleep mode and recreation mode. You can select any mode as per requests. You can touch the reading mode, then the bulb will be brighter. For the morning, you can set a timer and the bulb will be turned on automatically after setting from the app. You can get creative with colors and effects, and make an impression at your next dinner party. You also can create the colors to match any mood or decoration. You can start security mode when you're on holidays -- the bulb will turn on and turn off automatically. Due to the RGBW WiFi controlled LED bulb's advantages, it's widely use in home lighting and commercial lighting, such as offices, hotels, restaurants, bars, exhibition halls and so on.
LEDE places great effort on R&D and design, devoting themselves to new product development and design, and striving to create more value for customers.
Contact
Allen Xiong, sales manager +86-755-29870675
E-mail:sales@szledetech.com
Web Site:www.szledetech.com