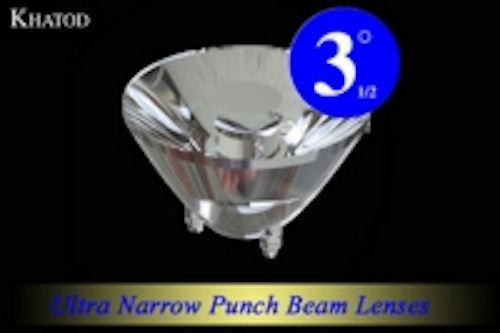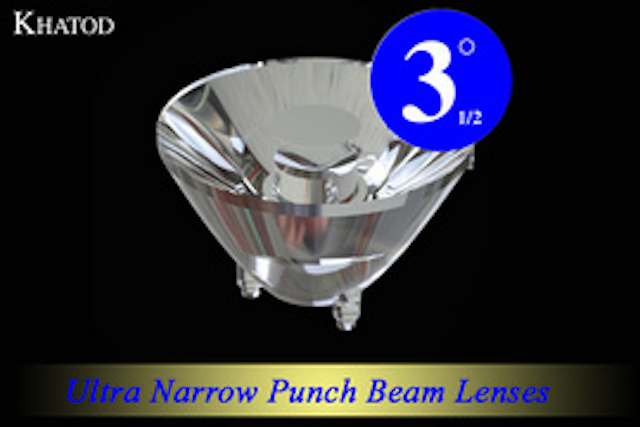 Date Announced: 19 Jul 2013
Optical Project, Moulding and Tooling Realization, Production:
100% In House, Made in Italy.
Khatod aims to deliver its customers the best in LED lensing, products and technologies that far surpass the traditional ones. Continuous Innovation together with High Project Potential are essential key points allowing Khatod to be always on the leading edge of product innovation.
Always in this spirit, Khatod is proud to introduce the newest series of Ultra Narrow Punch Beam Lenses able to perform an exceptional sharp and tight 3° Angle Beam.
The Ultra Narrow Lenses from Khatod are TIR (Total Internal Reflection) high efficiency lenses designed for use with the most popular existing LEDs references of latest generation. The high flux density and high emitting potential produced by these LEDs require cutting-edge lenses able to deliver superior beam control.
The Ultra Narrow Punch Beam Lenses collimate the light coming from the LED source into a perfect ultra narrow beam that maximizes the usable lumens in the target area. Also, provide the best solution for many new lighting applications requiring an enhanced focal depth. These newest optics project a smooth light beam of uniform intensity that minimizes glare and maximizes the lighting efficiency, making them ideally suited to any application where a high efficient Punch Beam is requested.
The Ultra Narrow Lenses from Khatod are THE SOLUTION for your applications requiring an ultra narrow punch beam. Unavailable on the market up to now, Khatod is now delivering the unique 3° Angle Beam Lens, the tightest beam of light performed by a secondary optic for SSL applications.
Excellent optics able to sharply define the spot of light coming from the LED source. This new series of optics is currently available in 3 different diameters: 50.0mmØ; 46.8mØ; 35.0mmØ.
The mounting onto the LED is easy and immediate: 3 pins on the lens bottom allow a precise and robust mounting.
General Characteristics
• Lens material : Optical Grade PMMA
• FWHM = 3.5_ for 1 mm2 chip area LEDs
• CBCP (Center Beam Candle Power) = 150 cd/lm
• Smallest Shape Factor Lens (Diameter × FWHM / Chip Size
Features
• LED Chip Projection on target totally eliminated
• Clean Spot, Efficiency > 89%
• Perfect uniform flux
• Easy fixing onto the PCB: 3 Pins provided for precise and robust mounting
• Available in 3 different diameters:
- PL1672UN : Ø = 35.0 mm, H = 21 mm
- PL1675UN : Ø = 50.0 mm, H = 21 mm
- PL1738UN : Ø = 46.8 mm, H = 21 mm
• Punch Beam;
• Spot light;
• Entertainment lighting;
• Architectural lighting;
• Wall washer;
• Stage lighting;
• Decorative lighting;
• Shop windows, halls & entrances;
• Flashlights
• Bicycle lights
• Headlamps
About Khatod Optoelectronic:
Khatod products leverage nearly three decades of hands-on experience with the toughest challenges in making lenses in a wide range of applications and environments. Our ability in designing and manufacturing customized optics for LED Lighting is already history. Khatod experience is at disposal of all the individuals who need to customize their color mixing optic in order to meet specific requirements for the realization of their lighting fixtures.
Follow us on Twitter @ http://twitter.com/#!/KHATODOPTO and
Facebook @ http://www.facebook.com/pages/Khatod-Optoelectronic-srl/263694230338604
View company video @ http://www.youtube.com/watch?v=G1Opls1D0NU
Contact
Khatod Optoelectronic S.r.l. Via Monfalcone, 41 - 20092 Cinisello B. (Milan) - ITALY Tel: +39 02 660.136.95 Fax: +39 02 660.135.00
E-mail:khatod@khatod.com
Web Site:www.khatod.com