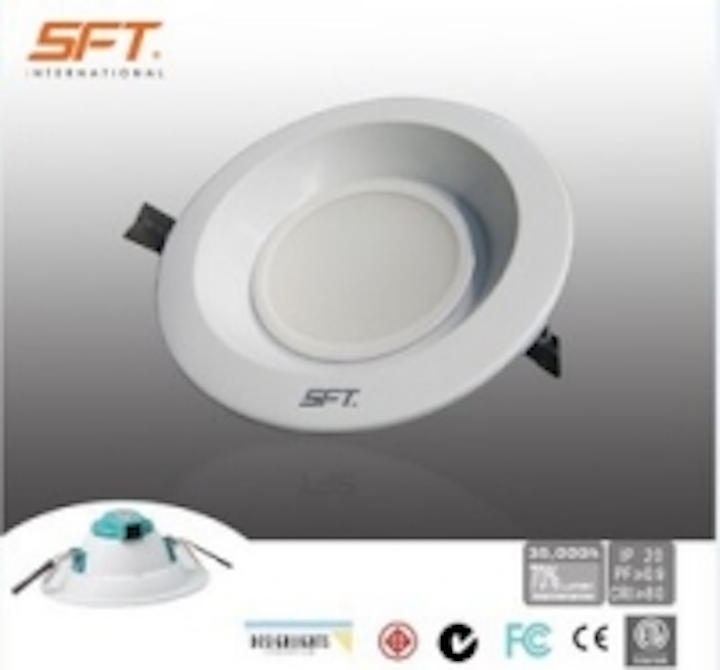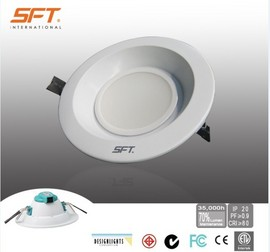 Date Announced: 08 Jul 2013
SFT LED down light with high brightness LEDs is suitably designed to easily replace existing fluorescent down lights used in residential and light commercial applications. They deliver white light with LEDs in a new way that enables an unprecedented combination of light output, high efficacy, and beautiful color, ensuring exceptionally long life, and significant energy savings. The down lights can be installed into existing fixtures and can lower cost with reduced wattage and relamp frequency.
Product features:
- High performance with competitive price
- Eye protection: LED constant current drive, non-flicker, no humming
- Up to 50% energy saving compared with fluorescent down light
- Reliable & long lifespan, up to 50,000 hours (L70)
- Highly reflective material maximizes delivered lumens per watt
- Integrated thermal management system conducts heat away from LEDs and transfers it to the surrounding environment
- Meets CE - RoHS
- Low brightness eliminates "pixelation"
- CRI 80
About SFT - Sense & Future Technology
- SFT lighting has 18 years professional lighting experience, being the first mover into the LED lighting industry in China, operating one of biggest LED light factory in China.
- SFT's ambition is to be the top manufacturer of LED indoor luminaires in China.
- SFT is an OEM supplier to well-known, large lighting companies.
- SFT has a wide range of LED lighting product lines.
- SFT has UL and Energy Star certification for LED candle lights.
- SFT has ETL and DLC for LED high bay and LED troffer lighting.
- SFT was ranked first of China brands for LED street lights in 2011.
- SFT was awarded all LED lighting products tender from China government financial subsidies project in 2012. SFT is one of the top two enterprises amongst 39 contestants whose submitted product lists are all selected.
Contact
Jiangsu SFT Optoelectronic Co., Ltd. +86-25-8319-4011
E-mail:enquiry@sftinternational.com
Web Site: www.sftled.com