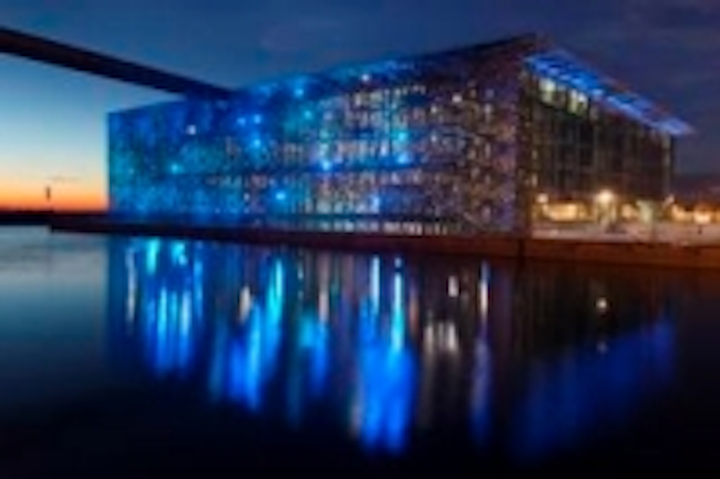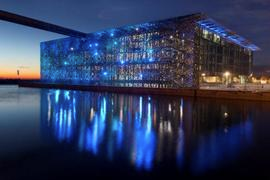 Date Announced: 18 Jul 2013
Through magnifying the concrete lacework, so emblematic of the MuCEM
(Museum of the European and Mediterranean Civilisations) conceived by the architect Rudy Ricciotty, the lighting enhancement of the edifice, imagined by the light designer Yann Kersalé, has given a night identity to the edifice itself, placing it as a surreal lighthouse on the sea front of Marseilles. To put into life this "1% artistic" competition winner work of art, LEC, the manufacturer of LEDs marker-lights and spotlights located in Lyon worked side by side with the AIK agency ever since the beginning of the project. The light designer wanted a customised lighting, which LEC provided through adapting the necessary products to light up the MuCEM within the short given deadlines.
A perfect blend of more than 200 bicolor customised spotlights
Compact and discreet, the LEC's 4240-Havre spotlights installed on the structure of the MuCEM do not alter the edifice during daytime; which was a given condition from the architect.
Completely integrated into the allocated space between the glass walls of the museum and the famous concrete lacework, the spotlights were simply made invisible in order to offer a blend of blue and turquoise lighting on the MuCEM, magnifying the edifice and giving it a second life at nightfall.
LEC's 4240-Havre spotlight has a wide lens enabling an extensive colour coverage with one single product; and offers a smooth fade all over the edifice when installing several spotlights.
To obtain the desired colours effects, LEC customised the LEDs fixed on its spotlights' structures.
The ideal positionning of the devices across the museum has helped to light up the concrete lacework, mixing different colours and getting a true night identity of the building – here we recognise the artist's personal touch.
At night, the different shades blend in nicely with the lacework on the walls, the surroundings of the edifice and on the water surface.
LEC's customised solution for one specific type of LED spotlight:
4240-Havre
Yann Kersalé and his team chose to use one single type of product - the 4240-Havre, and to adapt it for each single use of it. With a complete waterproof sealed design, made in anodized aluminum, the
4240-Havre is built to withstand the most extreme conditions, hence it is ideal for seafront as it is the case for the MuCEM.
Extremely powerful, this spotlight can receive a selection of different colours in LEDs in order to obtain the desired shades.
For the MuCEM project, the lighting systems needed to be very discreet and to provide a perfectly accurate visual result. To meet with the technical and aesthetic needs required by both the AIK agency and the Rudy Ricciotti agency, LEC customised each 4240-Havre
spotlight according to its positionning within the museum as well as its use on site. This required specific adjustment and fixing systems, caps containing the luminous flow or a selection of specific LEDs.
Project participants:
Contracting Authority: OPPIC (under the control of DRAC)
Architect: Rudy Ricciotti
Lighting designer: AIK agency
Functional lighting designers: 8'18'' agency
Installer: SPIE Aix-en-Provence
Contact
LEC Lyon +33-(0)-437-480-409
E-mail:sso@lec.fr
Web Site:www.lec.fr