FZLED's 35W floodlight replaces 70W traditional halogen floodlights
Jul 18th, 2013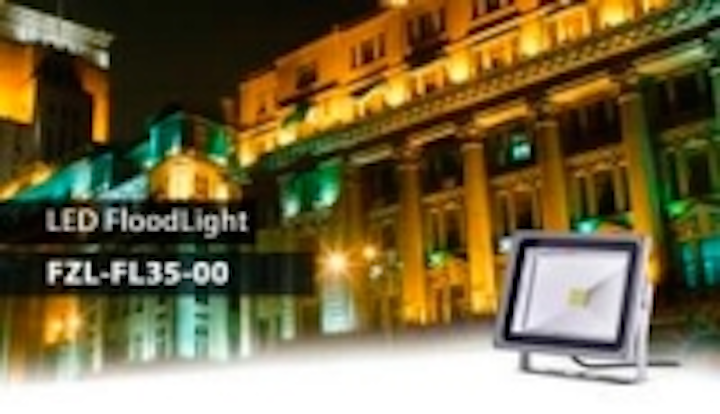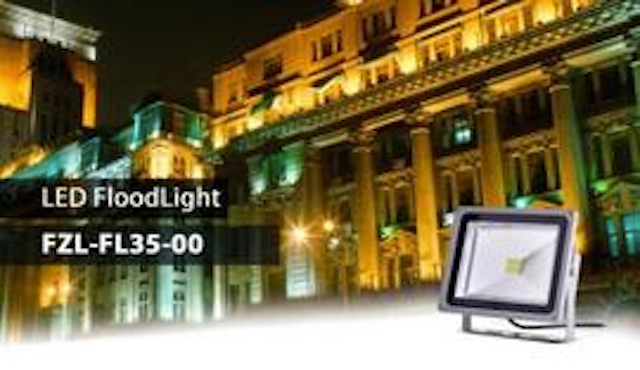 Date Announced: 18 Jul 2013
Taipei, Taiwan – FZLED, maker of high-performance LED lighting products, is pleased to announce the energy-saving flood light, 35W, coded FZL-FL35-00. It is a perfect replacement for 70 W traditional halogen flood light, used in both residential and commercial lighting.
The LED flood light comes with two color choices –warm white and cool white. The warm white type, codenamed FZL-FL35-00-WW-35, delivers 2200 lm in 3000K color temperature with CRI higher than 80, while the cool white FZL-FL35-00-CW-35 achieves 2700 lm in a 6000K color temperature. They work on a 35W high power COB chip (chip on board) and are capable of producing high lumens and consume only 35 watts of electricity.
With waterproof IP65 certification, FZL-FL35-00 is suitable for all weather types and perfect for use as outdoor lighting, including stadium, garden, car park, warehouse, roadway, outdoor advertisement and outside space that need secure lighting. FZL-FL35-00 is not only suitable for outdoor lighting, but also for indoor. It has a wide beam angle of 120 degree, emits softer and diffused lights which is comfortable for any garden, home and office.
With 35,000 hours life span and low power consumption, the flood light is able to save users over fifty-percent in electricity as compared to traditional halogen lights. Emitting no heat, UV or IR rays, FZLED is extraordinary in providing energy-saving, cost effective, environmental-friendly and high performance LED lighting solutions.
Flood light FZL-FL35-00 is now available in Taiwan, Singapore and Thailand. FZLED sincerely welcome enquiries from distributors, wholesalers, and retailers, as well as the enquiries for OEM/ODM services.
Applications
Indoor & lutdoor lighting
Architectural lighting
Mood lighting
Flood lighting
Features
- High quality aluminum alloy – grey color
- Energy saving & cost effective
- Compact and lightweight design
- Extremely durable
- Adjustable wall mount bracket
- Waterproof
- No heat, no UV, or IR light radiation
- Uses high power LED
- Long lifetime
- Lead-free, mercury-free
Specifications of the 35W flood light FZL-FL35-00
- LED: Epistar
- Input voltage (V): AC100-240V
- Lumen: 2200 lm with 3000K/ 2700 lm with 6000K
- Power consumption: 35W
- Long lifetime up to 35,000 hours
- Operating temperature (for LED): -20 to +40C
- CRI: RA>80 (3000K)/ RA>70 (6000K)
- Net weight: 2.3 (±10%) kgs
- Dimension: 225(L)×186(W) ×133 (H) mm
- Beam angle: 120D
- Waterproof IP65
About FZLED
FZLED is a Taiwan-based manufacturer and innovative designer of high-performance LED lighting products. As a sub-division of FZtech Inc., FZLED's products have superior mechanical and thermal designs, utilizing the expertise of FZtech. Committed to excellence, FZLED follows a strict TQC for the entire manufacturing process, and conducts R&D projects continuously in an effort to create LED lighting solutions that offer light-weight, high-quality, environmentally-friendly, innovative, and thermally-optimized products to consumers.
Contact
FZtech Inc. +886-2-2228-7885
E-mail:PR@FZtech.com.tw
Web Site:www.fzled.com.tw