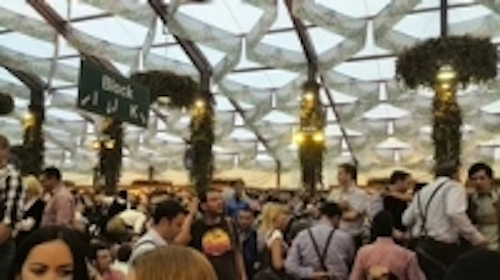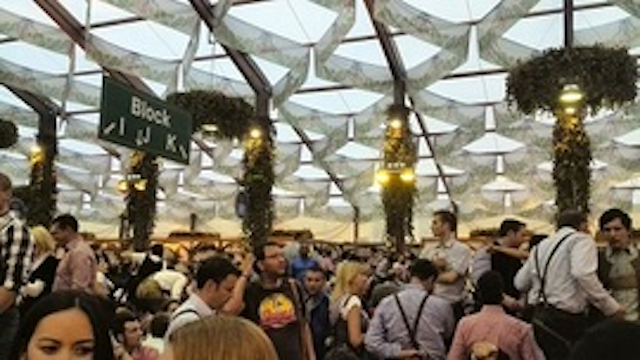 Date Announced: 15 Oct 2013
Spišská Nová Ves, SLOVAKIA - This year the world's biggest fair, Oktoberfest in Munich, Germany, was also illuminated by Leader Light. Approximately 6.4 million guests came to Munich to be a part of the event of the year.
"We need to save energy" said the responsible architect of the Hofbräuhaustent at the Oktoberfest in Munich, which was a big opportunity for Leader Light.
For many years on the 16 pylons in the tent were mounted 3 times PAR 56 spots (300 Watt each). This year these luminaires have been replaced by Leader Light's Stage beams, the same LED fixtures which were used at Eurovision Song Contest 2013 in Malmo. Thanks to the power of the LL stage beam, it used only 3 beams (not the full 6 beams) of the unit, which were constantly switched on. However, the real energy saving was 3.792 Watts per every hour, which caused unexpected effects during 14 days' use at the fair.
"We are very happy with the result because we didn't think that LEDs are able to produce such a effective light and beam," said the architect of the Hofbräuhaustent at Oktoberfest, and added, "Next year we will definitely again use Leader Light's lighting."
Leader Light is a Slovak company that produces LED lighting and LED technology for the entertainment, architainment, and architecture markets. Leader Light fixtures are used in theatres, televisions, concerts, stages and shows for indoor and outdoor applications, and they are JP rated. In addition,the company emphasizes LED projects which can save the user operating costs for power consumption and lighting. Leader Light has 30 contracted distributors and 64 partners.
Contact
Martina Chabadova, marketing specialist +421-(0)-905-385-770
E-mail:martina@leaderlight.sk
Web Site:www.leaderlight.eu