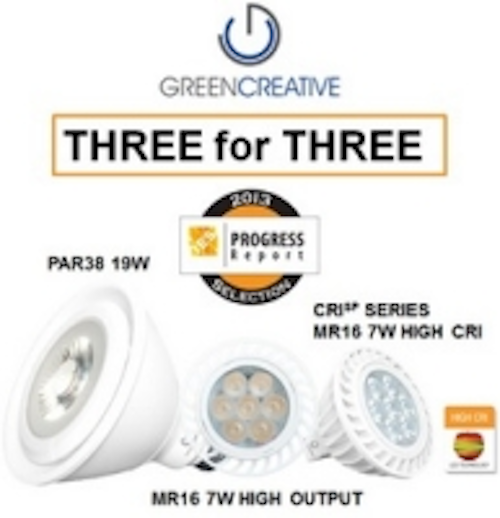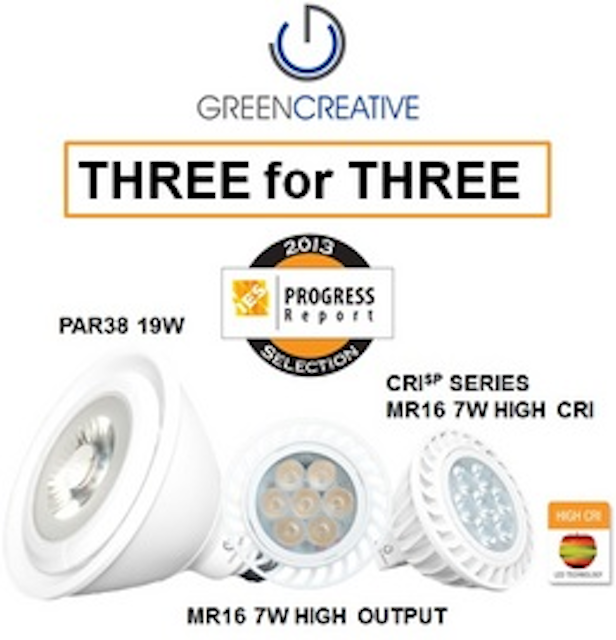 Date Announced: 31 Oct 2013
BURLINGAME, CA - GREEN CREATIVE LLC, the commercial grade LED lighting manufacturer proudly announces the selection of its PAR38 19W, MR16 7W High CRI, and MR16 High Output lamps by the Illuminating Engineering Society for the 2013 Progress Report.
Each year the Illuminating Engineering Society's (IES) prestigious Progress Report showcases unique and innovative products significant to the lighting industry. The IES Progress Committee is dedicated to following developments in the art and science of lighting throughout the world and prepares the Progress Report as a yearly review of achievements for the Illuminating Engineering Society. Accepted products will be presented at the IES Annual Conference held in Huntington Beach, CA on October 28th.
Submitting products for the first time, GREEN CREATIVE went three for three on submissions. "We are extremely honored to have three of our products selected for the 2013 Progress Report out of the few hundred submissions," said Matt Leonard, GREEN CREATIVE'S Product Manager. "We feel our products are at the forefront of LED lighting and embody the type of technological innovation valued by lighting professionals and end users."
One product recognized was the new PAR38 19W lamp. A member of GREEN CREATIVE'S Generation 3 PAR family, this lamp's design and performance upgrades set it apart from traditional LED PAR lamps. The innovative CoolSink advanced thermal management system enhances lumen maintenance and lifetime by lowering the operating temperature of the LED and power supply. In addition, the lamp's new MirOptic lens uses a series of multiple integrated reflectors to maximize light distribution and minimize optical loss. This 120W halogen replacement emits soft and pleasant light with low glare and high illuminance.
Data sheet available here: http://www.gc-lighting.com/wp-content/uploads/GREEN-CREATIVE-LED-PAR38-19W.pdf
Joining the PAR38 19W lamp in the 2013 Progress Report is the MR16 7W HIGH CRI lamp. The signature lamp of GREEN CREATIVE'S CRISP SERIES features typical CRI 95, R9 95, and R13 95 values. This compact light combines exceptional color rendering with high lumen output and at 66 LPW, is the most efficient high CRI MR16 50W replacement available today.
Watch this video to learn more about CRI and this CRISP SERIES lamp: http://www.youtube.com/watch?v=DuxJ2HJf9-4.
Data sheet available here: http://www.gc-lighting.com/wp-content/uploads/GREEN-CREATIVE-LED-CRISP-SERIES-MR16-7W-High-CRI.pdf
The third product accepted by IES was the MR16 7W High Output lamp. This powerful lamp has a 1:1 halogen form factor and produces 525 lumens in Warm White. With an industry leading efficacy of 75 LPW, this lamp is available in 4 CCT and 2 beam angles and is ENERGY STAR qualified in 2700K, 3000K, and 4000K.
Data sheet available here: http://www.gc-lighting.com/wp-content/uploads/GREEN-CREATIVE-LED-MR16-7W-HO.pdf
These products are available through GREEN CREATIVE distributors. For more information on where to purchase these products near you or how to become a distributor, please contact GREEN CREATIVE at: sales@gc-lighting.com or (866) 774-5433.
About GREEN CREATIVE LLC
GREEN CREATIVE is a major solid state lighting development and manufacturing company dedicated to bringing to market the latest in LED technology. The company is committed to providing only relevant high performance LED lamps and fixtures that have been rigorously engineered, manufactured and tested for the demanding commercial market. More information about GREEN CREATIVE is available at www.gc-lighting.com. For all of the latest updates follow GREEN CREATIVE on Twitter and LinkedIn.
Contact
Green Creative +1-866-774-5433
E-mail:info@gc-lighting.com
Web Site:www.gc-lighting.com