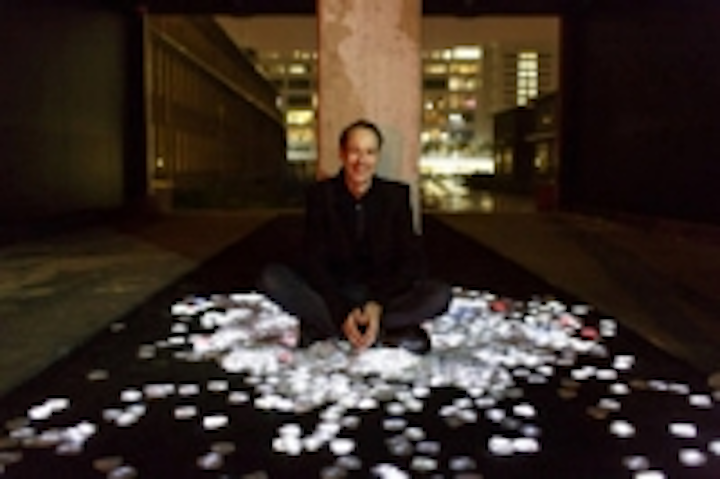 Date Announced: 21 Oct 2013
Innovative Crystals of light in Eindhoven
Daan Roosegaarde: "People can play and share their stories of light"
At the start of the Dutch Design Week on Saturday 19 October the interactive light artwork CRYSTAL can be experienced in Eindhoven. The permanent artwork consists out of hundreds of LED-crystals which brighten when people touch them. Artist Daan Roosegaarde calls them "Lego from Mars." The name refers not only to its futuristic design, but also to its endless potential to play. CRYSTAL has been previously exhibited in Amsterdam, Paris, Moscow and is now permanent in Eindhoven NL.
The Crystals are placed in a black tunnel at the Natlab, the place where Einstein once worked, where Philips produced its lightbulbs, and the first CD-ROM was presented. They are part of the light program Light-S which wants to create new experiences between people and space. CRYSTAL is a perfect match, the Crystals are white geometric shapes with LEDs inside. The local floor has a magnetic field which allows the Crystals to light-up. CRYSTAL is therefore one of the latest innovations in light. The artwork CRYSTAL can be experienced at night at Natlab, Kastanjelaan 500 in Eindhoven NL.
Interactive crystals CRYSTAL is not only innovative in terms of appearance, but also the interactive element makes the artwork unique. With Crystals people can share their creativity. For example someone used Crystals for a wedding proposal to his girlfriend by writing the letters 'Marry me.' Artist Daan Roosegaarde describes this phenomenon as "Facebook Square," where social media and light are combined to create new public places.
The future with CRYSTAL Studio Roosegaarde will continue to make new Crystals with the vision that light is enhancing the relation between people and their environment. The coming years the studio will develop Crystals with different shapes and colors together with high-tech companies and cultural organisations. Crystal keeps on growing.
About Daan Roosegaarde:
Daan Roosegaarde (Nieuwkoop, 1979) is artist, innovator and ambassador of the Dutch Design Week 2013. With his Studio Roosegaarde he explores the relationship between art and technology to make the world more interesting, better or beautiful. Interactive designs such as 'Dune' and 'Smart Highway' have been exhibited around the world.
www.studioroosegaarde.net
About Light-S
Light-S is an innovative project by the city of Eindhoven and Park Strijp Beheer. Within Light-S several project teams are researching how light can create new experiences between people, space and technologies.
Contact
Studio Roosegaarde/Axis +31-182-769213
E-mail:mail@studioroosegaarde.net
Web Site:www.light-s.nl