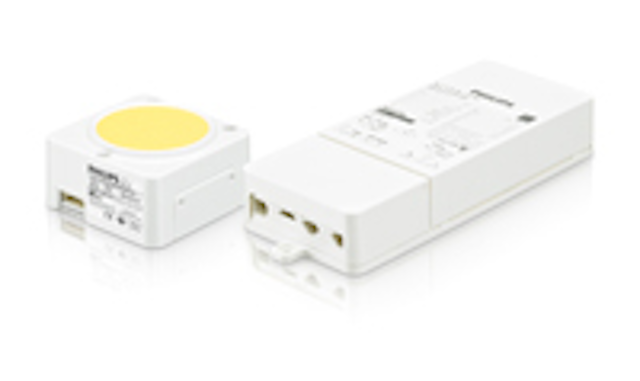 Date Announced: 18 Oct 2013
Eindhoven, the Netherlands – Royal Philips (NYSE: PHG, AEX: PHIA) introduced the Fortimo LED Downlight module (DLM) Gen 5, delivering increased system efficacy, including driver, of up to 90lm/W. In addition, the downlight portfolio is expanded with a 5000lumen module ideal for high ceiling applications such as shopping malls, airports, and train stations. The 5000 lumen module as well as the 2000 and 3000 lumen modules, has the Philips Lumileds LUXEON M LEDs inside, creating the required higher lumen packages in the same form factor. The LUXEON M is a thin film flip chip delivering high efficacy and high flux density from a uniform source with tight correlated color temperature control.
The Fortimo LED DLM module was first introduced to the market in 2008, then only reaching a module efficiency of 52lm/W. Over time the quality of light output as well as the module efficiency increased, reaching 105lm/W with this 5th generation. All these improvements happened on the inside of the module; whilst the module's form factor remained identical. This is in line with the Fortimo LED systems future proof approach:
Fortimo LED module upgrades strive to have zero changes in the relevant optical, mechanical, thermal and electrical interfaces, minimizing the possible adjustments a luminaire manufacturer needs to make to own designs.
Fortimo LED DLM Gen 5 modules are now commercially released and available for ordering. For additional information please visit www.philips.com/fortimo. Small numbers of samples for testing and design-in purposes can be ordered via the Philips Technology web shop: http://oemwebshop.philips.com
Contact
Astrid Jacobs
E-mail:astrid.jacobs@philips.com
Web Site:www.philips.com/fortimo