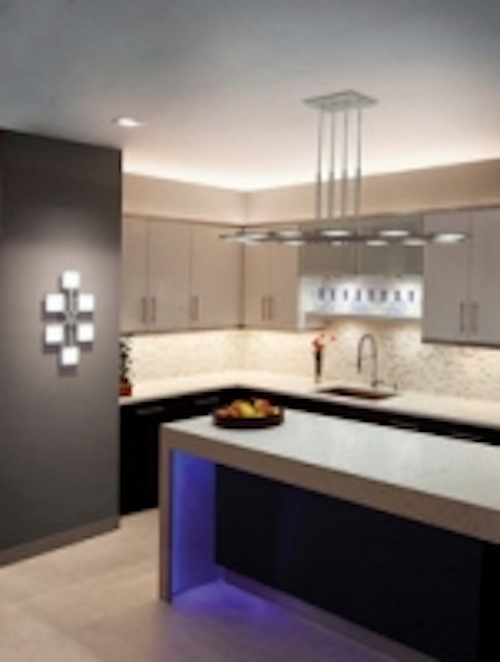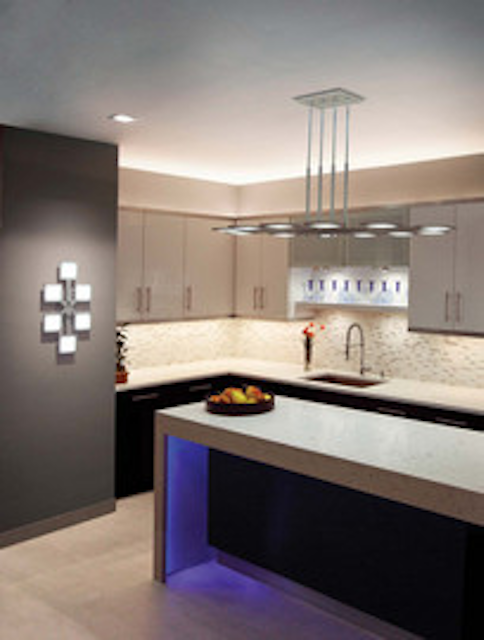 Date Announced: 09 Oct 2013
Lost Pines, Texas--- MODERN FORMS, a WAC Lighting Company, has received the "Lighting for Tomorrow 2013" Award for its Vela Organic LED Chandelier. Winners of the much-anticipated annual "Lighting for Tomorrow" competition were announced at the American Lighting Association (ALA) Conference.
This year is the first time that Organic Light Emitting Diode (OLED) luminaires were eligible to enter the competition. OLED luminaires are gaining a greater presence in the residential lighting market, and by allowing these products to be submitted, "Lighting for Tomorrow" has recognized OLED technology as a viable competitor for their innovative, energy saving competition.
MODERN FORMS' Vela Chandelier came out on top, as the only winner in the OLED category, acknowledging the chandelier as the best use of current OLED technology with a winning design. The judging panel, which included a diverse group of lighting experts, described Vela as the "First OLED that is really well designed and lights the space well; the only one like it on the market!"
The Vela Chandelier leverages nanotechnology through organic solid-state compounds in a unique futuristic statement. The OLED panels are mounted back-to-back to provide 360° illumination from a ¾" thin chandelier with exaggerated proportions, designed to emphasize an invention only made possible with this novel technology. The chandelier provides 2040 lumens, and the 6-light sconce that completes this collection, provides 520 lumens.
In addition to MODERN FORMS' win in the OLED category, WAC Lighting's LED Picture Lights were recognized as an Honorable Mention for the product's favorable attributes. The judging panel cited the picture lights as having nice flexibility and being a good piece of art for a home. For more information on WAC's picture lights, visit their website at http://www.waclighting.com/product/2660
About Lighting for Tomorrow
Lighting for Tomorrow is a design competition that challenges manufacturers to meet consumer expectations by improving the design of their products and technologies while achieving new heights of energy efficiency. The competition, which was launched in 2002, is organized by the American Lighting Association (ALA), the Consortium for Energy Efficiency (CEE) and Underwriters Laboratories (UL). Approximately two dozen energy efficiency organizations in the US and Canada participated in this latest competition.
About MODERN FORMS
Engineered to the finest detail for unsurpassed performance and design sophistication, MODERN FORMS was established by WAC Lighting as a future forward manufacturer and innovative brand of unique upscale LED luminaires. MODERN FORMS, with an initial offering of more than 26 families and 160 styles, was designed to complement a diverse array of architectural interiors and exteriors while delivering high quality, functional illumination for luxury homes, hotels and commercial spaces.
MODERN FORMS offers a complete presentation of bath and outdoor luminaires based on a concept to achieve superior illumination from clean upscale forms made possible exclusively with the latest LED technology. Five powder coat finishes, marine-grade stainless steel and a variety of sizes permit maximum versatility in style and application. Low profile sconces conform to ADA requirements and are scaled to both interior and exterior settings.
For more information, contact MODERN FORMS. A WAC Lighting Company.
Corporate headquarters are located in Port Washington, New York, with factories in New York and Ontario, California.
Contact
Christopher Pica +1-631-262-0374
E-mail:christopher@cpmediarelations.com
Web Site:www.modernforms.com