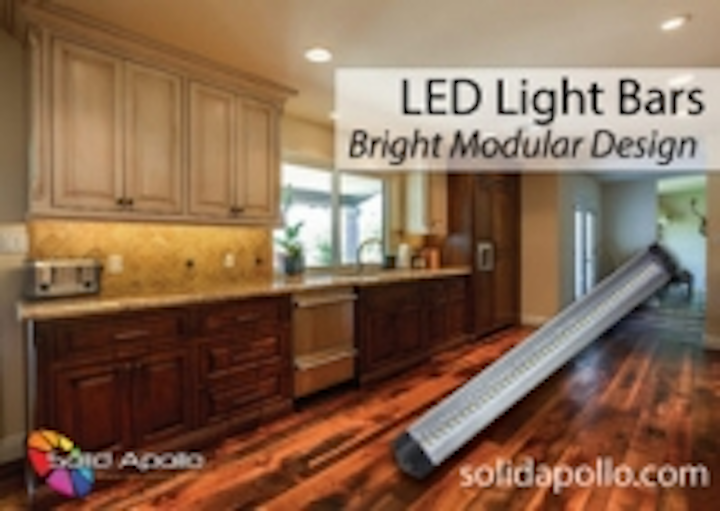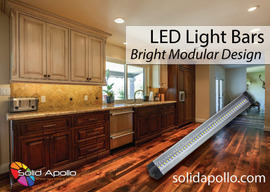 Date Announced: 03 Oct 2013
In many different lighting environments there is a need for modular, versatile lighting to highlight unique lighting environments. Solid Apollo's LED Light Bars allow users to accurately and brightly control their light how they want with an option to reconfigure it at any time. LED Light Bars are dimmable, mountable in two different configurations (flat and in a corner), and can be configured in any modular design, empowering users in their unique lighting environment previously unseen in the market.
One of the best features of Solid Apollo's LED Bars is their full modular configuration. Solid Apollo offers a wide range of accessories to configure under cabinet lighting, cove lighting, retail displays. With four different interconnection possibilities, users can install multiple LED Light Bars in any configuration they desire. Customers can choose from three different length interconnection cables to spread LED Bars apart (and go around corners), or a bar joiner to create one solid bar of light. Additionally 10 different LED bars can be connected together at different intervals and dimmed as a single unit, meaning countless configurations are possible for any lighting challenge.
Solid Apollo's LED Light Bars have three optional LED dimmers with on/off functionality which can be used to dim up to 10 Led Light Bars at once. They connect seamlessly to the LED Light Bars, and users can even use a remote control unit to easily dim and adjust their lighting needs.
To complement their modular design and multiple mounting angles, Solid Apollo's LED Light Bars are just .78 inches in height, meaning a wider range of configurations and mounting options while saving space and providing beautiful light. The concentrated 90° polycarbonate lens allow for all of the light within each bar to be fully utilized, and fully concentrated on work surfaces for premium retail displays and bright home lighting. LED Light bars are able to light a beautiful space close to any product or surface without the risk of overheating or damaging expensive equipment or retail displays and with no UV light output.
Manuel Barquin, president at Solid Apollo LED stated "We created a product that serves two different functions: bright, concentrated light in a durable product that can be mounted in two distinct positions. This created a unique modular lighting solution, thus providing the customers with a broader range of applications, which we love."
Available in 12 and 20 inch lengths, users can configure their own custom LED lighting system, or buy an easy-to-use kit which comes complete with an UL listed power supply, dimmer, power connection cable, and dual-mount brackets. Users can connect up to 10 different LED Bars together from one power supply, allowing for a much more flexible lighting solution than previously available on the market.
Contact
Cole Johnstone +1-425-582-7533
E-mail:customer_care@solidapollo.com
Web Site:www.solidapollo.com