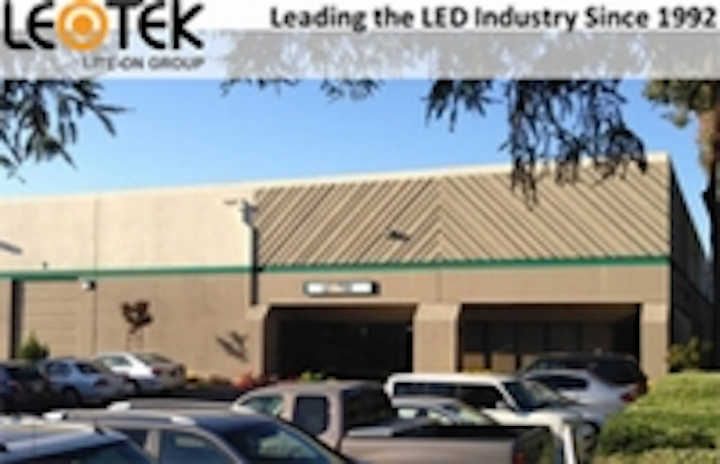 Date Announced: 23 Oct 2013
New Facility Located in the Capital of America's Silicon Valley
SAN JOSE, CALIFORNIA – Leotek Electronics USA Corp., globally recognized as a pioneer of the LED lighting industry since 1992, is pleased to announce an expansion of the company's United States headquarters and manufacturing operations. To meet the demands of increased growth, Leotek has relocated to a substantially larger 77,000 square foot facility located in San Jose, California, the undeniable hub of the world for high-technology innovation and development. Danny Liao, CEO of Leotek and CEO of LITE-ON New Business, stated, "As the conversion to energy efficient LED lighting products has become more widely adopted by cities and private industry across America, Leotek has achieved an increasingly significant market share. Our remarkable success necessitated increasing our United States manufacturing capabilities."
Leotek traffic and pedestrian LED signal modules are installed in more than 30% of America's intersections, and over 300,000 Leotek LED street lights are installed along America's roadways. In 2013, Leotek expanded the company's municipal transportation product line with new LED signal modules for railroad, light rail, bus systems, and other special transit applications.
Dr. James Hwang, president of Leotek USA, added, "More competitive LED pricing has provided a "Return-on-Investment" incentive for businesses in the private sector to begin widespread conversions to energy-and-maintenance-reducing LED lighting. We are proud to note that Leotek LED lighting products are now in use at petroleum stations, auto dealerships, and grocery stores across America."
Leotek's 2013 introduction of the LED high-bay luminaire was synergistic to the Retail Lighting/National Accounts product line. With LED canopy and soffit luminaires, wall sconces, parking lot and area luminaires, and refrigerated display lighting, Leotek is able to provide a total solutions package for retrofit or new installations.
To facilitate a better understanding of LED lighting technology, the new Leotek San Jose location also features a product showroom and LED outdoor lighting demonstration room. "The demonstration room allows people with an interest in outdoor lighting to clearly see and measure the improved quality of illumination provided by LED technology compared to HID in a 'mock outdoor environment'," noted Chris Nye, V.P. of sales and marketing for commercial and industrial lighting.
The additional manufacturing capacity offered by the new Leotek facility will greatly benefit the Commercial and Industrial and Retail Lighting/National Account business units. David Yeh, President of Leotek, further elaborated, "Leotek provides a 24-hour burn-in period on all product, and this has sometimes created a manufacturing 'bottle neck'. The new facility's significantly larger burn-in area has effectively tripled our U.S. manufacturing capability. For sizeable projects where costs are especially critical, as with the recently received 50,000 piece roadway luminaire order from Caltrans, primary manufacturing occurs in Taiwan. However, even for sizeable orders, to provide lead times often less than 24 hours, San Jose will warehouse material and stage shipments."
On October 8, 2013, Leotek hosted a Grand Opening Gala at the new San Jose facility. We would like to express a heartfelt thanks to the many Reps, Distributors, and End-Users who attended this event, and who contribute to Leotek's continuing success on a daily basis.
About Leotek
Leotek Electronics USA Corp., located in California's Silicon Valley since 1997, and celebrating over twenty years as an LED lighting manufacturer, is globally recognized as a pioneer in light-emitting diode technology. With millions of LED products installed worldwide, Leotek offers a substantial history of proven performance. The company manufactures innovative LED lighting products for applications encompassing traffic and transit; street and area; petroleum, convenience, grocery and retail stores.
Leotek is committed to developing emerging solid-state technology that offers greater longevity and environmental viability than traditional lighting sources, while reducing energy consumption and maintenance costs. In 2007, Leotek was acquired by Lite-On Group, a multi-billion dollar electronics manufacturing conglomerate. For more information, please visit www.leotek.com.
Contact
Tammy Clark, Leotek Electronics USA Corp. +1-408-380-1788
E-mail:tammy@leotek.com
Web Site:www.leotek.com