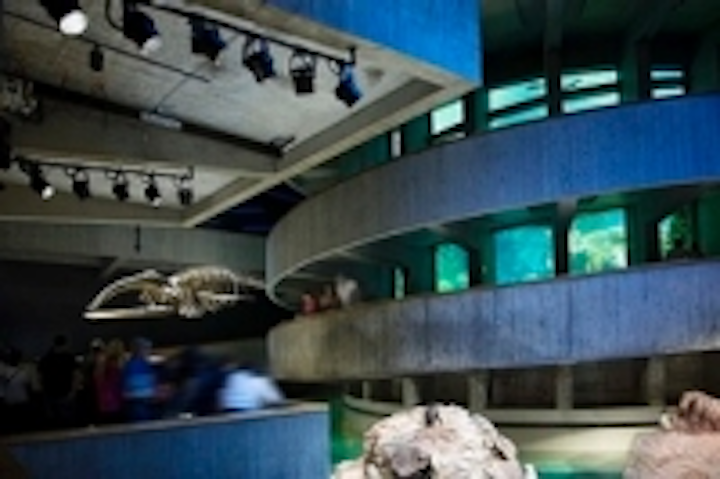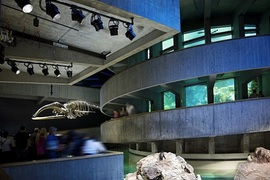 Date Announced: 10 Oct 2013
Montreal, QC and Boston, MA – Boston's landmark New England Aquarium (NEAQ) has gone digital, installing over 160 LED fixtures from Lumenpulse, a leading manufacturer of high-performance, architectural LED lighting solutions.
Lighting Design firm Available Light was responsible for the new LED redesign, which has enhanced the overall visitor experience, improved animal care with a more naturalistic lighting approach, and aided biologists by curbing the growth of algae in the NEAQ's Giant Ocean Tank (GOT).
"The NEAQ is a landmark project, not only for its importance to the city, but also because of what it represents for the LED market," said Francois-Xavier Souvay, President and CEO at Lumenpulse. "It really demonstrates how far the technology has come, and what an impact it can have on older, multi-functional buildings. Put simply, LED technology was the only way to reconcile the NEAQ's many contrasting needs," he said.
As part of an ambitious, six-year renovation, the new lighting scheme sought to bring a sense of theatricality to the NEAQ, highlighting the animals and coral reef with dynamic lighting based on a unique WGB color mixing system that uses white, blue and green LEDs to accentuate the water and limit the growth of algae.
"We learned that higher color temperatures are less conducive to algae growth," said Matt Zelkowitz, Assoc. IALD, LC Principal at Available Light. "Red light did not really penetrate or affect the water, while blue and green were magical in manipulating tonality."
To maximize sightlines, the designers chose a variety of Lumenbeam XLarge luminaires, which were sleeker and less obtrusive than the fixtures previously installed. The new LED fixtures are also more durable – reducing the maintenance burden for the client – while a marine grade corrosion-resistant coating protects the luminaires against the harsh, saline environment.
"The Lumenpulse luminaires offered the right form factor, size, performance, control and price," said Matt Zelkowitz, Assoc. IALD, LC Principal at Available Light, adding that LED technology was the best way to increase the NEAQ's flexibility. "The smaller size, custom programmability, high efficiency, and optical performance made LED the clear choice," he said.
Opened in 1969, the NEAQ is a premiere tourist attraction and resource for public education and marine conservation, with more than 22,000 members and 1.3 million visitors each year. Prior to the renovation, the aquarium held between 500 and 600 fish; today it is home to over 1,800 swimming creatures.
For more information on the New England Aquarium installation, or Lumenpulse's LED products, please visit www.lumenpulse.com.
About Lumenpulse Inc.
Founded in 2006, Lumenpulse develops and manufactures high performance, sustainable architectural LED-based fixtures and solutions for commercial, institutional and urban environments. Lumenpulse is a leader in the LED lighting market and has earned many awards for its indoor and outdoor applications, including several Product Innovation Awards (PIA), two Next Generation Luminaires Design awards, a Red Dot Design Award and a Lightfair Innovation Award. It was also recognized as one of Profit Hot 50's Top New Growth Companies. Lumenpulse has offices worldwide with corporate headquarters in Montreal, Canada, US headquarters and Global Technology Development Center in Boston, Massachusetts, and EMEA headquarters in London, UK.
Contact
Sal Ciolfi Public Relations Manager +1-514-937-3003 ext. 337
E-mail:sciolfi@lumenpulse.com
Web Site:www.lumenpulse.com