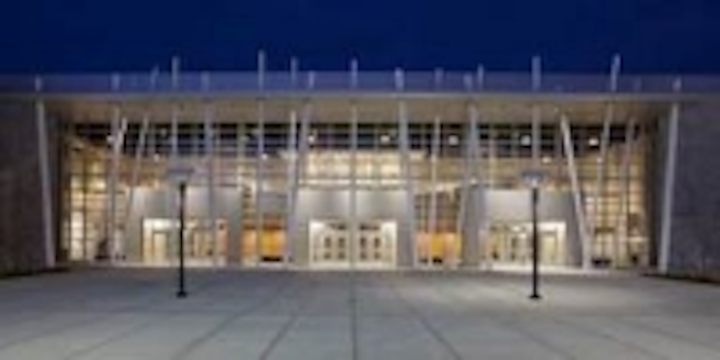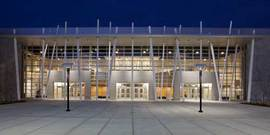 Date Announced: 25 Oct 2013
Incito LED downlights from Gotham provide high-end, theatrical-style lighting while helping church save on energy and equipment costs.
ATLANTA – Southland Christian Church installed more than 160 Incito™ LED recessed downlight and cylinder luminaires from Gotham®, a division of Acuity Brands, Inc. (NYSE: AYI), to meet theatrical house lighting needs while delivering cost savings over Southland's traditional tungsten-based house lighting systems.
In 2010, the Church purchased an abandoned mall in Lexington, Ky. to serve as its third campus, which would feature classrooms, open space for public gathering and a 2,800-seat auditorium for worship. The Church needed a house lighting system that could be both pendant-mount and recessed, and illuminate an area with a wide range of ceiling heights from 12-feet to 40-feet.
"Theatrical or performance-space lighting designers like me want full dimming," said Matt Cooper, Lighting Designer for Southland Christian Church. "And, I want [dimming] to be smooth. And when I say smooth – I want it to act like tungsten [lighting]. The fact that Incito LED downlights provided dimming from 100 percent down to less than 1 percent, and the fact that [the dimming] was a smooth curve was advantage number one." The second advantage, according to Matt Cooper, was the 2700K color temperature of the Incito downlights, which mimics the warm feel of tungsten lighting.
Incito LED downlights provide more performance options than its tungsten lighting counterpart, with a broader portfolio of distribution and light output features. Incito LED downlights are available in lumen packages from 2000 to 6500, 10 beam spreads from 20- to 70-degrees, and four color temperatures from 2700 to 4000K.
Additionally, Incito LED downlights are fully RDM (Remote Device Management) compatible, enabling individual control of each fixture. The downlights are also DMX (Digital MultipleX) compatible and integrate with the Church's theatrical lighting controls.
Incito LED luminaires "allowed us to reduce down to basically just 20-amp relays," said Matt Cooper. This eliminates the need for large 96-channel theatrical dimming racks that Southland's other locations use. His estimate of the costs savings for hardware and labor attributed to the lighting installation: "$50,000 to $60,000."
In addition to Incito LED luminaires, the Church installed a variety of lighting and controls solutions from the Acuity Brands portfolio, including Avante® surface-mount luminaires, DOM LED downlighting and RT5 volumetric fixtures from Lithonia Lighting®. Sensor Switch® occupancy sensors were also installed throughout the facility to reduce energy usage in unoccupied spaces.
Visit gothamlighting.com for more information about Incito LED downlights, or visit www.acuitybrands.com for information about Acuity Brands lighting and control solutions.
About Acuity Brands
Acuity Brands, Inc. is a North American market leader and one of the world's leading providers of lighting solutions for both indoor and outdoor applications. With fiscal year 2013 net sales of over $2 billion, Acuity Brands employs approximately 6,500 associates and is headquartered in Atlanta, Georgia with operations throughout North America, and in Europe and Asia. The Company's lighting solutions are sold under various brands, including Lithonia Lighting®, Holophane®, Peerless®, Gotham®, Mark Architectural Lighting™, Winona® Lighting, Healthcare Lighting®, Hydrel®, American Electric Lighting®, Carandini®, Antique Street Lamps™, Sunoptics®, Axion™ Controls, Sensor Switch®, Lighting Control & Design™, Synergy® Lighting Controls, Pathway Connectivity™, Dark to Light®, ROAM®, RELOC® Wiring Solutions, Acculamp® and eldoLED®.
Contact
Rachel Kaylor
E-mail:rachel@sweeneypr.com
Web Site:www.acuitybrands.com