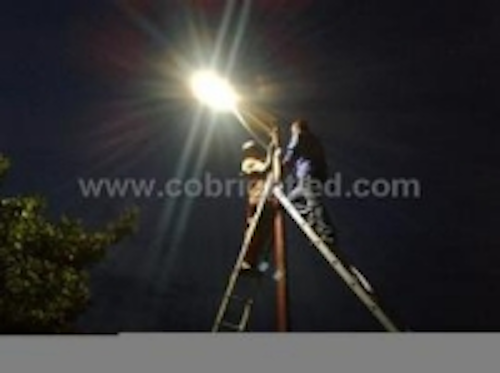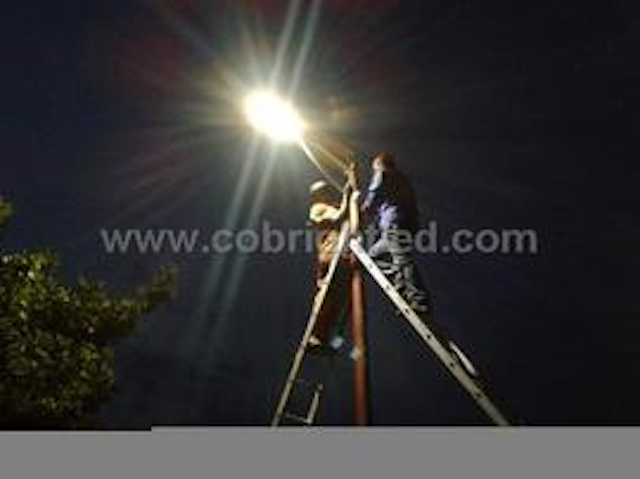 Date Announced: 10 Oct 2013
In 2013, COBRIGHT developed a smart, integrated, solar LED street light system from 8watt to 40watt. The design is unique because we combined all the parts (solar panel, battery, lamp, controller) in one whole unit. The power options include 8watt, 12watt, 15watt, 20watt, 25watt, 30watt and 40watt.
In March 2013 one of our Burundi customers told us they wanted solar LED lighting for their villa hotel in the beach area. Because it was near the sea, it was not easy to connect to regular city electricity, not convenient for wires, and there would be large waves coming up by sea-wind.
If traditional solar street lights were used, the client would need to find a place to hold the battery cabinet, which is not feasible in the beach area.
So we recommended our integrated solar street light, considering the different applications involved. The customer selected the 8watt , 15watt and 40watt smart solar systems; 8watt is for lighting the corridor, 15watt lights the walkway, and 40watt lights the beach. The mounting height is also different: 40watt system is mounted at 7meter pole; 15watt system is at 5meter pole; 8watt system is mounted to the roof (3meter height from the ground).
It is really green lighting -- using the abundant sunshine in Burundi, there is no consumption of regular electricity and no carbon dioxide; the LED light source provides 70% energy savings; and there are no wires to protect and maintain.
About COBRIGHT Lighting products
COBRIGHT provides outdoor and indoor LED lighting, such as integrated solar street light systems, street lights, high bay lights, flood lights, high bay retrofits, tube lights, candle lights, bulbs, etc.
The key features of the integrated solar street light's unique design are:
1. All of the parts are combined and integrated in one whole unit; it saves capacity and freight charges.
2. With motion sensors, when visitors pass by, the brightness will be 100%; if no one is passing, brightness will lower 30%-50%, saving energy.
3. The lights automatically turn on at sunrise and turn off at sunset; this function is enabled by the solar panel and control system.
4. Easy installation, just mount to a pole, no bracket, no battery cabinet, no wires, and no need to connect to electrical sources.
Contact
Serena Xie Cobright Marketing Director +86-755-3359-2878
E-mail:serena@cobrightled.com
Web Site:www.cobrightled.com