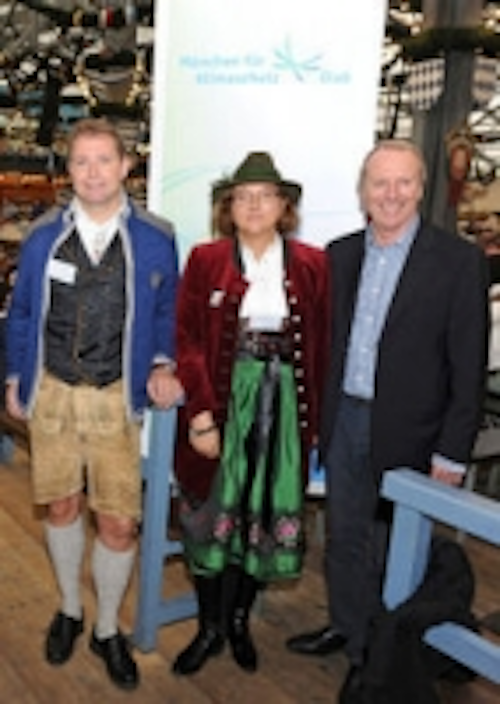 Date Announced: 08 Oct 2013
EBV Elektronik improves Munichs Oktoberfest's carbon footprint
Poing, Germany. A brightly illuminated Theresienwiese (Official area for the Oktoberfest) and millions of people using the public transport system means one thing for Munich: 'Wiesn-Zeit!' (Festival time!) For around the 180th occasion, the biggest festival in the world takes place with close to 7 million visitors in two weeks time, and with three million kilowatt hours of electricity consumption it's a real energy guzzler. This year EBV Elektronik supports the Oktoberfest in lowering electricity consumption and improving the carbon footprint. EBV Elektronik is a member of the action alliance 'Munich for Climate Protection', whose target is to reduce the CO2 emissions of the Munich state area.
This year the 'Schottenhamel Traditionsfestzelt' (beer tent) has also decided on a lighting modification. Within the framework of this project EBV Elektronik has provided OSRAM Parathom Classic A40 Retrofit LEDs, which light up the sides of the tent's roof. They have replaced the traditional light sources such as filament bulbs and energy-saving bulbs. In comparison to conventional filament bulbs, a Retrofit LED uses only about 17% of the energy. With an extremely long lifespan of up to 50,000 hours and an uncomplicated replacement using E27 or E14 bulb fittings, installation and maintenance is easy for the on-site repairmen.
"For years, EBV Elektronik has been heavily engaged in the area of climate protection with the aim of reducing our CO2 emissions. As members of the action alliance 'Munich for Climate Protection', we also participate greatly in the "Climate friendly 'Wiesn'" project. Due to the long life-span, flexibility, minimal maintenance requirements and the large savings of electricity, the LED is also the best alternative in the showman and festival tent areas," says Bernd Schlemmer, Vice President of Communications for EBV Elektronik. "We are delighted that through the EBV LED solution we are able to contribute in making the 'Wiesn' more climate-friendly. And this action is just the beginning for us. Now all beer hall hosts and showmen can embrace LED technology and can, together with our customers and partners, develop new energy-efficient lighting solutions."
On the picture from left, Bernd Schlemmer, Vice President Communications EBV Elektronik, Yvonne Heckl, President of the Oktoberfest Exhibitor Association and Hep Monatzeder, Mayor of Munich.
About EBV Elektronik
EBV Elektronik, an Avnet (NYSE: AVT) company, was founded in 1969 and is the leading specialist in European semiconductor distribution. EBV maintains its successful strategy of personal commitment to customers and excellent services. 230 Technical Sales Specialists provide a strong focus on a selected group of long-term manufacturing partners. 120 continuously trained Application Specialists offer extensive application know-how and design expertise. Warehouse operations, complete logistics solutions and value-added services such as programming, taping & reeling and laser marking are fulfilled by Avnet Logistics, EBV's logistical backbone and Europe's largest service centre. EBV operates from 61 offices in 28 countries throughout EMEA (Europe – Middle East – Africa). For more information about EBV Elektronik, please visit www.ebv.com.
Contact
Bernd Schlemmer, VP Communications, EBV Elektronik
E-mail:bernd.schlemmer@ebv.com
Web Site:www.ebv.com