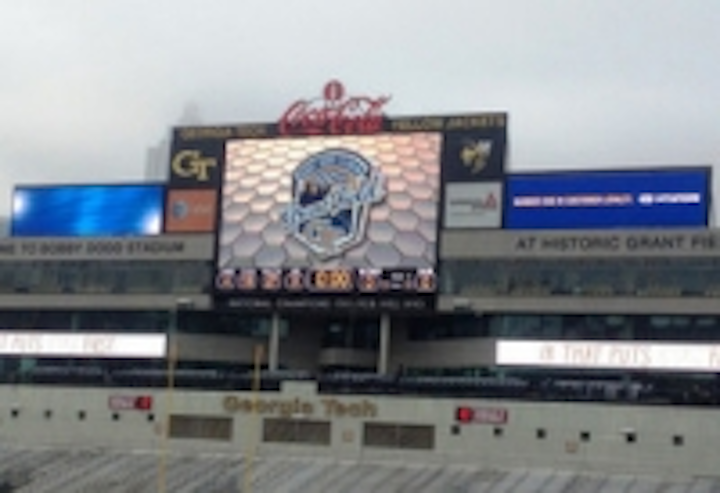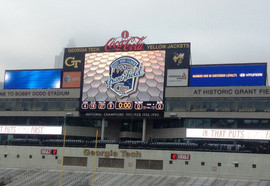 Date Announced: 12 Dec 2013
Atlanta, GA - Panasonic Eco Solutions North America announced the completion of a project at the Georgia Institute of Technology which upgraded Bobby Dodd Stadium at Historic Grant Field with two new LED video displays and two new ribbon displays. These new displays complement the seven existing displays installed by Panasonic at the Stadium in 2009.
"We continue to offer our fans the best game day experience possible, and Panasonic provided us with a solution that gives us a wide range of options to work with," said Joe Potter – Sr. Vice President, Media Operations, IMG College, "The new displays are a hit , contributing additional energy and buzz in the stadium from our loyal Ramblin' Wreck fans."
The new video displays measure 46 feet wide by 6 feet tall and the ribbon displays measure 75.6 feet wide by 3 feet tall. Both displays feature a high-resolution 16mm pixel pitch to deliver bright, crisp images. The new displays play a vital role in providing increased visibility to spectators with more impact, including new digital advertising capabilities that showcase dynamic content.
"Panasonic previously worked with Georgia Tech on their stadium video solution, doubling its size, and this new project was designed to help expand and upgrade the stadium with the technology that would offer new digital advertising capabilities," said Richard Ballard, Vice President of Sales and Marketing for Panasonic Eco Solutions North America. "Stadium and event venue video solutions are a critical part of connecting the spectators with a live event, and our solution is designed to make it easier for sponsors and operators alike to make those connections with the latest technologies."
Georgia Tech is one of the oldest and most respected polytechnical universities in the United States. Bobby Dodd Stadium at Historic Grant Field is the home playing field for the four-time football national champion Yellow Jackets team. Grant Field is the oldest continuously used on-campus site for college football in the Southern United States, and the oldest in the Football Bowl Subdivision (FBS). Recently, in 2009, the stadium was renovated with a larger scoreboard and ribbon boards prior to this year's installation.
About Panasonic Eco Solutions North America
Panasonic Eco Solutions North America is a division of Panasonic Corporation of North America, the principal North American subsidiary of Panasonic Corporation. Panasonic Corporation was recently ranked number four in Interbrand's "Best Global Green Brands 2013", moving up two spots from number six, becoming the highest ranked electronics brand in the report. Panasonic Eco Solutions develops and provides customized and integrated technology-based system solutions for enterprise customers in a variety of industries such as sports, entertainment and digital outdoor. Additionally, the company supplies renewable energy and energy-efficiency solutions to corporate and public sector organizations. For more information visit: http://us.panasonic.com and http://us.panasonic.com/business/pesna/.
Contact
Dan Unger, Panasonic +1-201-392-4571
E-mail:dan.unger@us.panasonic.com
Web Site:us.panasonic.com