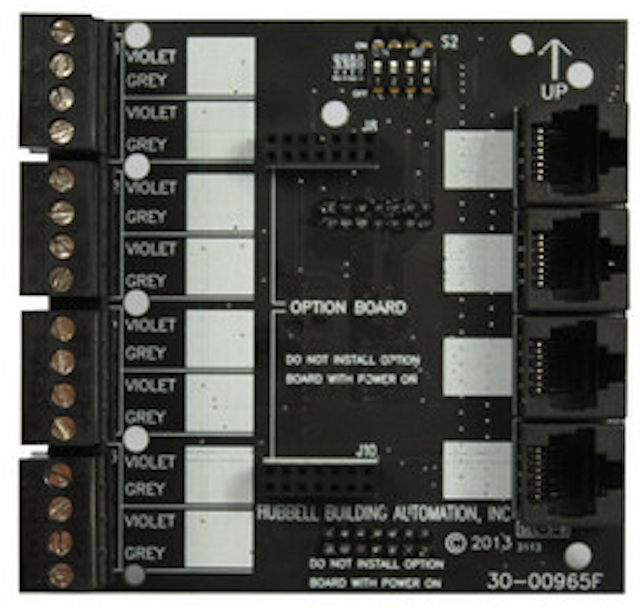 Date Announced: 05 Dec 2013
Greenville, SC - Hubbell Lighting, a world leader in lighting innovation, announced today its latest energy-saving dimming controls solution—Hubbell Building Automation's new CX Dimming Option Card. Now, any of Hubbell Building Automation's popular, low-cost CX Lighting Control Panels are fully dimmable.
The new CX Dimming Option Card provides 0-10V full range dimming allowing users to control their environments while increasing energy savings. The CX Dimming Option Card offers a low cost solution for lighting control challenges including stringent energy codes, demand response requirements and LEED qualifications.
The CX Dimming Option Card can be used in a variety of applications and provides 0-10V output terminals for connection to industry standard fluorescent electronic dimming ballasts as well as LED electronic dimming drivers. In addition to manual raise lower switches, the 8 dimming channels can be configured to work in concert with photocells, occupancy sensors and schedules. The product comes with a five-year warranty.
For additional information on Hubbell Building Automation's CX Dimming Option Card, please visit www.hubbell-automation.com.
About Hubbell Lighting
Hubbell Lighting is one of the largest lighting fixture manufacturers in North America. The company provides a full range of indoor and outdoor lighting products serving the commercial, industrial, institutional, and residential markets. Hubbell Lighting brands include Alera Lighting, Architectural Area Lighting, Beacon Products, Columbia Lighting, Compass Products, Devine Lighting, Dual-Lite, HomeStyle Lighting, Hubbell Building Automation, Hubbell Industrial Lighting, Hubbell Outdoor Lighting, Kim Lighting, Kurt Versen, Prescolite, Progress Lighting, Security Lighting, Spaulding Lighting, Sportsliter Solutions, Sterner Lighting Systems, Thomasville Lighting, and Whiteway. Hubbell Lighting: one name, distinctive brands, limitless lighting possibilities.
Contact
Andy Beck, Makovsky +1-202-587-5634
E-mail:abeck@makovsky.com
Web Site:www.hubbell-automation.com