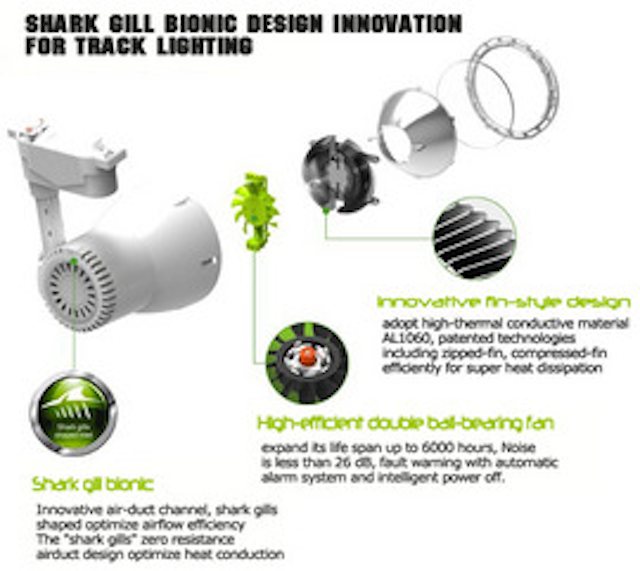 Date Announced: 18 Dec 2013
Aoming GEB brand led lighting applies a shark gill bionic design in track lights, which has proven to be a trend in next generation lighting heat sinks. The design has powerful heat dissipation capability and reliability to greatly extend GEB's LED lighting's lifespan, thus reducing the expense of lighting operation and maintenance.
The Shark gill bionic design uses an innovative air-duct channel with shark gill shape to optimize airflow efficiency. The shark gills' zero resistance airduct design optimizes heat conduction, also free of clogging by clothing, fabric.
GEB's track lights use a high-efficient double ball-bearing fan to expand their life span up to 6000 hours. Noise is less than 26 dB; the light features fault warning with automatic alarm system and intelligent power off.
About Aoming Electronic co.,ltd's LED lighting System management
For improving our quality of life, as well as catering to the increasingly prevalent trend of environmental protection consciousness in the world, GEB™ lighting spares no effort in developing green energy saving products. We focus on researching and developing LED lighting applications - EyesCare LED spotlight technology, and project system integrated analysis, design and product R&D. We are a company dedicated to the R&D and manufacturing of Eyescare™ LED lamps, which only produce high quality LED light relying upon lighting technology that is "green for home, energy star saving". The exclusive EyesCare™ Technology researched and developed by our scientific and technical personnel is applied in our LED lighting products, and we have launched EyesCare LED light with the intention to improve people's quality of life via innovation. Product categories are not limited to indoor and outdoor light source and application, and even extend to flat panel display backlight systems. Our professional team is composed of the elites of world famous enterprises, who have extremely rich experience in LED product design and application; while closely catering to the requirements of society, the company also seeks change with bold innovations. Our target is to bring new experience in eyes care lighting system for customers via professional and persevering attitude, delivering high quality products and all-round after-sales service.
Contact
Aoming Electronic co.,ltd. +86-592-6053088
E-mail:sales@gebright.com
Web Site:www.gebright.com/