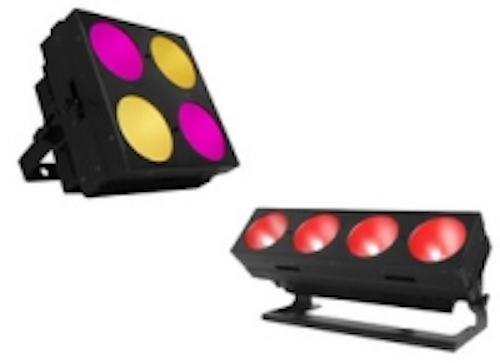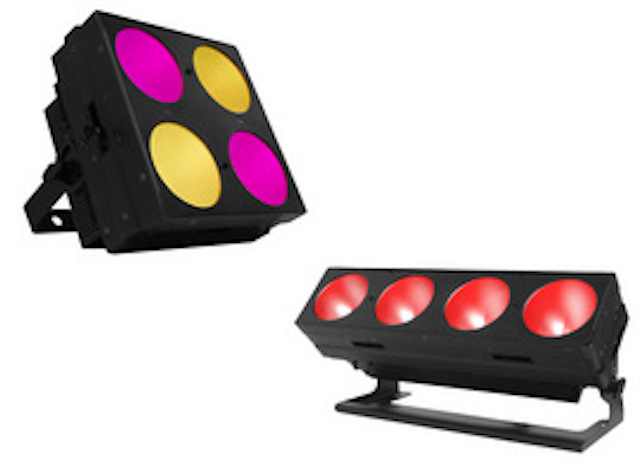 Date Announced: 27 Dec 2013
SUNRISE, Fla. - Building on the outstanding reception enjoyed by its Nexus COB RGB LED display panels, CHAUVET® Professional has added two new models to the series: the Nexus 2x2, a square-shaped panel configured with 2 rows of 2 COB LED cells; and the Nexus 4x1, a linear unit with 1 row of 4 COB LED cells. The two product additions join the original, larger Nexus 4x4 panel (4 rows of 4 LED cells), which soared to industry preeminence after receiving the Parnelli Award for Indispensable Technology in the Lighting Category at the 2013 LDI Show and, immediately following, appearing on the national TV broadcast of the Dallas Cowboys' Thanksgiving Day game to illuminate Selena Gomez's halftime performance.
Like the award-winning original, the Nexus 2x2 and Nexus 4x1 are high-output RGB washes with great color quality, that offer the added function of pixel mapping, allowing them to create stunning effects. Ideal for touring/production as well as broadcast applications, they combine bright 27-watt (2A) COB LEDs with a performance-boosting reflector design for an exceptionally powerful stream of light that will make a bold visual impact wherever they are used.
Designed for building array displays, the Nexus 2x2 and Nexus 4x1 can easily be linked together with each other and with the Nexus 4x4 via a convenient integrated lock system. The three Nexus models will work together seamlessly, providing lighting professionals with the flexibility to construct displays that will meet any size/configuration requirements. Like the Nexus 4x4, the Nexus 2x2 and Nexus 4x1 are equipped with 3- and 5-pin DMX connectors, Neutrik® etherCON® input and output, and Neutrik powerCON® power input and output. They feature multi-voltage operation (100 to 240VAC, 50/60 Hz), and can be linked up to 15 units @ 120V and 28 units @ 230V.
"By introducing these new members to the Nexus series -- the smaller Nexus 2x2 and linear Nexus 4x1 -- we have expanded the options for building arrays with our award-winning Nexus COB LED products," said Anthony Chiappone, Product Manager for CHAUVET Professional. "Nexus has become a truly flexible, custom configurable system that can be adapted to virtually any design or spatial need."
For example, Nexus 2x2s are perfect for use by themselves in smaller spaces, or they can be combined with Nexus 4x4s to create larger geometric displays. The rectangular Nexus 4x1s can be mounted to the top and bottom of the Nexus 4x4 to enlarge its footprint, or they can be linked to each other as linear effects for such applications as illuminating steps, runways and stage fronts.
Individual pixel control gives lighting professionals unbridled freedom to unleash their design creativity. The panels have a 45° beam angle and 75° field angle and include a variable rate strobe effect.
Another advantage the Nexus 2x2 and Nexus 4x1 share with the Nexus 4x4 is the integration of Kling-Net and Art-Net™ (12 channel) control options, in addition to standard DMX (3, 5, 9, 12 or 17channel). The ability to control via Kling-Net and Art-Net accommodates the construction of larger pixel arrays, which can take up considerable amounts of DMX. Additionally, since most of today's major lighting consoles feature ArtNET built-in, users have the benefit of quick and easy control of Nexus products directly from their lightboards.
Compact and lightweight, the panels are easily transportable, with the Nexus 2x2, measuring just 9 x 9 x 6 inches (228 x 228 x 152.4 mm) and weighing 10 pounds 94.6 kg). The Nexus 4x1 measures 18.2 x 4.6 x 5.8 inches (462 x 117 x 147 mm) and weighs 12.6 pounds (5.7 kg). Housed in a rugged, roadworthy aluminum alloy and steel case, the panels utilize low-maintenance 50,000-hour-rated LEDs and are CE and MET approved.
About CHAUVET® Professional
CHAUVET®Professional offers innovative professional lighting fixtures for the production and touring market as well as permanent installation in theaters, hospitality venues, cruise ships, clubs, television and architainment applications. For more information, please visit www.chauvetprofessional.com.
About CHAUVET®
CHAUVET®, headquartered in the U.S., is a leading manufacturer of professional luminaires fulfilling the needs of various industry sectors. CHAUVET® has four main sub-brands CHAUVET® DJ, CHAUVET® Professional, ILUMINARC® and TRUSST® that share the unified strategy to pursue every market segment where it has a competitive advantage in terms of value, innovation and performance, with an emphasis on LED technology. For more information, please visit http://www.chauvetlighting.com/.
Contact
CHAUVET® Professional +1-954-577-4455
E-mail:jramirez@fucinipro.com
Web Site:www.chauvetpro.com