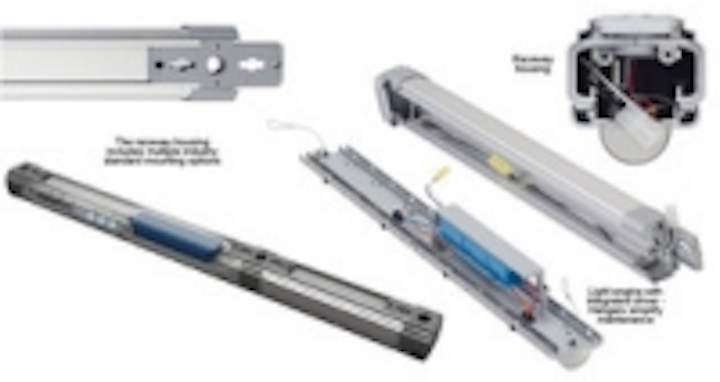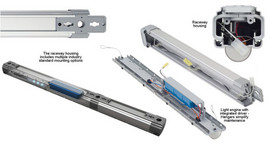 Date Announced: 18 Dec 2013
Irvine, California -- Tempo Industries announced the release of a new addition to the CLiP C71 high performance linear LED product family, the C7100/HU 'High Uniformity Series'. The new offering joins the original C7100, incorporating the 'form follows function' aesthetics and robust architecture that have propelled Tempo's Configurable Lighting Platform (CLiP) to a position of prominence in the architectural linear LED lighting space. The expansion to the line provides a continuing testimony to the configurability and ultimate quality of the CLiP architecture. The C7100/HU is shipped in pre-assembled lengths up to 8 feet, supports run lengths of over 100 feet and delivers up to 875 lumens/foot of high quality light at CCTs from 2700-5000K.
The C7100/HU High Uniformity Series incorporates enhanced emitter placement and high-uniformity/high-efficiency optics that eliminate the specular glare of point-source LED emitters, increasing user comfort where the luminaire's aperture is within the occupants' standard visual field. The C7100/HU's continuous band of light makes it especially suitable for lower mounting heights often found in office and retail spaces. With CCT options of 2700K, 3000K, 3500K and 5000K, the linear luminaires are configurable with outputs ranging from 625 to 875 lumens/foot, and deliver LM-79 verified system efficacies of up to 77 lumens/watt. Backed by Tempo's "All In" 5-year parts and replacement labor warranty, the C7100/HU will deliver 90+% lumen maintenance at 86,000 hours (equivalent to 9.8 years at 24 hours x 365 days/year).
Proper component selection and careful thermal design results in high lumen maintenance which substantially reduces the required initial foot-candle requirements for a space. When compared to the initial levels necessary to compensate for previous technologies' L70 type of re-lamping cycles, this adjustment alone opens the door to additional energy savings.
According to Tempo Industries CEO, Terrence Walsh, "The L70 lamp lifetime paradigm has always led to an 'over-lighting' of the space in order to accommodate the relatively rapid lumen depreciation of incumbent lamp-sources. Properly designed LED lighting does not suffer from substantial lumen depreciation, which is allowing Tempo to change that L70 paradigm by rating all of its products relative to time rather than to the depreciation." Mr. Walsh explained, "Tempo has selected a typical commercial renovation cycle, or roughly 86,000 hours as a reference point that can be common to both the lighting specifier/designer and the property operator, shifting the thinking from 'the bulb life' to 'the installed life'. With that shift, the most relevant question simply becomes how much lumen depreciation the specifier should anticipate, and account for, over the installed life of the luminaire."
Enabled by the CLiP C71 product family architecture, the C7100/HU High Uniformity Series features an efficient 3" wide x 3.2" high profile that provides multiple adjustable installation options including direct-to-ceiling mounts, suspension point eyelets or standard-threaded stem mounts. 12-foot spans can be supported on as few as two suspension points with the C7100/HU supporting maximum run lengths of over 100 feet from a single power feed, which substantially reduces building wiring and labor costs. The modular design combines an extruded raceway housing with individual light engines which employ variable spacing to allow a number of options in per-foot output. This configurability allows optimization of lighting levels throughout sections of a facility without requiring changes to luminaire appearance, mounting systems or power feeds. The C7100/HU is available now for ordering with standard lead times.
About Tempo Industries, LLC
Tempo Industries, located in Irvine, California, established in 1986, has successfully leveraged its position as the dominant manufacturer supplying configurable LED illumination and safety systems to the North American theater market, into a prominent position in the high-end commercial/ industrial LED lighting space. With over 17 years of manufacturing experience in LED lighting products, Tempo made its initial mark with the Series 6000 high performance modular, scalable linear LED lighting system, which was recognized with numerous design awards including the US DOE's Next Generation Lighting competition, a Gold Award at Neocon Canada, and several awards of distinction from the IES and LIGHTFAIR International, including the 2010 Innovation and Best in Category awards.
The company has seen rapid expansion with the follow-on introduction of its Series 3000, 4000, 5000, 7000 and Creszendo LED product families, and in 2013, introduced the industry-leading Configurable Lighting Platform (CLiP), currently including the C7100 and Tempo's C4100 which has been selected for recognition by the IES as part of the organization's 2013 Annual Progress Report. Tempo is an Energy Star® and Lighting Facts® partner and member of the US Green Building Council. All of Tempo's linear, modular and theater lighting solutions come with a 5-year warranty and the No Factory in the Field® promise.
Contact
Tempo Industries - Kirk Seabold +1-949-442-1601 x237
E-mail:kirks@tempoindustries.com
Web Site:www.tempoindustries.com