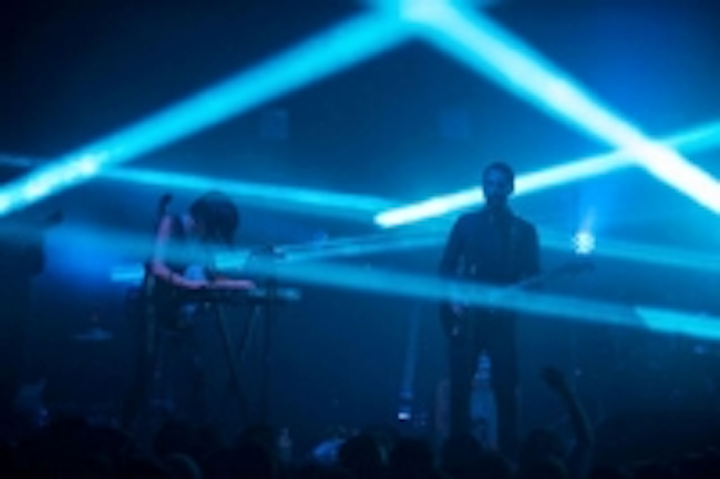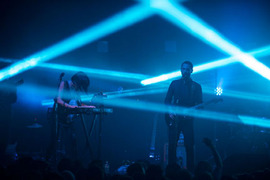 Date Announced: 06 Dec 2013
Electronic rock and art fuse in the eclectic, unique and critically acclaimed sound of Phantogram as the duo from New York State are currently enjoying the crest of a wave of anticipation.
Lighting Designer Ed Warren – known for his stylish and inventive stagecraft – was asked to create lighting for their latest US and Canadian tour which was out for a month playing a variety of venues between 800 and 1500 capacities to sold out audiences and receiving rave reviews.
Ed chose eight of Robe's tiny LEDBeam 100s to be a key part of the toured lighting rig – which had to fit into a trailer being towed behind the bus with all of the band's backline. They were chosen for their compact size and ability to help showcase the original lighting concept.
Ed received a brief from the band which referenced some of the artists they had seen recently including The National, Flaming Lips, Beach House and others. They wanted a gold finish to the stage, lots of thin laser-like beams of light and bold, stark blocks of colour across the stage. The music lends itself almost automatically to dark moody shadows and silhouettes.
The LEDBeams were chosen for their "Versatility, light weight (just 4Kg each) and ability to throw colour across a stage despite their tiny dimensions".
They were positioned in an inverted arc around the band and on the riser front, and used to immerse the performance space in strong colour as well as for effects like strobing and to light the backdrop.
They were also applied specifically for accenting the kick and snare drum hits in certain songs. Gary Hunt went out on the road as Lighting Director – it was his first time using LEDBeam 100s - with which he was really impressed. He comments, "They were highly useful and perfect for the set up, primarily because they are super quick and bright".
Gary's experience up until now includes a lot of house lighting tech roles as well as his own independent design / directing / operating work. The more he uses Robe fixtures he says, "The more I spread the word about how awesome they are".
Ed Warren adds, "Robe never lets me down". The LEDBeam 100s for the Phantogram tour were supplied by Canadian rental specialist, Solotech.
Contact
Robe lighting +420-571-751-510
E-mail:louise@loosplat.com
Web Site:www.robe.cz