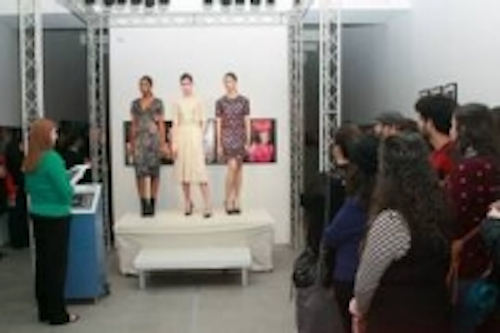 Date Announced: 19 Dec 2013
Xicato presented a fashion show and silent auction to benefit Bailey House at the Steven Kasher Gallery in NYC on December 11, 2013. Hosted by celebrated photographer Roxanne Lowit, the event featured various fashion models lit by Lighting Services Inc's LumeLEX 2060 LED Series fixtures equipped with Xicato's new "Vibrant Series" LED modules.
Using only the house wiring that was already in place, the LumeLEX 2060 Series fixtures were controlled through Lumentalk (via iPad) to program various "scenes" for lighting the fashion models.
The Vibrant Series delivers unmatched color and consistency over time. Specifically designed for the retail market, light from the Vibrant Series is spectrally engineered to make colors appear richer and more vivid and to bring out textures and depth of materials like never before.
Introduced into the market last Summer, Xicato's "Vibrant Series" has been quickly adopted by designers, merchandisers and brand managers to support their efforts to differentiate and create compelling experiences for customers.
For over 55 years, LSI has been the premier manufacturer of specification grade track, accent, display and LED lighting systems. As with all of Lighting Services Inc's fixtures, we back the LumeLEX 2060 Series with a full 5 year warranty, and a published Reliability Data sheet.
For more information about Lighting Services Inc, please visit www.LightingServicesInc.com.
Contact
Lighting Services Inc +1-845-942-2800 +1-800-999-9574 (USA & Canada)
E-mail:Sales@mailLSI.com
Web Site:www.LightingServicesInc.com