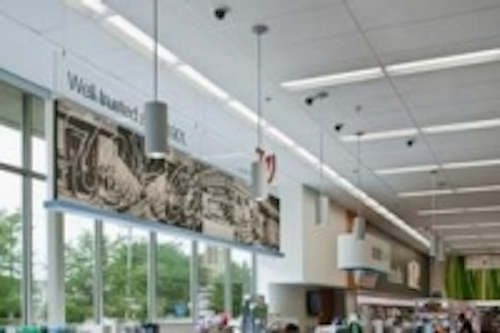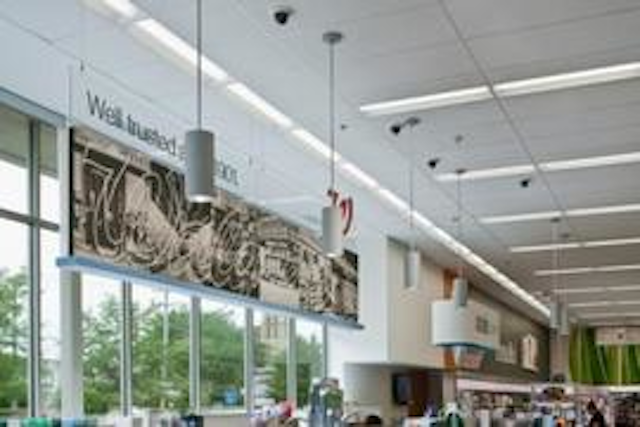 Date Announced: 27 Jun 2013
ATLANTA – Walgreens selected LED lighting from Acuity Brands Inc. (NYSE: AYI) to improve customer experiences and reduce energy usage in its 15,900 square-foot Buffalo Grove, Illinois store. The Buffalo Grove location was previously equipped with traditional fluorescent fixtures on the sales floor and metal halide fixtures in exterior soffits.
On the interior, Walgreens installed RT Series LED luminaires from Lithonia Lighting® throughout the sales floor. Additionally, Z Series LED strip lights were installed in the vestibule, and for architectural downlighting, Ecos™ Square LED downlights from Gotham® were installed in the pharmacy. Acculamp® PAR38 LED lamps were installed in the track lighting throughout the facility. Walgreens also installed VAP ARCHWAY™ PASSAGE™ LED luminaires from Lithonia Lighting in the back stock room. On the building exterior, CSX LED luminaires were used for energy savings and quality illumination.
"Approximately 25 percent of the total energy spend for all of Walgreens is on lighting," said Menno Enters, Walgreens director of energy and sustainability. "The Acuity Brands products are exceeding our expectations. As we fine tune our lighting design using LED fixtures, we will be able to reduce energy consumption even further and create a more visually appealing environment."
The lighting renovation not only reduced energy costs but also helped Walgreens save on maintenance. The Buffalo Grove store has reduced its service calls from monthly to an as-needed basis. Additionally, LED lighting improved the retail environment.
"The improved light quality gives our customers a more comfortable shopping experience," said Enters. "It is a very natural light that reduces eye strain for customers and employees alike."
For more information about LED lighting solutions from Acuity Brands, please visit www.acuitybrands.com.
About Acuity Brands
Acuity Brands, Inc. is a North American market leader and one of the world's leading providers of lighting solutions for both indoor and outdoor applications. With fiscal year 2012 net sales of over $1.9 billion, Acuity Brands employs approximately 6,000 associates and is headquartered in Atlanta, Georgia with operations throughout North America, and in Europe and Asia. The company's lighting solutions are sold under various brands, including Lithonia Lighting®, Holophane®, Peerless®, Gotham®, Mark Architectural Lighting™, Winona® Lighting, Healthcare Lighting®, Hydrel®, American Electric Lighting®, Carandini®, Antique Street Lamps™, Tersen®, Sunoptics®, Sensor Switch®, Lighting Control & Design™, Synergy® Lighting Controls, Pathway Connectivity™, Dark to Light®, ROAM®, RELOC® Wiring Solutions, Acculamp® and eldoLED®.
About Walgreens
As the nation's largest drugstore chain with fiscal 2012 sales of $72 billion, Walgreens (www.walgreens.com) vision is to become America's first choice for health and daily living. Each day, Walgreens provides more than 6 million customers the most convenient, multichannel access to consumer goods and services and trusted, cost-effective pharmacy, health and wellness services and advice in communities across America. Walgreens scope of pharmacy services includes retail, specialty, infusion, medical facility and mail service, along with respiratory services. These services improve health outcomes and lower costs for payers including employers, managed care organizations, health systems, pharmacy benefit managers and the public sector. The company operates 8,077 drugstores in all 50 states, the District of Columbia and Puerto Rico.
Contact
Rachel Kaylor Sweeney PR 910-772-1688 ext. 101
E-mail:rachel@sweeneypr.com
Web Site:www.acuitybrands.com