Evolucia and Solarmax finalize agreement to distribute LED lighting products in Colombia
Jun 26th, 2013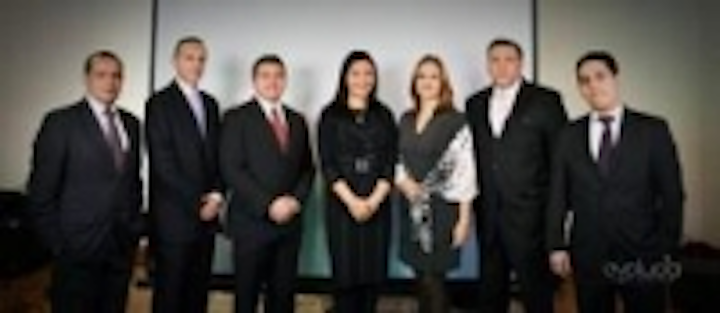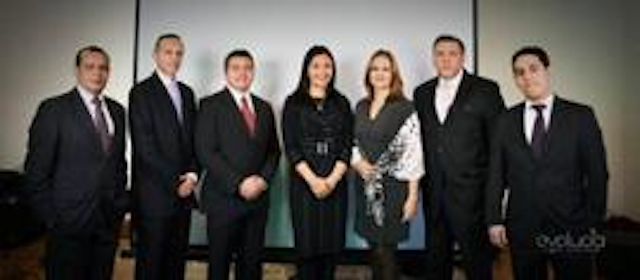 Date Announced: 26 Jun 2013
Sarasota, FL and Bogota, Colombia -- Pure-play LED company, Evolucia Inc. (OTCBB & OTCQB: ILED) and Solarmax International have joined forces to take advantage of the 2012 U.S.-Colombia Free Trade Agreement by bringing Evolucia-branded high performance LED (light emitting diode) interior and exterior lighting solutions to this growing South American country. Several lighting projects are currently underway, including the installation of Evolucia's newest area lighting solution, the PAL 1000, in one of the main ports in Colombia. The PAL 1000 was the only LED product to meet the Port's stringent lighting requirements.
"Growing the Evolucia LED lighting brand in the global marketplace is our number one objective, and this most recent agreement with Solarmax for Colombia distribution further establishes that goal," said Mel Interiano, CEO of Evolucia Inc. "We are pleased to have partnered with a quality organization like Solarmax to begin lighting the country of Colombia with high-performance, energy-efficient Evolucia LED lighting products."
Solarmax and Evolucia entered into a one year exclusive distribution agreement which includes the Republic of Colombia. Like Evolucia, Solarmax focuses solely on LED lighting. With the addition of the Evolucia product portfolio, Solarmax is able to broaden its line to include exterior lighting solutions. With offices throughout Colombia and a customer base that includes medical, pharmaceutical, military, universities, offices and the public sector, Solarmax is well-positioned to grow Evolucia's brand in the region.
"There is a growing consciousness from both an environmental and cost savings position here in Colombia," said Olga Lucia Giraldo, VP Marketing and Sales, Solarmax, "Because of the Evolucia products' Aimed Optics technology platform, high energy savings and optimal lighting performance, and the growing demand for these products in the industrial and public sector, we are preparing for quick market penetration and explosive growth."
Solarmax will focus on introducing the Evolucia brand to the Colombian market and educating both the private and public sectors on the benefits of LED lighting in terms of energy and maintenance savings and return on investment.
"Given the durability of these luminaires ranging from 6 to 10 years, energy savings up to 80% and reduced maintenance costs, businesses have been seeing a return on investment between 7 months and 3 years depending on the project and installation," Giraldo added.
A global leader in the design, development, manufacture and marketing of LED lighting solutions, Evolucia has recently completed Asian, European and Australian partnership agreements, and finalized a joint marketing agreement with a global lighting brand in Mexico. "Evolucia has seen dramatic growth around the world this year. Our agreement with Solarmax opens up another important international market for us. This alliance also allows us to introduce our portfolio throughout the rest of South America -we are positioned for success," said Carol Gutierrez, VP Global Strategies, Evolucia Inc.
On June 19, the Evolucia-Solarmax partnership was feted by a reception and product demonstration at the Museo El Chico in Bogota. Attendees included executive management from Evolucia and Solarmax and business, government, military, cultural and media representatives from Bogota and other areas in Colombia.
Photo: Evolucia Inc. and Solarmax International executives at customer reception and product demonstration in Bogota Colombia. L to R: Pablo Lopez, Commercial Manager, Solarmax; Diego Giraldo, General Manager, Solarmax; Mel Interiano, CEO Evolucia; Carol Gutierrez, VP Global Strategies, Evolucia; Olga Giraldo, VP Marketing and Sales,
Solarmax, Rodrigo Torres, Business Development Manager USA, Solarmax and Mauricio Barron, General Manager, Mexico, Evolucia.
About Evolucia Inc.
Evolucia Inc. is an industry pioneer in the design, engineering, manufacture and marketing of high performance LED lighting systems to the global lighting markets. Evolucia received the United States Department of Energy's highest award for lighting within the LED category, and has installed thousands of its fixtures at military bases, universities, municipalities, and large commercial entities. Evolucia's LED lighting products are sold under the brand, Evolucia
Lighting (www.evolucialighting.com). All Evolucia products offer highly energy efficient, durable, commercial-grade LED lighting for both indoor and outdoor applications. The company's award winning cobra head and shoe box fixtures employ Evolucia's proprietary
Aimed Optics™ technology, which increases light levels and visibility by strategically directing light to the target area. Evolucia fixtures require 50%-80% less energy than traditional lighting, and last for approximately 12 years without maintenance.
More information about Evolucia Inc and its LED lighting systems is available in the company's Securities and Exchange filings, which can be found at www.sec.gov or at www.evolucialighting.com.
Contact
Evolucia Inc. 941-751-6800
E-mail:jon.digesu@evolucialighting.com
Web Site:www.evolucialighting.com